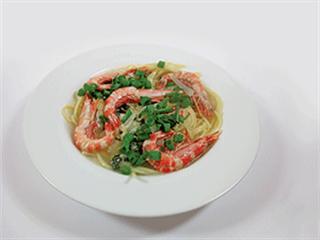 To make seafood pasta with tiger prawns for four, you will need:
500g spaghettini or angelhair pasta

800g tiger prawns

1 onion

300ml chicken stock

150ml dry white wine

2 cloves garlic

Half a cup fresh basil leaves

2 teaspoons capers

100ml fresh cream

Extra virgin olive oil

1 tablespoon butter

½ teaspoon paprika

Freshly ground black pepper on demand

Salt to taste

2 spring

onions
Peel and finely chop the onion and the cloves of garlic. Inspect the fresh basil, discarding damaged leaves and all non-botanical citizens of Mother Nature. Coarsely chop the basil leaves. Thaw the tiger prawns in cool tap water and then make some aesthetic decisions. There is no doubt that the prawns will look more dramatic with their heads and shells intact. This would be a good time to politely check with your fellow diners as some people prefer their prawns to have no identifiable relationship with their original shape.
Note that heads-on prawns in the shell genuinely taste better. Regardless of your final decision, using a small sharp pair of scissors, cut a clean incision down the top of the tail section revealing the dark colon. Discard this. Pour a tablespoon of olive oil plus a tablespoon of butter into a frying pan, bring this up to medium heat and swiftly fry the tiger prawns for 60 second a side, turning them once. Remove and reserve under cover.
Bring a large pot of water to a rolling boil, ready for the pasta. Cook the pasta for the time recommended on the packet. Ideally, pasta should retain some resistance between the teeth and not be a soggy mass of pallid sludge. Select a heavy-based frying pan, pour in sufficient extra virgin olive to thinly cover the bottom and over medium heat sweat the sliced onions and finely chopped garlic until the onions are soft and translucent.
Add the coarsely chopped basil leaves, the capers, the paprika and a generous pinch of freshly ground black pepper. Stir all this together and let it cook for 60 to 90 seconds. Pour in the chicken stock and the wine. Let this come to a slow boil for a couple of minutes then carefully stir in the cream, a little at a time. This should prevent curdling. Add the cooked prawns to the contents of the pan and let this bubble for a minute or two to bring everything back to a shared temperature.
Drain the cooked pasta and add it to the main frying pan with all the cooked ingredients within it. Stir well, garnish with fresh chopped spring onion greens and serve with salt and freshly ground black pepper available for each diner.
Enjoy!
Contact David Basckin at [email protected]. Please state 'Real cooking' in the subject line of your email.