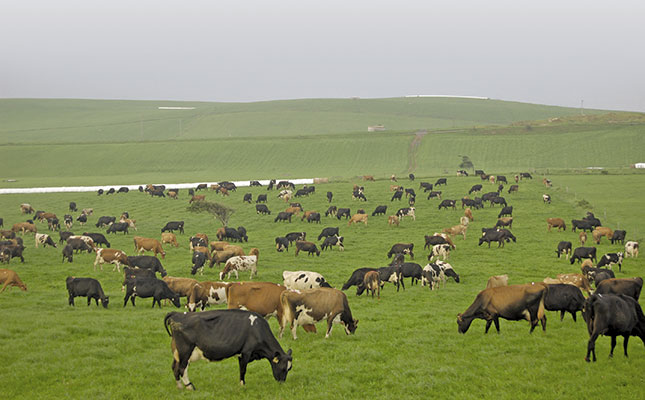 Reserved, with what seems to be a wry outlook on life, dairy consultant and agri-business leader Jeff Every has been called the dairy guru of South Africa.
He speaks fluent Xhosa, and according to Eastern Cape dairy farmer Johnny van Niekerk, is an expert communicator no matter what language he speaks. Fluency in an African language is almost certainly a prerequisite for successful work in the deep rural areas, an arena to which Jeff is profoundly committed.
A change-maker
Dr Theo de Jager, farmer and president of the Southern African Confederation of Agricultural Unions, has said it is difficult to get farmers to convert to new ideas.
Dr Piet Croucamp, political analyst and sheep farmer, declared recently that without resilience and a willingness to embrace change, South African farmers would not survive. Although Jeff has tackled transformation and land reform relatively recently, most of his working life has been involved with change.
"One of Jeff's greatest strengths is his ability to keep farmers right on the edge, where change is constant," says Edgar Brotherton, Eastern Cape dairy farmer and one of Jeff's oldest clients. "He never accepts the status quo; he makes people work towards and then beyond their strengths, constantly moving the goal posts."
READ: Eastern Cape dairy industry is showing growth
It is common knowledge that Jeff does not encourage the cultivation of comfort zones.
"He pushed me from a 500-milking-cow operation, where I was quite comfortable, to a place where I am involved in a business that milks
8 500 cows," says Edgar.
Leonard Mavhungu, farmer and manager at Fort Hare Dairy (900 cows in milk), recalls that Jeff "sent me to a place where there was nothing but bush, and told me to get started".
READ: Hands-on dairy training
In 1982, Jeff founded agricultural consultancy ACS, providing advice to Eastern Cape farmers – mainly dairymen. He introduced ideas and procedures that changed the way farmers looked at their operations.
In 1995, he took 26 dairy farmers to New Zealand, which has a global reputation for excellence and profitability in the dairy industry. He wanted to expose his clients to a different farming model, and make them alive to the possibilities of change.
Calving and crossbreeding
Many effective reforms came out of the New Zealand trip, as farmers returned and set about restructuring and converting their systems, and in doing so, making a positive difference to their bottom line. Crossbreeding dairy cows, a practice previously frowned upon, was adopted.
"Rob Ballantyne and Jannie Kirsten [from the Eastern Cape] were the first to crossbreed. After that other farmers followed suit," says Jeff.
The crossbreds have improved solids and are easy-care cows with better longevity, he adds.
Rob agrees that the crossbreds are definitely better on low-cost pasture systems. Farmers changed their pasture management, aerating and oversowing, rather than burning-off and replanting. The twang of the disc meter sounded in the grass, as dairy farmers measured pasture production, and many operations switched from year-round to seasonal calving patterns.
Calving a dairy herd down in early spring means that heavy demand from cows in peak production coincides with peak supply in grass, ushered in by the spring flush. The common-sense approach of 'let milk follow grass' makes economic sense. Input costs fell as farmers, advised by consultants who had visited New Zealand with Jeff, dumped their 'heavy metal' collections and started using contractors, or sharing expensive machinery between members of collectives.
"You have to form co-operative groups, team up with neighbours, do whatever it takes to strengthen your power base and lower your costs," Jeff said to a group of KwaZulu-Natal farmers in 2002. "Without this unity, farming communities will not make it."
He also warned farmers that many would lose their farms to land reform and that they should forget about the rights of inheritance.
"No one here can afford to be sentimental about land," he said. "Lease the land, put in the infrastructure, run on the heifers and start milking. If you can't recover your investment and make good money inside 10 years, you're in the wrong business."
Dairy consultant, Jeff Every
After reformation, transformation
"Land empowerment is not purely the responsibility of the government and without input from the private sector, targets will not be met," says Jeff.
READ: Small-scale to commercial farming
In 2004, he sold his consulting business and began implementation of a project developed to tackle land reform problems, bring about transformation, engage in skills and knowledge transfer, and create jobs. Ten years on, Amadlelo Agri has the following projects to its name:
The Fort Hare Dairy Trust (900 cows in milk);
Middeldrift Dairy (700 cows in milk);
The Seven Stars Trust/Keiskamma Irrigation Scheme, a 50/50 sharemilk between Amadlelo and the 33 landowners of the Seven Stars Trust;
The Shiloh Dairy Farm (800 cows in milk), a 50/50 sharemilk with the Mayime Co-op;
The Ncora Dairy in the former Transkei (1 200 cows in milk with planned expansion to 2 400 cows in milk);
The Ncora Macadamia Project, a diversification outlier with potentially high profitability and job creation potential; and
The Makhoba Dairy Farm, a joint venture with the Makhoba community which is still in the development phase.
The dairies have state-of the-art equipment and management programmes. Amadlelo was launched with financial backing from 70 Eastern Cape and KZN farmers, who mentor black agricultural interns and aspirant farmers and engage in transferring skills and knowledge in the process.
Drawing on the ability of his commercial clients to invest capital and capacity, so that he could drive the change needed to economically empower and uplift communities in the Eastern Cape, Jeff has created profitable, sustainable, black-empowered agri-businesses.
"We're making a difference in a part of the country where it seems others fear to tread," he says, alluding to the fact that Amadlelo sets up projects on unused or under-used redistributed farmland. Edgar concurs, saying that no-one else "would dream of going into those places".
Jeff adds that they produce 30 million litres of milk a year, "enough to stop Shoprite/Checkers from importing South American milk and buy their milk from us".
All milk comes from previously disempowered communities.
"In those areas, we now pay out roughly R15 million a year in wages and another R15 million in profit shares from the dairy operations," he says.
The milk is processed by Coega Dairies, a start-up business based in Port Elizabeth with the backing of commercial dairy farmers, and another of Jeff's initiatives.
At the recent Afasa congress, Minister for Rural Development and Land Reform, Gugile Nkwinti, said the country needed more strategic partners like Amadlelo.
Always a solution to the problem
Dairy farmers, without exception, commend Jeff for his negotiating abilities under what some consider to be impossibly challenging conditions. He is involved in brokering agreements between tribal communities and must tolerate a daunting measure of political interference.
"He is amazingly skilled when it comes to handling communities," says Leonard Mavhungu, manager of Amadlelo's Fort Hare Dairy.
At the core of Jeff's persistence may be his refusal to see a problem as something to which there is no solution. Using Amadlelo as what Prof Mohammad Karaan might call a 'special purpose vehicle', Jeff has infused economic power into communities. Leonard stresses that Jeff gets buy-in before he implements a plan.
"He has a concept, he has a plan and then he gets the buy-in. Once he has made something possible, you have to earn the right to benefit from that possibility."
Instilling fiscal discipline into operations is one of Jeff's trademarks. Insisting on at least a 12% margin, he is known for his ability to help farmers reduce costs by putting in effective budgeting systems and constantly monitoring those systems to maintain financial control.
Not surprisingly, there are those who are uncomfortable with Jeff Every. These, according to Edgar, are people who are unwilling to change. Says Jeff: "There's only so much time you can allow before you have to move on."
He values his time, and gets impatient when he feels it is being wasted.
"My province has a million unemployed people," he says. "It is my vision to create jobs through agriculture and turn the Eastern Cape from a provincial 'basket case' into the breadbasket of South Africa."
To this end, Jeff works long hours, drives great distances, and, he admits, sees too little of his family. He is not to be distracted from the destination of his vision, although he may be prepared to change the route, and he has a compelling clarity of purpose.
"He's going places and he's taking people with him," says Leonard.
Email Jeff Every at [email protected] or Lloyd Collett at [email protected].
This article was originally published in the 5 December 2014 issue of Farmers Weekly.