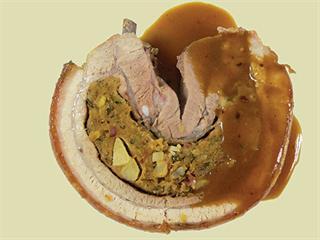 To make stuffed pork belly for six, you will need:
2kg pork belly

5 rashers streaky bacon

100g pecan or macadamia nuts

1 crisp apple

60g butter

½ onion

1½ cups fresh brown breadcrumbs

2 tablespoons fresh rosemary

2 tablespoons fresh parsley

Extra virgin olive oil, salt and freshly ground black pepper on demand
Next, begin the preparation of the stuffing. It is the stuffing more than anything else that gives this dish its special festive flavour. Begin by dropping a couple of slices of fresh brown bread into the food processor, revving to the red line and producing bread crumbs. Measure out the one-and-a-half cups you will need for later in the proceedings. Peel and finely chop half an onion. Remove the rind (if any) from the bacon and cut the bacon into small squares.
Peel, core and dice the apple. Remove the rosemary leaves from the stems, wash and coarsely chop. Chop the parsley.
Select a heavy-based frying pan and add the butter. Let it melt at medium heat, then add the onions and bacon. Let them cook until the onions are soft and translucent, stirring from time to time to avoid adhesions. Add the coarsely chopped nuts for a couple of minutes, then remove from the hob. Add the breadcrumbs, apple, rosemary and parsley and allow the stuffing to cool.
Preheat the oven to 220°C. While this is going on, exercise one to two stuffing related choices: either a sausage down the middle before tying with string in a roll, or inserting a layer of stuffing into the pre-cut pocket. This produces a Swiss roll effect after carving. Either of these approaches works well, the final choice depending entirely on the look you want to achieve. Once the stuffing has been inserted on the red side of the pork belly, roll it up tight and tie with brand new, plain parcel string at 50mm intervals.
With a sharp knife, score the outer layer, pour on a tablespoon or two of extra virgin olive oil and sprinkle generously with a little salt and a lot of pepper. Stick this in a roasting pan and into the hot oven at 220°C for 20 minutes. Then reduce the heat to 180°C for another 80 minutes or until clear juices emerge when pierced by a skewer. Remove and let it stand for 10 minutes.
Add a little butter and flour to the pan juices, stir well and apply additional heat if needed from the hob to make a thick gravy.
Carve carefully to maintain the circular integrity of the roast slices and the stuffing. Vegetables? Anything goes with this magnificent roast. Mashed yellow sweet potatoes revved up by garlic works like a charm, as does stywe pap or traditional roast potatoes.