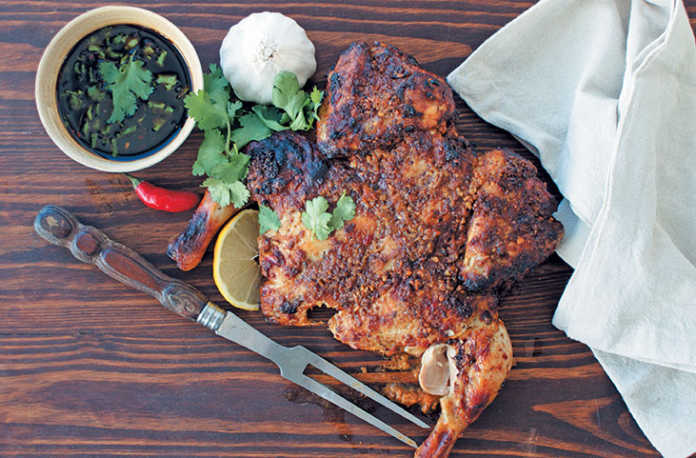 To make a superior flattie with a quick dipping sauce for four hungry diners, you will need:
One 2kg chicken
Extra virgin olive oil
1 tablespoon brown sugar
1 teaspoon medium masala
25mm whole ginger root
5 cloves of garlic
2 teaspoons Dijon mustard
And for the dip
100ml light soya sauce
30ml Thai or Vietnamese fish sauce
1 tablespoon lime (best) or lemon (adequate) juice
2 cloves of garlic
2 teaspoons caster sugar
1 big red chilli
3 hand-torn dhania (coriander) leaves
We begin with the dipping sauce. Peel and finely chop the garlic. Squeeze and strain the lime or lemon juice. Finely chop the big red chilli, discarding half the seeds.
Rinse, then tear, the dhania leaves. Mix all the ingredients and stir well until the sugar is unambiguously dissolved. Store under cover to serve later with the chicken.
Flattie time. Your butcher will happily flatten the fowl for you, but it is far better for new cooks to master the skill themselves.
Using chicken-cutting shears or, at greater personal risk, a cleaver or ultrasharp cook's knife, cut out the back. Bag and freeze this for stock later in the cooking week.
Turn the fowl over on the work surface, place both hands on the breast and bear down with your body weight until the bone cracks and the chicken is transformed into a flattie.
The fowl is now more or less the same thickness, which means easier seasoning, even cooking of white and brown meat, and a shorter time in the oven.
Now for the rub. There are wet and dry rubs for roasting meat and poultry. This is an oily rub, and all the better for it.
Pour two tablespoons of extra virgin olive oil into a bowl. Add the peeled and minced garlic plus the grated fresh ginger, the Dijon mustard, brown sugar, and the mild or medium masala.
Buy a small fresh packet of this fragrant spice mixture. Mix well. Then, with your hands, spread this rub over all surfaces of the flattie.
Preheat the oven to 220°C. This is much hotter than the usual roasting temperature, but then this is not a usual chicken. Place the flattie in a roasting dish and stick it in the oven for 45 minutes or until a pierced thigh releases clear juices.
Remove, cover with foil and let the flattie rest for 10 minutes before serving.
Provide white rice with this meal, plus a little dish of the dipping sauce per diner. To drink? Ultra-chilled expense account lager.
David Basckin is a freelance journalist and videographer.