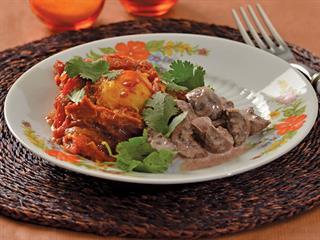 To make oven- baked eggs plus lamb kidneys in brandy for four, you will need:
For the oven-baked eggs (shakshuka)
6 extra-large eggs
1 onion
1 sweet red pepper
4 cloves garlic
2 cans tomatoes
5g freshly ground cumin
5g ground paprika
Generous pinch of cayenne or a drop per egg of Red Tabasco
Crème fraiche on demand
Salt, black pepper to taste
Fresh dhania leaves
3 tablespoons extra virgin olive oil
For the lamb kidneys in brandy
6 lamb kidneys
3 tablespoons of butter
Freshly ground black pepper
50ml brandy
Start with the kidneys.Remove from each kidney the membrane and white core, cutting what's left into halves or quarters. Fry them gently in butter until cooked to your liking – then pour in the brandy.
Add a little black pepper, stir well to boil off the alcohol and then thicken the butter, brandy and meat juices. Reserve under cover.
For the Israeli baked eggs and tomato, you will need, ideally, a cast-iron skillet. Failing that, a deep ovenproof dish will do.
Rev up the oven to 190°C with the rack dead centre. Peel and thinly slice the onion; crush, peel and mince the garlic; thinly slice the sweet pepper, discarding the seeds. Measure the olive oil into the skillet, then raise the temperature of the hob to just above low.
Add in the sliced onion and sweet red pepper and let these sweat for 15 minutes until they are soft and the onions translucent. Drop in the finely minced garlic and let the onions, sweet red pepper and garlic simmer for three minutes. Add the ground paprika, the cumin and, possibly, the cayenne.
A note of caution at this point: pre-ground cayenne is unpredictable, and unpredictable spices are the unpaved road to culinary hell and gastronomic damnation. In its stead, let me rather suggest a single drop of Red Tabasco on the yolk of each egg, just before serving.
Moving on: pour the entire contents of both cans of tomatoes, including the juice, into the skillet. Crush the tomatoes with a fork or potato masher, and stir like crazy. Then add a little salt and more freshly-ground black pepper, and let this magnificently fragrant concoction simmer away until the tomatoes have thickened. Break the eggs on top of the tomato inside the skillet, taking care to keep the yolks whole.
Slide the skillet into the oven and cook until the egg whites are firm and opaque. Place a half-teaspoon of crème fraiche at random over the exposed surface of the tomato, and garnish with a little chopped dhania plus the drop of Tabasco. Serve with a spoonful or two of the kidneys, and await a rousing 'mazeltov' from your ecstatic diners.