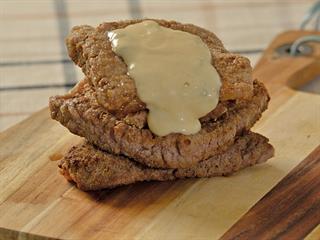 To make chicken-fried steak for four – maybe with mash but definitely with cream gravy – you will need:
1 kg tenderised beef steak
Canola or sunflower oil on demand
250g plain white flour
20g freshly ground black pepper
20g coarse salt
500ml milk
250ml (or less) water
As you can see from the startlingly brief ingredient list, the science is in the method and the equipment. For reasons unclear to me, this meal, like so much Southern cooking, demands a cast-iron skillet or saucepan or smallish Dutch oven. In my time as a kitchen mechanic, my cast-iron saucepan has become a favoured piece of equipment.
Seasoning the beast was the only new skill I had to learn. This is done by coating the raw iron surfaces, including the lid, with cooking oil, inside and out, sticking the saucepan in a hot oven and letting it smoke away for half-an- hour or so. The result is a shiny patina providing a kinda, sorta non-stick surface. Clean this every time after use with a paper towel, maybe some water, but never with detergent.
Moving on. Mix the flour, pepper and salt in a large bowl. Pour the milk into a second bowl. Immerse the tenderised steaks in the milk, then bury them one at a time in the seasoned flour. Remove and shake off the excess. At this point, switch on the warming drawer as you will need to fry the steaks in batches.
Heat up the cast-iron pan on the hob or over a gas flame, then pour a couple of tablespoons of canola or sunflower oil into it. When hot, but not as hot as a wok, fry the coated steaks for a couple of minutes per side, turning once. Don't let the cast iron pan get too crowded; keep the cooked steaks in the warming drawer while you complete the entire batch.
Pour the milk into a saucepan with a little additional water to increase the volume to 700ml and bring this nearly to the boil. Pour off most of the used cooking oil in the cast-iron pan, retaining the little bits of charred meat and seasoned flour left over from the frying.
Bring up the heat to medium and add four tablespoons of seasoned flour, one spoon at a time. Stir as it browns, then pour in the hot milk, stirring like a crazy alligator-wrestling swamp person until the sauce thickens. Add salt and pepper if required. Serve on heated plates with mashed sweet potato, drenching the whole delicious assembly with hot creamy gravy. Serve with homemade witblits or the moonshine of your choice.