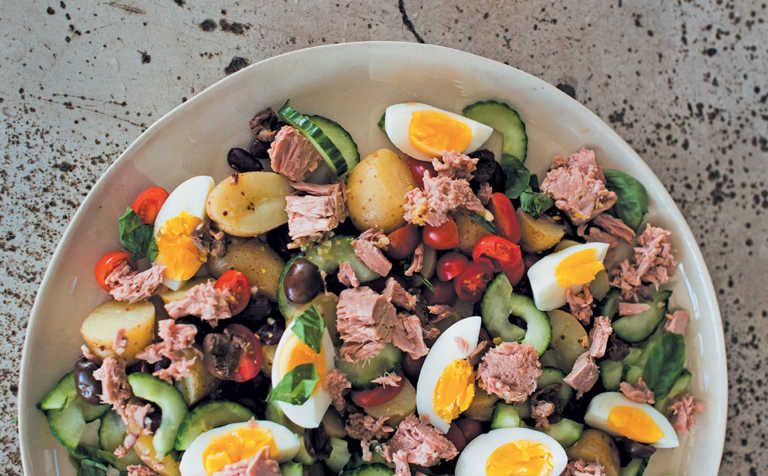 To make a tuna salad Niçoise for four non-sandwich-eating quick diners, you will need:
2 cans of tuna in oil (not brine)
4 hard-boiled eggs
2 cloves of garlic
3 anchovies
1 lemon
1 teaspoon coarse mustard
70ml extra virgin olive oil
12 baby potatoes
1 English cucumber
12 cherry tomatoes
12 black olives
1 can of white or red beans
12 fresh basil leaves
Freshly ground black pepper and coarse salt on demand
Wash but don't peel the baby potatoes, then boil them in lightly salted water until they show no resistance when pierced with a fork.
Drain the red or white beans, and add them to the potato water just long enough to warm them up. Drain the potatoes and beans, and reserve.
For the vinegarette, begin by removing the zest of the lemon (the outer layer of the peel) until you have one teaspoon's worth. Squeeze the lemon, retaining two tablespoons of juice.
Then make a squashy mash of the anchovies and peeled garlic. In a bowl, mix this with the mustard, the lemon juice and the lemon zest. Slowly add the olive oil, stirring vigorously. Cover and reserve.
Halve the potatoes, place them in a bowl and add the beans. Dress with 75% of the vinegarette and let them stand for 10 minutes or so. Sprinkle with eight finely chopped basil leaves.
Now for the salad. Halve the tomatoes, adding a few more if you think it necessary. Halve the cucumber lengthways, then scoop out and discard the seeds. This limits the dilution of the vinagarette.
Cut the cucumbers into slim sections lengthways. Drain and break the tuna into coarse chunks.
Plating time.
The idea here is visual presentation: the components should be recognisable, not mashed into a pulp.
Lay out the halved baby potatoes, the halved cherry tomatoes and the hard-boiled eggs cut into wedge-shaped quarters.
Add the chunks of canned tuna and the slivers of cucumber. De-pip the olives, and scatter them, plus a few hand-torn basil leaves, randomly over the entire production.
Drizzle with the remainder of the vinegarette, then season with pepper and a little salt.
Far superior to a slapped- together ham sandwich, don't you think?
Enjoy it.
David Basckin is a freelance journalist and videographer.