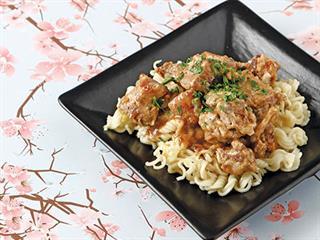 To make Vietnamese-influenced pork belly for four, you will need:
10mm fresh root ginger

400g pork belly (in one piece)

250ml coconut milk
For the marinade:
1 clove garlic

5ml freshly ground black pepper

10g brown sugar

5ml coarse salt

40ml Vietnamese fish sauce

Half a shallot (or half a small onion)
For the glaze:
Pork belly is a big deal in South East Asian cooking. While not exactly a major feature in the South African kitchen, this succulent section of the pig is worth a closer look. Vietnamese fish sauce, also mysteriously known as fish gravy, can be bought from local supermarkets. Try to get the brands packed in Thailand or Vietnam. As always, read the label. The product, made from fermented anchovies, is a most extraordinary enhancer of food. It is very salty, so obey all suggested measurements meticulously.
Begin with the marinade. Peel and mince the garlic, then make a decision about the half-shallot. No shallots in your life? Half a small onion is a good workaround, as are the white bulbs of four or five large spring onions. Chop finely. Mix all the marinade ingredients in a small bowl and set it aside to await developments.
Select a large saucepan with a capacity of 4l or so. Fill it with water and bring it to a rolling boil. Peel the ginger root and cut it in half before adding it to the boiling water. Carefully lower the entire piece of pork belly into the water and let it blanch for four minutes. Remove the pork belly and set it aside. When cool enough to handle, cut it into 25mm pieces. Using your hands, immerse the pork in the marinade and rub the latter into the meat. Let it soak up the flavours for 15 minutes under cover.
Pour the 30g of brown sugar into a heavy-based pan (I use my cast-iron pot for this) and bring this up to medium heat for four minutes. Remove the pot from the hob and, using the residual heat in it, stir the sugar until molten. Add 250ml water and bring the pot to the boil. Add the sections of marinated pork belly to the pot, taking care to coat the meat with the sugary glaze. Pour in the coconut milk, stir and taste. If too salty, add sugar. If too sweet, add a little fish sauce. Lower the heat and let it simmer for half hour, by which time the sauce will have thickened.
You can enjoy this extraordinary meal with white rice, mashed sweet potatoes or Asian noodles. A chilled pinot noir gives this meal a South African mouthfeel. If you're not that keen on the fruit of the vine, try an ultra-chilled pilsener.