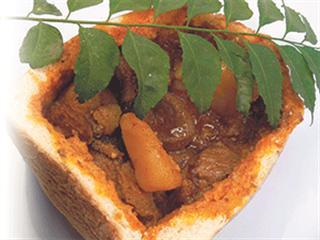 To make four quarter mutton bunnies you will need:
2 loaves of bread
800g boneless mutton
4 big potatoes
4 tomatoes
4 to 8 cloves of garlic
50mm fresh root ginger
6 serious chillies
1 tablespoon coriander seeds
1 tablespoon cumin seeds
1 teaspoon green cardomom pods
1 teaspoon tumeric powder
2 star anise
100mm cinnamon bark
2 sprigs fresh green curry leaves
Sunflower or canola oil on demand
You may be puzzled by why you need two loaves of bread to make four quarter bunnies, but quarter bunnies need a firm crust at the bottom given that the contents are wet and may leak. Cut the boneless mutton into 20mm cubes. Keeping these as uniform as possible ensures even cooking. Bring a heavy-bottomed frying pan to medium heat on the hob. Tip in the whole dry spices (cardomom, cumin, cinnamon, star anise and coriander).
Shake the pan to toast the spices lightly. Remove from the heat and reserve the spices. When cool, grind them to powder in a dedicated spice grinder or with a pestle and mortar. Cut up the chillies and leave the pips in for added heat. Peel and chop the ginger and garlic. Peel and thinly slice the onions. Pour sufficient sunflower or canola oil into the pan to thinly cover the bottom and stirfry the finely chopped garlic, chillies and ginger at high heat for 60 seconds.

Lower the heat and sweat the onions until they are soft and translucent. Remove the cooked onions, garlic and ginger from the pan and reserve under cover. Add a tablespoon of oil to the pan and stirfry the cubed mutton for a couple of minutes until browned on all sides.Pour in the powdered spices including the tumeric and stir well for an even distribution. Add the sprigs of green curry leaves, the peeled and quartered potatoes and the coarsely chopped tomatoes.
Return the reserved onions, garlic, ginger and chillies to the pan and pour in just enough water to cover the contents. Wait for the liquid to bubble then reduce the heat to a slow simmer, stirring occasionally. After 30 to 40 minutes the meal will be cooked. Remove all the solids from the pot with a slotted spoon and rev the hob to the red line. Stirring continuously, let the sauce boil to thicken. Take care to avoid burning. Return the solids, remove from the heat and stand by.
Cut four quarters from the two loaves, including the base crust in each case. Remove and reserve most of the inner loaf it in one piece. Ladle in the mutton curry with the thickened sauce, specially prepared to limit seepage. Replace the core of the loaf as a lid.
That's it. What a lunch!