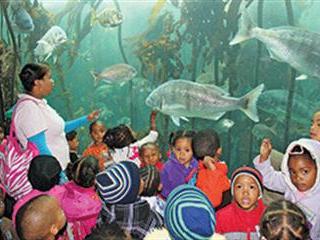 One morning when she arrived at work, Izel Botha, a qualified social worker from Villiersdorp, found social services waiting for her outside her office. They had with them a young boy who had endured all the horrible things that children should never be exposed to.
"That was the turning point. I realised that I needed to start working pro-actively to prevent situations like this from developing in the first place," says Izel. It was this realisation that inspired Izel to start the Shine farm worker development initiative together with Villiersdorp Round Table 227, which donated the start-up capital and helped to get the farmers involved.
Let it SHINE
"We did some research and identified a need in the farming community for farm worker training that was more accessible than the programmes that were already in place and that didn't only focus on working skills, but also on life skills." As a result, Shine was started in 2009. The project now serves 40 farms in the Villiersdorp and Vyeboom area and it has more than 1 100 farm worker members.

Shine project manager Izel Botha with her daughter Izabel.
"The farms pay to become members of Shine and every participating farm has a Shine officer (one of the farm workers, chosen by the workers) who serves as a link between the farm and the project. "These officers are the heart, the hands and the feet of the project – they decide what happens when and they help organise all the events," she explains.

Improving Lives
Shine's main objective, says Izel, is to improve the abilities, life skills and self-esteem of the farm workers and their children. The project consists of two parts; annual 10-week to 12-week training programmes and monthly social events for the farm workers and their families. "The training focuses on improving the self-esteem of the workers. We want them to believe in themselves and to live life to the full. Through our training programmes we aim to equip workers with the emotional intelligence and skills that will lead to healthier and happier individuals, families and communities."
The first training programme is called Becoming an Emotionally Healthy Person. It focuses on creating emotionally healthy people with strong characters and sound value systems. Each member farm has to start Shine's training on the farm with this programme as a strong basis for further training programmes.
"During 2010 we developed the Alcohol & Drug Abuse Prevention course. This focused on empowering workers by giving each of them enough knowledge to make informed and responsible choices about alcohol and drug abuse," Izel says.
In 2011, a Money Management and Budgeting Programme was developed in response to the workers' feedback on their training needs. This focuses on empowering farm workers with the knowledge to make sound financial choices. It also teaches them how to avoid debt and how to budget.
During 2012, the training focused on communication and conflict management in relationships. Future training will address topics such as prevention of Foetal Alcohol Syndrome and high risk sexual behaviour, parenting skills and ethics at the workplace.
"Since many workers are illiterate, our training programmes focus on learning through interactive sessions where the workers take part in discussions, activities, practical homework assignments and introspection. "We encourage the farm owners of the participating farms to engage in a long-term strategy for the upliftment, development and empowerment of farm workers and their children."

Children concentrate on their creations during the Shine youth art project held in 2012.
Broadening horizons
Shine's social events offer farm workers constructive relaxation activities. "We have a strong focus on showing the youth that it is possible to engage in fun activities without using or abusing any substances like drugs and alcohol. "The aim of the social events is to give workers and their families a larger frame of reference by exposing them to things they would otherwise never have experienced. We are trying to broaden their horizons."
These events include an annual beach day when farmers, farm workers and their children get to spend a day together in the sun, sand and sea. Shine has also organised field trips to the movies and the aquarium for the children and it hosts a Christmas party every year. Other events include talent competitions, fashion shows, performances by famous South African artists and special men, women and senior days.
Better relationships
The owners of farms that are members of Shine have to make annual financial contributions to Shine and they pay for the yearly training courses. Izel says that Shine has helped improve the relationship between farmers and workers, not only because workers see that the farmers are willing to invest in helping them improve their lives, but through Shine the farmers and farm workers get to know each other on a more personal level.
Anthonie Botha of Stettyn Landgoed near Villiersdorp, owner of one of the Shine member farms, says he believes Shine has given workers on the farm a whole new outlook on life. "The farm worker community in this area is plagued by social problems like alcoholism and drug abuse and I think one of the reasons why we have so many problems is because there isn't much for farm workers to do in their free time.
"Shine has given them the opportunity to socialise in a healthy way and to form friendships with farm workers from other farms," says Anthonie. Jacques van der Merwe of Patryskop farm says Shine has had a huge impact on the relationship he and other farmers have with farm workers.
"Where there used to be a kind of 'Baas and Klaas' relationship, there is now mutual respect and understanding because we participate in non-work related events and get to know each other better as people with individual personalities," he says. Jacques believes that becoming a member of Shine has been one of the smartest and best value-for-money investments he has ever made as a farmer.
Changing lives
Shine is a non-profit organisation and is run by the workers who volunteer to help. "Our main source of funding is the farm workers themselves who pay minimal entrance fees for all the social events they attend and the volunteers run fund-raising initiatives. "Each year we reach at least 1 500 children of farm workers through Shine events and every month we train 30 child minders how to care for the children on emotional, spiritual, intellectual and physical level.
The farm workers who participate in the training are given an opportunity to supply verbal or written feedback after completion of a course. Reading through their comments, it's very apparent that these training programmes are hitting the mark. A farm worker from Southfield farm in Villiersdorp wrote, "It helped me to develop better self-control and to appreciate my family more. I learned to not always solve everything with violence, but rather to talk about the problem," wrote a farm worker from Damar farm in Vyeboom.

A group of Cape Minstrels was just the thing to get the party started at the Shine Women's Day 2012.
Another Damar farm worker wrote, "I learned that I didn't really know who I was, but I know myself better now." A farm worker from Rustfontein in Vyeboom said: "I've never really had good self-esteem and worst of all is that I did not even know it. Thanks to Shine I know myself better and I now have a more positive outlook on life."
''We didn't expect to change the world overnight, but since the project has been running for four years, we really start to see growth and change in farm communities and individuals. "Even if Shine helps only one or two people to stop abusing alcohol or to stop physically abusing members of their families I think we have been successful. We can make the world a better place for the people we reach."
Contact Izel Botha, Shine project manager, on 028 840 1203 or email [email protected]