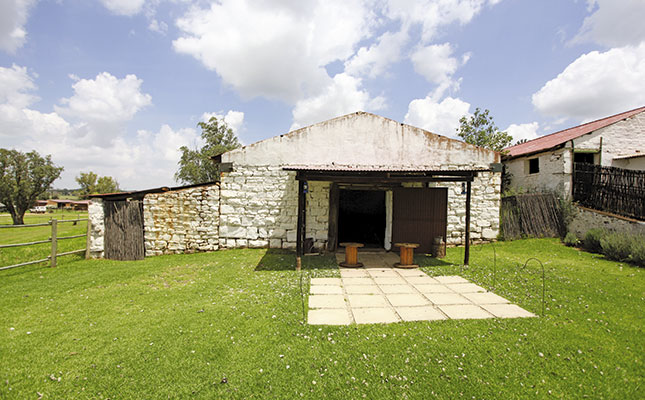 Maurice and Celestè Leonard's farm, Rietfontein Boerdery, is a mixed farming operation – cattle, game and maize – near Heidelberg in Gauteng.
In 1990, Maurice and Celestè decided to turn an old building on the farm into a holiday cottage for their own use. But they soon realised that it was next to impossible to have a break on their own farm – they were simply drawn back into work all the time.
"We told friends that we had a house they could use for getaway weekends," says Maurice.
A short while later, they met someone who organised farm weekends. After visiting Rietfontein, she suggested that the Leonards establish a hiking trail as the farm was only a short distance from Johannesburg and Pretoria, and close to OR Tambo International Airport. In short, Rietfontein was an ideal destination for the Gauteng weekend getaway market.
Inspired by this idea, Celestè and Maurice went on to build a honeymoon suite and lay out their Klipkraal trail, which consists of two day-hikes, one of 13km and the other of 9km.
Initially, the route used existing cattle paths.
Then a visitor pointed out that hikers preferred to walk up and down koppies, rather than around them.
"I made changes and that's how it is today," says Maurice.
A new farm from the old
In 2005, the farm was used as the location for the shooting of Ouma se Slimkind, and a house on the farm was restored to add authenticity to the film. The beautiful result made Celestè look at her farm buildings in a new light, and triggered
the next phase of the Leonards' hospitality project. In due course, they had restored the old milking stables, barns and other dilapidated structures on the farm for use as tourist accommodation.
Charming wedding venue
The business took a new turn in 2010 when their daughter Christi suggested that they start catering for weddings.
"It wasn't something I'd thought about. You hardly interact with weekend guests as they do their own thing, but a wedding venue is hands-on," says Celestè.
Christi's suggestion coincided with a friend asking if she could have her wedding in a small wattle forest on Rietfontein.
Concerned about the possibility of rain on the day, the Leonards suggested hosting the wedding in the barn instead.
The couple agreed, a date was set for April 2011, and the Leonards set to work. The Klipskuur wedding venue was born. A month before the wedding was due, they held a 'test function' to identify any potential hiccoughs. This is a must for all agritourism events, Maurice stresses.
Wholesome farm food
According to Celestè, their trademark is the homely farm food they serve. "Great food is made with butter and cream – you cannot skimp on it!" she says. Celestè wants guests to leave Rietfontein feeling they have experienced authentic farm hospitality.
With developments in the wedding venue taking up more and more of their time, Maurice now leases some of the land to other farmers for crop production in exchange for a percentage of the maize and hay produced for feed for his own cattle.
Rietfontein is also home to zebra, black wildebeest, springbok and blesbok that Maurice has bought over the years because of his love for game.
"We're utilising the land optimally. It used to be cattle and maize, now it's cattle and people," quips Maurice.
Growing in popularity
During Rietfontein's first year as a wedding venue, the Leonards hosted five nuptials. Today, the wedding bells ring at least 30 times a year on the farm. In winter, the wedding venue closes for three months as veld fires are a concern. Accommodation and hiking, however, continue throughout the year. The Leonards never host more than one wedding on a weekend as Celestè feels that couples need all the attention she can give them.
"There's often a lot of tension on a wedding day between nervous brides and mothers. I help relieve it," she says.
Couples married here often return to Rietfontein for farm stays, a compliment to the farm itself and the Leonards' hospitality.

Staff – two jobs in one
On weekends, the farm's tractor drivers and cattlemen are transformed into elegantly dressed waiters. Celestè and Maurice agree that the attitude of their staff plays a major role in their success.
"On weekends, they know that if there's a crisis everything else takes a back seat and the happiness of the wedding guests comes first," says Celestè.
The staff also benefit by earning an extra income as waiters and gaining an understanding of the hospitality industry.
Celestè and Maurice are conscious of the need for them and their staff to take breaks from the punishing schedule. Everyone is therefore given leave when the venue closes for winter. In addition, after five or six consecutive wedding weekends, a free weekend is scheduled so that people can get some time off.
Developing and expanding
Celestè and Maurice agree that a crucial question to ask before launching an agritourism business is: "Am I a 'people person?" Agritourism, they point out, involves constantly interacting with people and serving their needs. They also point out the value of becoming part of a network.
"The venues and accommodation in or near Heidelberg help each other out when necessary. We're not threatened by each other," says Celestè.
Indeed, weddings at Klipskuur have been a boon to the other farms in the area. "It's just too far to drive to Heidelberg for accommodation after wedding festivities, and neighbouring farms have revamped barns and old farmhouses as accommodation," explains Maurice.
Currently, 110 guests can be accommodated within a 3km radius of Rietfontein. "Guests arrive here tired from cities and are often used to looking over their shoulders because of crime. When they get here they're nervous because it's so open," says Celestè. "But when they accept that this is how it is, they start to relax. They don't even switch on the lights when there is the option and prefer to use lanterns or make a fire."
Like many businesses in South Africa, the Leonards see the value in having an alternative power supply. "Recently we had a power outage on a wedding day," says Celestè. "But luckily we have gas stoves. We also use generators for brides who have to do their hair and so on."

The Klipskuur wedding venue is marketed on Facebook and the Celebrations wedding website, with accommodation and hikes on Wheretostay and footprint.co.za.
This article was originally published in the 18 March 2016 issue of Farmer's Weekly.