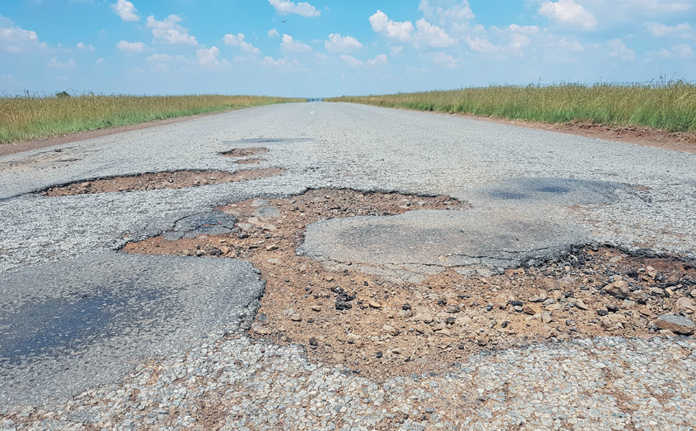 The poor state of one particular stretch of road in the Free State, used recently by Farmer's Weekly senior journalist, Sabrina Dean, prompted an investigation featured in Farmer's Weekly 23 March 2018.
But it is not only South Africa's roads letting farmers and businesses in towns and rural areas across the country down.
On a recent visit to the Kakamas Harvest Festival, business owners in the town told me they had received notice that electricity supply to the town could be cut off due to the local municipality's failure to pay Eskom.
This was despite the fact that the electricity users had diligently been paying their electricity bills to the municipality.
The latest South African Institution of Civil Engineering (SAICE) Infrastructure Report Card, published in September last year, offers an honest look into the general state of infrastructure maintenance in South Africa.
The overall grade awarded for the state of South Africa's infrastructure was a D+, which signifies an 'At Risk of Failure' status, and is only one grade higher than the lowest possible grade of E, which signifies that the relevant infrastructure is 'Unfit for Purpose'.
In the statement released at the launch of the report, SAICE said that the shortage of skilled personnel and the lack of maintenance emerged as major themes across all sectors.
"Efficient maintenance of infrastructure is critical. If infrastructure is mismanaged by a lack of maintenance, the functional lifespan will decline. Roads will deteriorate and the cost of repair can be up to six times more expensive.
The lives of people in smaller towns are impacted when, for example, water purification works and sewage plants are in disrepair, as residents are then exposed to health risks. This situation arises when municipalities have no, or inexperienced, civil engineering practitioners in their employ," SAICE said in the statement.
Some of the grades awarded included: water supply in major urban areas received a C+ ('Satisfactory for Now') grading, while supply to all other areas received D-. Solid waste collection in major urban areas received a C, with the metros receiving a C+.
However, the grading for waste disposal in other areas was D-. Whereas paved metropolitan roads received a C-, the provincial, metropolitan and municipal gravel roads received an E.
As far as rail was concerned, heavy-haul freight was given a B+ ('Fit for the Future') with a D+ for passenger lines (PRASA).
The only A rating ('World-class') was awarded to Gauteng's passenger line, the Gautrain.
Apart from provincial, metropolitan and municipal gravel roads, the other worst performer, which also received an E, was sanitation services, including wastewater management, for all areas other than large urban centres.