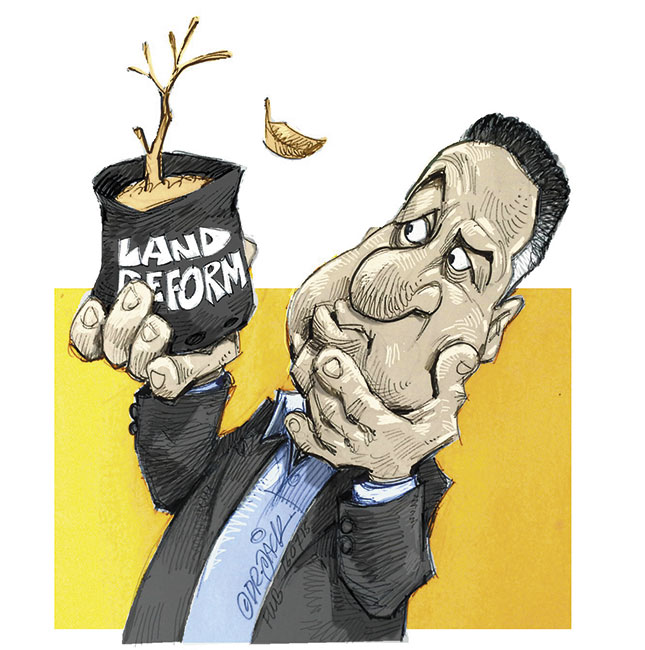 Little or no decision-making is taking place at the top to unify government and ensure that it is able to meet the most challenging times since 1994, he told delegates at the 2016 Northern Cape Red Red Meat Producers' Conference in Kimberley.
The most important thing a government can do is to sustain its economy, its agriculture and its food security. And yet it was recently revealed in The Times newspaper that we as a country are going in the opposite direction due to poor policies.
This is as a result of a leadership structure that is not cognisant of, nor cares about, the consequences of its actions. No government can control certain aspects of a farmer's livelihood such as meat price fluctuations, drought, livestock diseases, or even changing consumer tastes and preferences.
But what governments everywhere do control is the legislation that is enacted to administer these processes. Right now, we face a very negative environment in South Africa, of which the Expropriation Bill is just the latest example.
Historical context
However, no government that has a democratic mandate from the majority can ignore the context and history of our country. And that history is written in the words of racial discrimination.
The Land Acts of 1913 and 1916 prohibited black South Africans from buying land outside the homeland areas, which comprised only 13,7% of the country's land surface.
In addition, under the previous government's forced removal programme, at least two million black South Africans were uprooted from 'white' areas and relocated in rural or remote areas.
So it is both understandable and just that since 1994 there have been a series of programmes, laws and other instruments
to restore land and acknowledge our conflicted history.
But there is a big difference between good motivation and poor results. This was well expressed by one of the more forward-thinking ruling party leaders and previous governor of the Reserve Bank, Tito Mboweni.
In 2015, Mboweni said: "The poor relationship between land restitution and agricultural performance will haunt the ANC for a long time. The relevant minister's key performance indicator was how much land was taken from commercial farmers without thinking of its likely impact on food production".
Indeed, the gap between policy drawn up in Pretoria and the results on the ground have been startling. A recent in-depth report by the Institute of Race Relations (SAIRR) noted: "In a nutshell, the ANC embarked on a major piece of racial and social engineering (ie, R6 billion spent on land for emerging farmers and a target of 30% of current farms for 'redistribution') with little technical know-how and managerial capacity to follow through, let alone deal with the consequences."
Whereas white governments nurtured white farmers, South Africa's first black government neglected black ones. Land reform has been massively mismanaged, with tragic consequences for its supposed beneficiaries.
But I have no doubt that this was not its intention; indeed the motive was the opposite. But as the old saying goes, "the road to hell is paved with good intentions".
When Senzeni Zokwana was appointed minister of agriculture, he seemed at first glance an unusual choice. But in fact Zokwana has some farming interests, an engaging personality, and hits the right notes on the many crises and challenges gripping this sector.
He applied what is called 'thought leadership' to some of these problems. I do not doubt the minister's sincerity. However, a key aspect of leadership that makes a difference is ensuring that hard choices are made to achieve long-term stability.
The catchphrase in business is that you have to make some trade-offs. Precisely this is what is absent in our current leadership. Organised agriculture's anxiety relates to those bills or legislative decisions being tabled in Parliament or which are currently in the pipeline.
The Expropriation Bill will, according to experts, allow the state to expropriate land at a take-it-or-leave-it price, although no compensation will be payable when the state itself acts as custodian of the land rather than on behalf of the landowner. Then the National Development Plan (NDP)proposes that farmers hand over 20% of their land to the state.
In return, farmers will be protected against "losing land in the future". Government has already banned foreign agricultural land ownership and is planning to limit the size of farms.
Further added into this heady mix are plans to strengthen rights of occupancy for farmworkers, and a proposal that all farmland be held by the state as custodian and awarded to farmers on licence.
Farmers' water usage rights have already moved from private ownership to state control and there has been talk of a "land tax" to discourage "large ownership, capital intensity and underutilisation".
Many of these ideas and proposals seem to be out of touch with reality. Some will never be implemented, but others have already been, or are in the process of, being implemented.
These proposals certainly fly in the face of Minister Zokwana's strong commitment to farming security and indeed go to the nub of a larger issue that is at the root of the current leadership vacuum in the country. One of the most glaring examples of leadership failure and its consequences is the economic condition we are in right now.
Our growth is the lowest in recent history. We are on course for a 0,1% growth rate this year, according to the International Monetary Fund, and are in the 29th month of contraction, well below the 5% growth promised by the NDP. There is also a high likelihood that by the end of this year our hard-won investment-grade economy will be downgraded to junk status.
Of course, the kind of leadership that makes a difference is often found in South Africa far outside government. Today, South African companies combine local excellence with international reach. For example, SABMiller is involved in a merger and acquisition by AB Inbev to make it the biggest brewer in the world.
The list is long and distinguished, and provides some real hope in a gloomy landscape. Sometimes the best and most honest leadership is from the ground up, and the view from there is much less distorted than from Parliament.
This article was originally published in the 22 July 2016 issue of Farmer's Weekly.