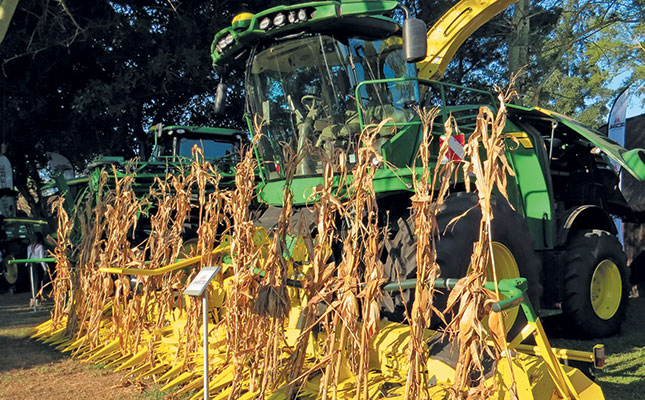 Mascor, with its head office in Greytown, has 11 branches, mainly in KwaZulu-Natal, including a strong presence in Pietermaritzburg. Jupidex, based in Pietermaritzburg, is the distributor of Kverneland Equipment and other leading brands.
Forage harvester
Mascor showed the latest John Deere forage harvester. The JD 8600 self-propelled forage harvester has a 460kW JD Powertech PSS 13,5- litre six-cylinder engine. It has been praised for its optimised crop flow concept and well laid-out cab.
Tracks for everything
The John Deere 855D Gator's 4WD 'go anywhere' capability is enhanced by the addition of Soucy rubber tracks, tackling the problems of compaction, poor traction, wheel slip and flotation on difficult surfaces.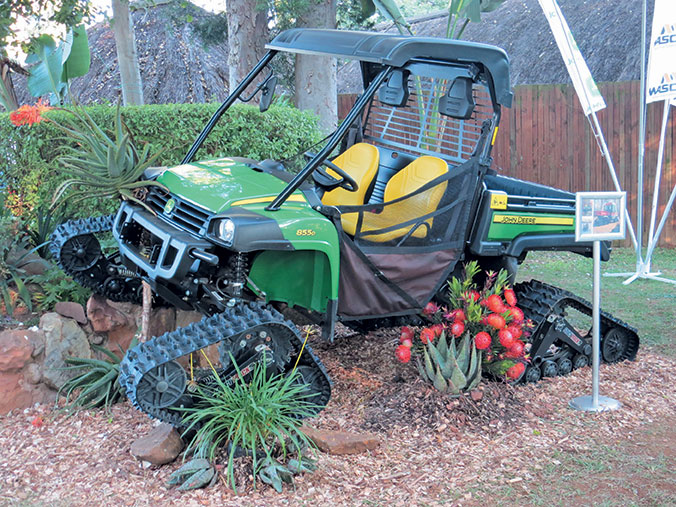 The 855D is powered by a 17kW three-cylinder liquid-cooled diesel engine with a CVT transmission. A dual A-arm front and rear suspension provides a smooth ride over the most challenging terrain. The entire suspension has been optimised to give excellent ride quality and stability, whether empty or fully loaded.

Strange comparison
It's interesting to note that the John Deere 110 lawn tractor is rated at about 15kW, the same as the 1952 vintage JD model 520 on the Mascor stand (see panel on the opposite page). That's from a 540cm3 engine compared with the 520's 3,1-litre engine.
Self-propelled sprayer
The JD 4030 has a Powertech 6,8-litre six-cylinder engine rated at 209kW and a hydrostatic transmission. Field speed is up to 32km/h and road speed is about 48km/h. Boom width can go up to 36,6m and the tank capacity is 3 000l.
The comfortable cab is designed with long days in mind and the Agricultural Management System is particularly user-friendly, enabling the operator to adjust spraying rates to match the speed of the tractor and monitor other functions allied to the latest spraying technology.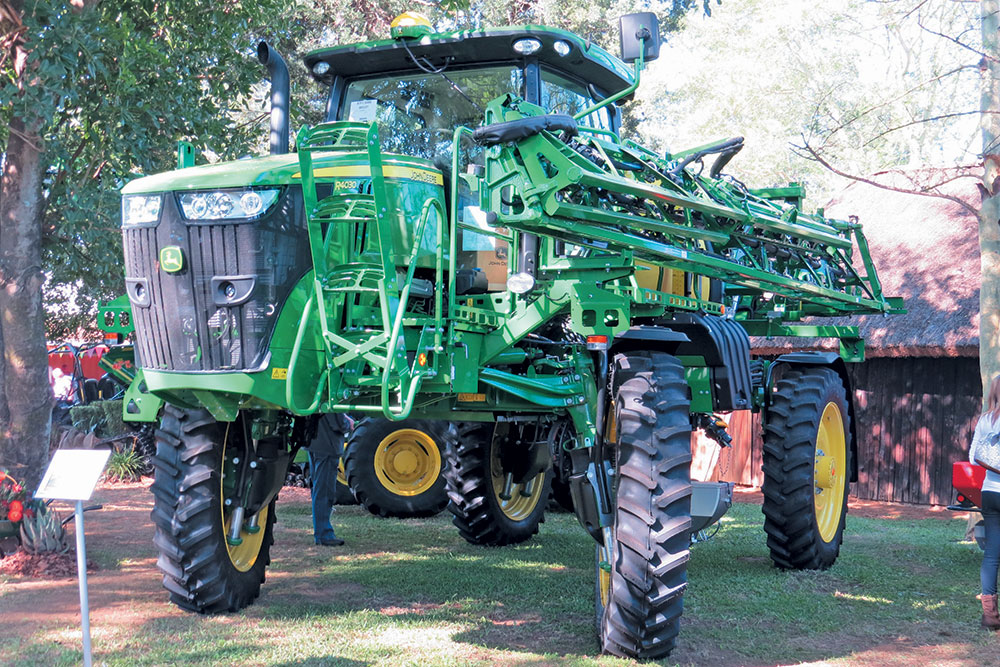 For smaller herds
The Celikel mixer, imported from Turkey by Jupidex, has a capacity of 1,5m3 and can be mounted on the three-point linkage and driven by the tractor's PTO. Alternatively, it can be free-standing and driven by a three-phase electric motor.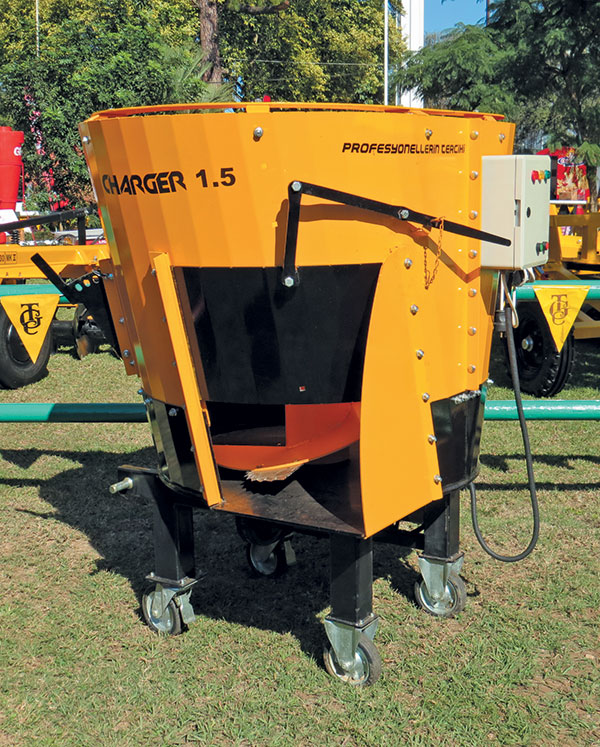 Heavy but narrow
The relatively heavy Alpler DHV 14 offset disc harrow, also from Turkey, has a cutting width of only 1,6m. The cutting angle of the disc gangs is easily adjusted and there is a gang-angle locking device.
The weight exerted by each disc is 50kg, making it an ideal tool for serious work in narrow rows such as between vines and orchard trees. The Alpler DHV 14 requires a tractor that delivers between 45kW and 52kW.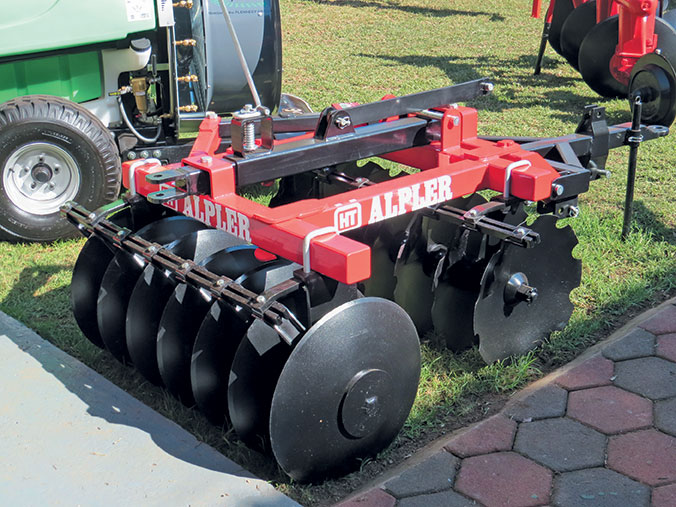 Vertical tillage tool
The Alpler Vertical Tillage tool joins the competitive market for high-speed shallow cultivation implements. The 3m model on the Jupidex stand had 24 x 560mm discs; also available are 2,5m and 4m models.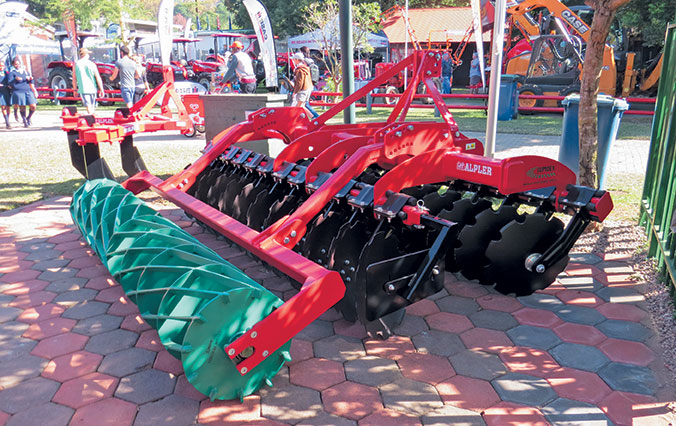 Joe Spencer is the mechanisation editor of Farmer's Weekly.