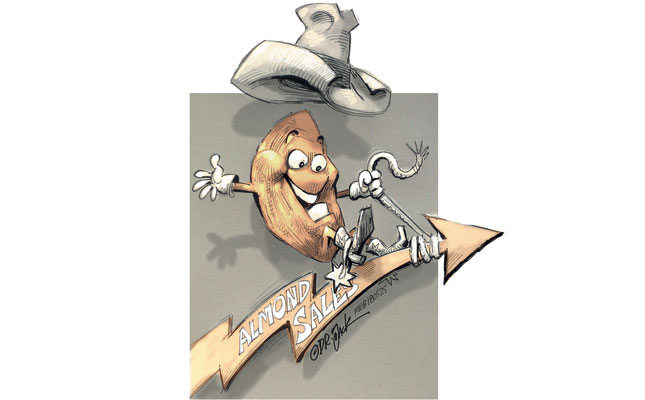 There has been a sustained upward trend in the consumption of almonds in South Africa over the past few years. The latest figures from the International Trade Council show that, from 2001 to 2017, South Africa's almond imports increased at a compounded annual growth rate of 7,3%.
They increased by 2,8% to 2 713t in 2017, from 2 639t in 2016.
In 2017, almond imports were valued at about R250 million.
More than 90% of almonds that are imported to South Africa are already shelled, which means that processing activities take place in their country of origin.
South Africa produces only about 200t to 300t of almonds a year, mainly in the Western Cape, and currently has a negative trade balance in almonds (see Graph 1).
The major source of the country's almond imports is the US, accounting for about 81% in 2017 (see Graph 2). This is not surprising, as the US accounts for more than 80% of global almond production.
Other import sources in 2017 included Australia (8,8%) and Spain (5%).
Both globally and locally, the increase in almond consumption has been influenced by a growing middle class that is more health- and lifestyle-conscious.
The proponents of the paleo diet, Banting and other fashionable diets have identified almonds and other tree nuts as sources of valuable essential nutrients, especially protein.
As a result, the popularity of the nuts and the demand for them have soared globally. This, in turn, has led to an increase in the global price of almonds.
Opportunity
The upward trend in global prices is likely to be sustained for some time because demand currently outstrips supply. This will further be supported by the fact that most of the ideal growing areas in the US, Australia and Spain are already saturated.
With domestic and local demand for almonds increasing, there is an opportunity for South Africa to develop the capacity to supply these markets.
This, coupled with the fact that major producing countries cannot increase production because of limited farming land, represents a good opportunity for South Africa to increase its own production.
The import substitution strategy has the potential to create jobs throughout the value chain. The almond value chain includes primary producers, processors, distributors and marketing outlets.
Estimates indicate that establishment costs (excluding the acquisition of land) range from R125 000/ha to R155 000/ha, which is three times cheaper than a comparable land size in the US or Australia.
The costs in these two countries are mainly driven by higher labour, land, water, planting and insurance costs, as well as higher property taxes.
Graph 3 shows the trend in almond import prices per kilogram from 2001 to 2017. Import prices for shelled almonds and for in-shell almonds increased at a compound annual growth rate of 7,5% and 12,5%, respectively.
In 2017, the import prices for shelled almonds and in-shell almonds were R84,14/kg and R81,40/kg, respectively.
The decline in prices in 2016 was as a result of the production glut in the US, which put downward pressure on global prices.
Growing almonds
Almonds grow well in a Mediterranean climate, and the Western Cape is best suited for the production of almonds in sub- Saharan Africa.
A study commissioned by the Industrial Development Corporation indicates that South Africa requires about 1 040ha to substitute the 2 600t of imports (at 2,5t/ha).
This would only be possible if almond production were more profitable compared to deciduous fruits such as apples, peaches, plums and pears, which have historically been more profitable.
Nonetheless, if the macadamia industry, which has proved to be competitive globally, is anything to go by, the potential for almonds could be huge.
Gilberto Biacuana is an economist, who is serving as a research analyst for commodities at the Land Bank. He writes in his personal capacity, and the views expressed in this article are his own and do not necessarily represent the policy positions of the Land Bank.
Phone the Land Bank on 012 686 0500.
The views expressed in our weekly opinion piece do not necessarily reflect those of Farmer's Weekly.