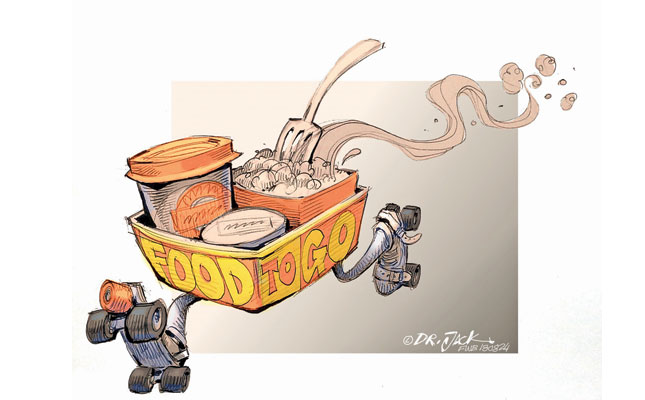 The rise of the Internet and smartphones has resulted in consumers looking for instant gratification, becoming more demanding or placing more emphasis on convenience.
Socio-economic changes, such as the rise in the number of single-person households, mean consumers spend less time in the kitchen and look for convenient food solutions.
Retailers can take advantage of this changing consumer behaviour by offering food that is fresh, fuss-free, accessible and affordable: food-to-go.
What is food-to-go?
This refers to retailers selling prepared food, in particular in supermarkets and convenience stores.
The food can be prepared in a central kitchen and supplied to the retail outlet, or made to order on-site and intended for immediate consumption. Unlike packaged food, the preparation of food-to-go involves a degree of craft and culinary skill.
With the retail industry going through transformational changes, retailers need to continuously innovate and offer new services to stay relevant to consumer needs.
Food-to-go represents one new growth strategy that can result in higher margins.
According to industry estimates, it offers gross margins between 30% and 45% when compared to the 20% to 30% gross margins of packaged food. Food-to-go also allows retailers to stand out from the competition and provide a reason to visit a retail outlet when shopping may not necessarily be on their minds. It also enables retailers to capture a bigger share of the overall food-related consumer spend.
Business models
Retailers can choose from various supply models to offer food-to-go. While convenience stores typically partner up with central kitchens, and the bigger supermarkets and hypermarkets have kitchens on-site, each approach comes with its own pros and cons.
Retailers with space constraints can opt to have food-to-go supplied from a central kitchen, with minimal baking, frying or reheating taking place on the premises.
These central kitchens take care of all aspects of food production, from the procurement of ingredients to cooking, freezing, packing and distribution. Retailers can set up central kitchens themselves, or they can work with third-party commissaries.
If the retailer owns the central kitchens, they have to set up chilled distribution centres, managing or outsourcing the cold-chain logistics.
For retailers who do not have the scale of operations, resources or appetite to build central kitchens, working with commissaries is a suitable alternative. Retailers can work with
multiple commissaries to address the product variety needed for food-to-go. Once food-to-go achieves the necessary scale, retailers can choose to build a central kitchen or buy out their third-party commissary.
Hypermarkets and large supermarkets can opt to have kitchens on-site in addition to purchasing from central kitchens. These kitchens cook to order or have partially cooked food finished off with minimal cooking on-site. Some retailers allow consumers to buy their produce in the store and have it prepared by chefs on-site.
Typically, the selections on offer are more premium produce such as seafood or steak.
The foodservice experience: The in-store execution of food-to-go is critical to its success, and retailers need to pay as much attention to customer experience as
they do to setting up the supply chain.
Invest in equipment: Investment in an assortment of equipment is needed, including open chiller cabinets displaying food, cook-chill equipment, and combination ovens
that facilitate reheating and sales. Retailers with kitchens on-premise will require additional kitchen equipment for food preparation and serving.
Store space: Retailers have to plan their store layout in advance to ensure sufficient space for displaying, preparing and selling food-to-go. Industry sources recommend allocating a minimum of 10% of floor area to food-to-go.
Dine-in and delivery: While dining areas are not a must for smaller outlets, sit-down services or stand-and-eat facilities strengthen retail's connection to foodservice. For
delivery, retailers can deliver the food themselves or work with online foodservice aggregators.
Packaging: While presentation is critical in retail outlets, for prepared meals packaging is critical to the sale. The packaging must underpin the freshness of the product and should be designed for singleserve, on-the-go consumption and easy disposal.
Partnerships
As consumer demand for food-to-go continues to grow, an opportunity exists for retailers
and foodservice to cooperate. Foodservice can produce their branded food-to-go or co-branded products to be sold from chiller cabinets at convenience stores or other locations.
The co-operation could extend to foodservice outlets setting up kiosks or shop-in-shops.
However, food-to-go is not for every retailer or outlet. It is expected to be more successful in urban and metropolitan areas where consumers are pressed for time.
Food-to-go is also likely to be more successful in clusters of offices or travel locations, where people are on the move and on the lookout for convenient meal solutions.