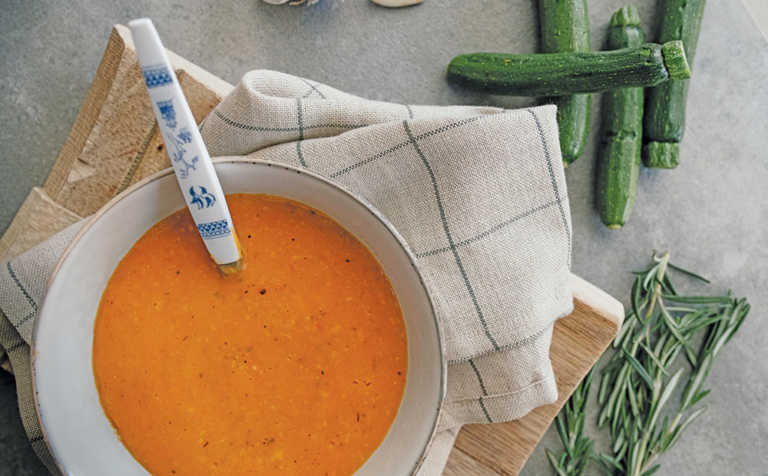 To make minestrone for four hungry diners, you will need:
4 tablespoons of extra-virgin olive oil
1 can of tomatoes plus juice
10 to 15 rosa tomatoes
1 tablespoon of tomato concentrate
1 can of white beans
1 large onion
3 cloves of garlic
3 carrots
5 sticks of celery
2 courgettes
3 rashers of bacon
2 sprigs of fresh rosemary
Half a cup of macaroni
1,2ℓ of chicken stock
Salt and freshly ground black pepper
2 tablespoons of finely chopped parsley
50g to 100g of freshly grated Parmesan cheese
1 Make the chicken stock yourself or buy it from a supermarket or retailer. If you
go for the home-made option, make a few litres at a time and freeze the stock that you don't use. If you buy the stock, follow the package instructions.
2 Drain the can of white beans, and crush, peel and finely chop the garlic. Peel and thinly
slice the onion, and peel and then top-and-tail the carrots. Cut the carrots, courgettes and celery into small cubes. Dice the bacon (if you can find the unsmoked variety, make this your first choice; otherwise standard bacon is just fine, although strongly flavoured).
Cut the rosa tomatoes in half. Cut the two sprigs of fresh rosemary into four pieces, taking care later to add a fragment to each serving.
Many versions of minestrone use rice instead of pasta. Pasta adds welcome density to each
spoonful, as well as conforming to one's mental image of what makes a soup Italian.
3 Select a large, heavy-based saucepan. Pour in a tablespoon or two of the olive oil, bring this up to medium heat, and sweat the onion and garlic until the onion is soft and translucent. Stir to avoid adhesions and burning. Lower the heat, add the rest of the
prepared vegetables and diced bacon, but not the pasta.
4 Pour in the 1,2ℓ of chicken stock, noting that 200ml or so will be soaked up by the
pasta. Bring this to the boil, then reduce to a simmer. Allow it to cook for 50 minutes, then add salt and pepper to taste. Add the raw macaroni and let the soup continue to simmer until the pasta is cooked to your liking.
5 Add the Parmesan, parsley and rosemary sprigs, and serve with fresh rolls. Ideally,
these should be sourdough rolls.
David Basckin is a freelance journalist and videographer.