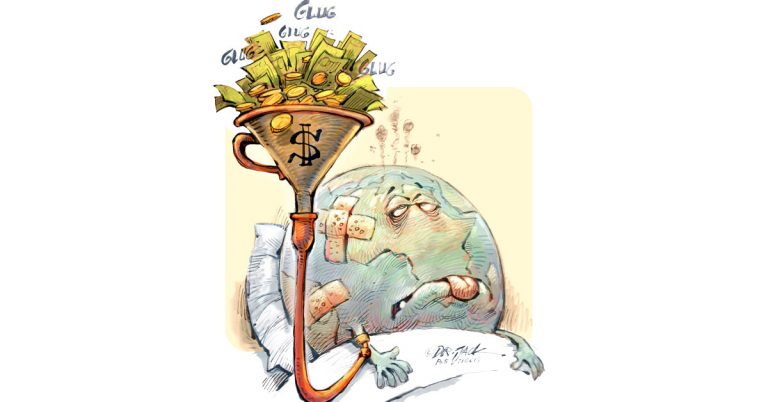 Over the past decade, 26% of global tree cover loss was caused by the production of just seven agricultural commodities: cattle, palm oil, soya bean, cocoa, rubber, coffee, and wood fibre.
Barring major changes, the toll on forests and other wild spaces will continue to mount, ultimately imperilling industries that rely on natural resources.
According to the authors of the state of financing for nature report, governments, financial institutions and businesses need to place nature at the heart of future economic growth by tripling the financing available for environmentally friendly projects by 2030.
Forests have been hit especially hard by human activity. Every year, the world loses 10 million hectares of tree cover, an area the size of the Republic of Korea. Forests provide drinking water to one-third of the world's largest cities and support more than 65% of its amphibian, bird, and mammal species.
Investment in nature-based solutions is thus a key component of transformational change, in order to conserve the many services provided by these resources. Natural resources, in turn, can provide economic, social and environmental stimulus by creating jobs, protecting nature, accelerating decarbonisation, and improving climate resilience.
An enabling environment
Governments, financiers, and businesses are becoming increasingly interested in nature-based solutions.
Two-thirds of governments have now committed to restoring or protecting ecosystems in their Nationally Determined Contributions, the commitments at the heart of the Paris Agreement on climate change.
There is also growing interest from companies to commit to 'net zero' targets for greenhouse gas emissions.
But much remains to be done to create demand for nature-based solutions, to put in place robust environmental and social safeguards, and to address legal hurdles. One lever to generate investment opportunities is to focus on economic stimulus and positive societal outcomes.
The more stakeholders pursue these win-win opportunities, the more public and private investments in nature-based solutions will rise over time.
Governments must create the enabling environment that allows this to happen. They can do that by revisiting agricultural policies and tariffs and developing taxonomies to determine what is sustainable and what is not. Companies and financial institutions must also share the risk and commit to increasing finance and investment in nature-based.
The finance gap
Several case studies in the report illustrate the business and investment case for nature, along a pathway to transition towards a net-zero, nature-positive economy.
Overall, a total investment in nature of US$8,1 trillion [around R111 trillion] is required between now and 2050, while annual investment should reach US$536 billion [R7,4 trillion] by 2050, in order to successfully tackle the interlinked climate, biodiversity, and land degradation crises.
This means that annual investments in nature-based solutions will have to triple by 2030 and increase four-fold by 2050 from the current investments of US$133 billion [R1,83 trillion], using 2020 as base year.
Structural transformations are needed to close the finance gap between now and 2050, by building back more sustainably in the wake of the COVID-19 pandemic, but also by repurposing harmful agricultural and fossil fuel subsidies and creating other economic and regulatory incentives.
Investing in nature supports human, animal and planetary health; improves quality of life; and creates jobs. However, nature currently only accounts for 2,5% of projected economic stimulus spending in the wake of COVID-19.
Private capital will also have to be scaled up dramatically to close the investment gap. Developing and scaling up revenue flows from ecosystem services and using blended finance models as a means of crowding-in private capital are among the suite of solutions needed to make this happen, which also requires risk-sharing from private sector entities.
Biodiversity loss is already costing the global economy 10% of its output each year. If we do not sufficiently finance nature-based solutions, we will affect the capacities of countries to make progress on other vital areas such as education, health and employment.
The business case for nature
Forest-based solutions alone, including the management, conservation and restoration of forests, will require US$203 billion [R2,8 trillion] in total annual expenditure globally, according to the report.
The report calls for coupling investments in restoration action with financing conservation measures. This could result in forest and agroforestry (the combination of food production and tree growing) area increases of approximately 300 million hectares by 2050, relative to 2020.
The annual investment of the private sector in nature-based solutions was equal to US$18 billion [R248 billion] in 2018.
Private finance only accounts for 14%, including capital mobilised through sustainable agricultural and forestry supply chains, private equity investments, biodiversity offsets financed by private sectors, philanthropic capital, private finance leveraged by multilateral organisations, and forest and other land use-related carbon markets.
In climate finance, private-sector investment accounts for most capital flows at 56%, according to the Climate Policy Initiative.
The scaling up of private capital for nature-based solutions is one of the central challenges of the next few years, with a specific focus on investing in nature to support sustainable economic growth in the 21st century.
Investors, developers, market infrastructure makers, customers and beneficiaries can play a role in creating a market where nature-based solutions access new sources of revenue, reap the benefits of increased resilience, reduce costs, and improve reputation and purpose.
While a number of private-sector-led initiatives have already emerged, the report stresses the need for companies and financial institutions to increasingly be part of the solution by sharing the risk and committing to boost finance and investment in nature-based solutions in an ambitious way and with clear, time-bound targets.
The views expressed in our weekly opinion piece do not necessarily reflect those of Farmer's Weekly.
This article is an edited excerpt from the report, 'State of Finance for Nature: Tripling investments in nature-based solutions by 2030', published by the United Nations Environment Programme, the World Economic Forum, and the Economics of Land Degradation Initiative in collaboration with Vivid Economics.