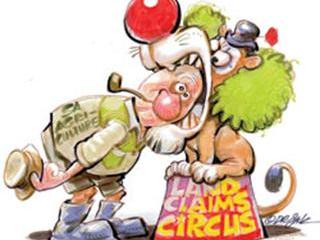 When Robin Barnsley, chairperson of Agri SA's general affairs chamber and arguably one of the most gifted leaders in agriculture, last year reported on the state and impact of restitution at Kwanalu's conference, he quoted Rudyard Kipling, author of Soldiers Three, calling it 'a lamented tale of things done long ago, and ill done'. This is how South Africa will, in future, always talk of restitution.
It has nothing to do with the principle of restoring land to those who have lost it without proper market-related compensation, nor with the Restitution of Land Rights Act (No 22 of 1994). It has everything to do with the way it has been implemented by a Restitution Commission whose endeavours over the last 12 years have caused SA nothing but embarrassment and losses.
Its work has not improved anything for the beneficiaries of restitution who are all left poorer than before, torn apart in internal conflict and strife in artificial government-created 'communities'. Nor has it improved anything for commercial farmers who are being bullied into accepting less than half the value of their land.
Claims in shambles
After a visit to a R65 million land transfer in Limpopo, Business Day journalist Neels Blom wrote: 'These were not farms where production had simply been halted as a consequence of land claims and neglect had taken its toll. These farms had been destroyed beyond redemption. The last time that I saw such wrecked buildings and the wanton destruction of showcase farms was more than 30 years ago in the aftermath of the South African Defence Force's invasion of Angola.
Here, as in the war zone, the degree of vandalism had gone far beyond the force needed to rip out usable items. It is hard to imagine the level of rage that would motivate someone to break every windowpane in a building and knock other buildings down until no two bricks remained on top of each other.' He has not been in the position of a landowner (seller) or a claimant whose fate is in the hands of officials who are not accessible, don't have any comprehension of the effects of their actions (or lack thereof), and whose only concern is personal gain. With any exposure to this commission, Blom would have understood.
From a commission which still doesn't have a final list of the claims it received 14 years ago, and doesn't know how many farms it has gazetted since, how many claims it has processed, and who has degazetted less than 10 as finally settled, one can surely not expect it to have kept a record of the number of jobs and value chains it has destroyed, the decline in production output it has caused, or the investors it has scared off. Now government wants to reopen the opportunity to file claims 'because communities say they did not know they could claim'.
Land reform minister Gugile Nkwinti (who is really doing his level best to get over the advantage line – if only he had a capable department behind him) once explained that some community members are disgruntled with successful claimants with whom they grew up. While they were in the same position as the claimants, they are now left with nothing. What he does not understand is that the disgruntled knew that they could file a claim, but they did not know that the validity of claims would not matter at all.
They never anticipated that the commission would give up on the research on validity of claims altogether, and that all land of willing (and often desperate) sellers would be transferred, as long as there was a claim on it. It became a free-for-all, with the only criteria a claim form on a file. Now everybody wants it. Such a circus it has become, that the department reported in parliament in April that it now has substantially more outstanding claims than the number reported to parliament in 2009.
Passing the buck
It is all a (very expensive) political game of course. If there were legitimate cases where potential claimants missed the opportunity to file a claim, it would not be necessary to open the whole process again, and cause even more havoc than the current process which has been described in foreign media as the biggest man-made disaster to have struck South African agriculture since the Anglo-Boer War.
Such potential claimants should simply be allowed to approach the court for condonation for filing a late claim. But the officials would not settle for that, because it would not suit their ideological agenda. It is nothing different from the blind drive to scrap the willing-buyer, willing-seller principle. Even though senior ANC leaders such as deputy president Kgalema Motlanthe and minister in the presidency Trevor Manuel have conceded that it was the incompetent buyers rather than unwilling sellers who have failed meaningful land reform, the department insists that the principle should be scrapped.
Limiting transparency
Since 2004, Agri SA has pleaded with government to involve the banks and other agri-business in solving the problem as the massive outflow of investment in the sector had just started taking its toll. Banks also run the risk of financing on inflated values, and theirs is no less than the risk of government. Banks have designed instruments to mitigate that risk and there is absolutely no reason why government should not be able to tap into those instruments. If a bank is prepared to finance land at a certain value, the government's risk to pay too much at that value is minimal.
In eight years, the department has not responded to any of the repeated calls for the involvement of the banks, probably because it would force transparency and limit opportunities for officials to benefit from transactions. It would rather scrap the willing-buyer, willing-seller principle, kill agricultural financing in the process, and then shrug it off as 'an unintended consequence'. It blames greedy farmers for inflated land prices although the department alone appoints valuers.
Senior managers in the commission (with party membership as only qualification) decided in August 2007 to offer only 60% of the value of a farm in restitution transactions.They made it so hard for landowners of claimed farms to obtain production financing that production in the northern provinces took a nosedive.
The sad part is that, in spite of all the pure intentions, a committed minister, an excellent constitutional and legal framework, and workable plans, we do not have the departmental capacity to implement it meaningfully. We sit with activists and revolutionaries in senior positions, who do not make good administrators. Until they are replaced by proper professionals, the failure of land reform is bound to worsen.
Contact Theo de Jager at [email protected]
The views expressed in our weekly opinion piece do not necessarily reflect those of Farmer's Weekly.