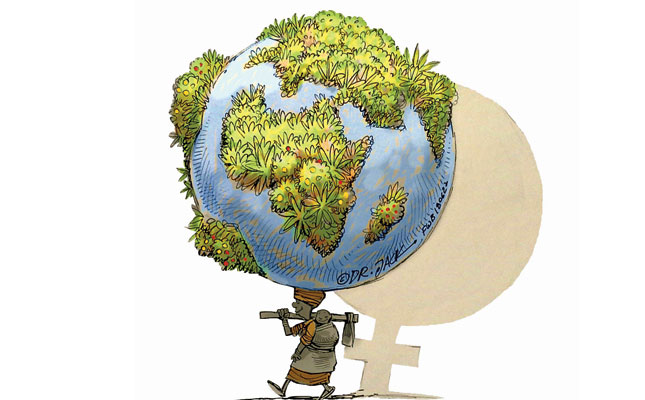 Undernutrition is still a major cause of mortality and morbidity around the world. This is an unacceptable situation, and it is a shame on all of us that it still exists.
For example, there are currently 52 million children under five years old who are dangerously underweight, and 155 million children under five years old who have stunted growth as a result of being undernourished.
It has been estimated that approximately 45% of all deaths of children in this age group, amounting to a shocking 3,1 million deaths annually, are associated with undernutrition.
READ Linda Zwane, empowering women farmers in Mpumalanga
The longer-term consequences of undernutrition in the world's children are equally challenging. These include reduced educational achievement capability during the formative years, and then reduced work capacity and associated reduced economic productivity in adulthood.
These factors may have a major negative impact on individuals, households, communities, and entire nations.
At the same time that undernutrition remains a threat and burden to the health and well-being of communities, there are also emerging nutrition-related threats.
The biggest of these is the rise in the number of overweight and obese people. Of the five billion adults presently on the planet, two billion – or two out of five – are overweight or obese.
One in 12 has type 2 diabetes, and there are more than 41 million children under five years old who are overweight.
Food is clearly an extremely important factor in determining health outcomes such as undernutrition and overnutrition. However, the role of food has numerous additional outcomes, such as on the global burden of disease.
First-placed on the list of the top 17 risk factors for ill-health globally are child and maternal malnutrition. Second-placed are dietary risks. Several others further down this list – such as high blood pressure, high plasma-glucose levels, high body-mass index and high total cholesterol – are also related to diet.
Women and agriculture
Agriculture is important because it is the primary producer of most of the food that people eat. Agriculture is also a source of income, and agricultural policy has a major effect on food availability and food prices.
There is growing evidence that these three facets of agriculture are vitally important for ensuring good nutrition and good health in human populations.
READ How do we attract women to agriculture?
It is also becoming increasingly clear that, on all levels, the status of women in agriculture is improving. Women who are involved in agriculture around the world are increasingly having a greater say in intra-household decision-making and in resource allocation, which influences the quality of nutrition in their households.
It is clear that these women's ability to care effectively for young children is also determined by their work in agriculture. Their own nutritional status, and its intergenerational implications for nutrition, are also important in agriculture.
The enormously important role of agriculture in food and nutrition security is based on four pillars.
These are: ensuring that food is available through agricultural systems and food markets; ensuring that people have access to this food at affordable prices; ensuring that the supply and affordability of this food is stable both within and across years; and ensuring that the right types of food, in terms of their nutritional value and safety, are available for consumption.
Agriculture is also important as a source of employment and income. Up to 30% of a country's gross domestic product (GDP) and up to 60% of its national employment can come from agriculture, especially in sub-Saharan Africa.
The multiplier effect
The development of agriculture also has important equity dimensions. Support for agriculture through direct policies or interventions to increase agricultural growth has been shown to specifically improve the outcomes of poorer population groups.
The 2008 World Development Report revealed that a 1% GDP growth in a country's agricultural sector can increase expenditure among the poor by at least 2,5 times as much as 1% GDP growth in other sectors of a country's economy.
Agriculture has an enormously important role to play in the price of food. Between 2008 and 2010, there were several spikes in food prices around the world.
The UN's Food and Agriculture Organization estimated that, as a consequence of the food price spikes, in 2009 there was a massive increase in the number of undernourished people because these people could not afford to pay for the food they needed.
A further consequence of these food price spikes was that there were public riots in 22 countries.
This goes to show how important it is that agriculture helps to ensure that food prices remain stable. As a result, while food prices now are at similar levels to those of the 2008 to 2010 period, there are none of the riots of that period because food prices have increased gradually since then instead of spiking.
Empowering women to ensure better family health
Worldwide, women play a critical role in agriculture, in income generation and in food security and nutrition.
In some countries, women are the predominant workers in agriculture, and the sector is becoming feminised because men are leaving rural areas to work in urban areas.
However, in cases where men and women are still living together in rural households, there are complex relations that determine who has control, who has power, and how resources are allocated within these households.
READ Growing veggies on a small plot of land
Evidence is clearly showing us that nowadays the empowerment of women in agriculture is absolutely critical to ensure health and nutrition outcomes within households.
A study conducted in Nepal found that the greater the access that women in agriculture in that country had to resources, inputs and decision-making, the better their diet and that of their children.
This in turn resulted in less stunting among Nepalese children and less undernutrition overall among that country's rural residents.
This case study in Nepal highlights the need for really important actions to be taken elsewhere in the world to support women in agriculture so they will be empowered to take their rightful role in decision-making and in looking after their families.
This is an excerpt from a presentation, titled 'Promoting health, sustainability and equity: agriculture's role', given by Professor Alan Dangour, via video recording, to the 2018 Ukulinga Howard Davis Memorial Symposium held from 22 to 23 May in Pietermaritzburg, KwaZulu-Natal.
The views expressed in our weekly opinion piece do not necessarily reflect those of Farmer's Weekly.
For more information, contact Professor Alan Dangour at (UK) 020 7958 8133 or
[email protected]. Visit lshtm.ac.uk.