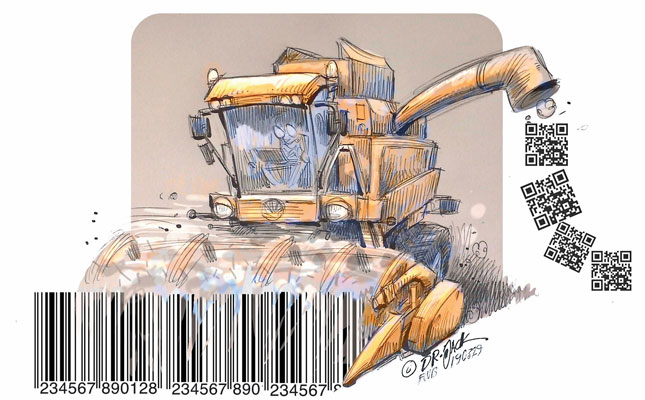 President Cyril Ramaphosa recently commented that Africa had failed its youth through neglecting digital training and subsequent deployment.
The president's views on this matter corresponds with the opinions expressed at a conference by the Global Forum for Food and Agriculture (GFFA) in Berlin in January. Organised and hosted by, among others, the German Federal Ministry of Food and Agriculture, and the Berlin Senate, it was titled 'Agriculture Goes Digital – Smart Solutions for Future Farming'.
A host of international experts addressed issues and challenges such as the improved use of digital technologies' potential for agriculture, and how farmers' access to digital technology could be expanded and safeguarded.
The GFFA, which focuses on crucial questions concerning the future of the global agri-food industry, met this year for the 11th time.
The conference gives politicians, business people and representatives of civil society the opportunity to share ideas, and seeks to enhance politicians' understanding of current agricultural policies pertaining to food security.
Speaking at the event, José Graziano da Silva, director general of the UN's Food and Agriculture Organization (FAO), said that investing in rural areas and agriculture, and thereby creating jobs, was crucial for achieving prosperity in Africa and providing the continent's young people with an alternative to migrating to urban areas.
According to Da Silva, the youth are needed to take modern agriculture forward, but this can happen only if they are able to use technology and harness digital communications.
Tough challenges for agriculture
The world, including South Africa, faces unprecedented challenges to the sustainability of agriculture. These include depletion of natural resources, and the increasing occurrence of transboundary pests and diseases.
If not properly contained and managed, these factors will have a major impact on food security and the achievement of the developmental goals set for the agriculture sector in the National Development Plan.
The recent outbreak of foot-and-mouth disease (FMD) is a case in point. The almost insurmountable problems pertaining to the containment and isolation of this serious disease have highlighted the problem of failure to comply with local traceability requirements.
South Africa needs to learn from its competitor, Namibia, which already has a traceability system in place that would have made it possible for it to act rapidly and decisively to protect its markets.
South Africa simply cannot compete when it comes to control of diseases such as FMD because it lacks the digital capacity, both in terms of systems and manpower, to implement and manage a traceability programme, amongst others.
Digital technologies and innovations have the potential to revolutionise food systems. If used properly, they can enhance the production of nutritious and safe food, create employment and income opportunities for rural populations, including youth and women, and protect natural resources.
According to the FAO, the effective combination of information and communication technologies with appropriate data and knowledge will provide valuable services for family farmers and young entrepreneurs.
An increasing number of the latter are already benefitting from improved coordinated production planning and monitoring, as well as marketing systems that apply the virtual aggregation of information to improve access to advisory, financial, insurance and market services.
Innovative information and communication technologies, such as drones, satellite imaging and remote sensors, can help develop early warning and disaster risk reduction models.
By adopting appropriate agronomy techniques and agro-technology transfer systems, sustainability in agriculture can be significantly enhanced.
Unfortunately, the reality in South Africa is that we are far removed from providing successful training and practically implementing it, as occurs elsewhere in Africa.
There is a marked digital gap between us and the countries to the north of us. The question is whether we have the correct objectives in mind with regard to agricultural training.
Apart from critical financial shortfalls, government institutions lack the understanding of appropriately steering budgets. This is underscored by the fact that an organisation such as Grain SA has to use its own money to fulfil its training mandate.
Demand for high skill levels
With modern farm equipment becoming ever more digitally advanced, there is a
need for increased user skills and hence training.
The lack of trained young people, coupled with limited or no access to information, is a severe impediment in the process of digitalisation. The emphasis should be shifted from formal education to the large numbers of young people who are left unemployed.
The Fourth Industrial Revolution is seeing technologies and trends such as the Internet, robotics, virtual reality and artificial intelligence changing the way people live and work.
In light of this development, young people desperately need training in technology and access to connectivity and information.
The entire agricultural value chain has to take responsibility for the dissemination of knowledge and information. Universities and colleges also need to come on board in an effort to provide education.
It is obviously important that technological training and development are brought to where the people are, as the majority of school-leavers do not have access to formal training. The rapid technological developments in agriculture call for training that will make people employable on modern farms.
Currently, young people either migrate to urban areas to find any type of work,
or remain jobless in rural towns. They are in desperate need of training and development. South Africa should learn from countries such as Kenya.
A number of rural Kenyans have been trained to manage drones to scout for evidence of fall armyworm. This is a sterling example of how training in technology has benefitted the industry and the development of people who otherwise would have had no access to training whatsoever.
Excessive data cost
However, the cost of and access to data effectively prohibits opportunities for digitally training people in rural areas. It is far too expensive and connectivity is poor.
The result is that the brightest rural youngsters tend to be attracted to the urban jobless desert. Better connectivity in rural areas would contribute towards reversing the migration of young people.
The views expressed in our weekly opinion piece do not necessarily reflect those of Farmer's Weekly.
For more information, email Dr Kobus Laubscher at [email protected].