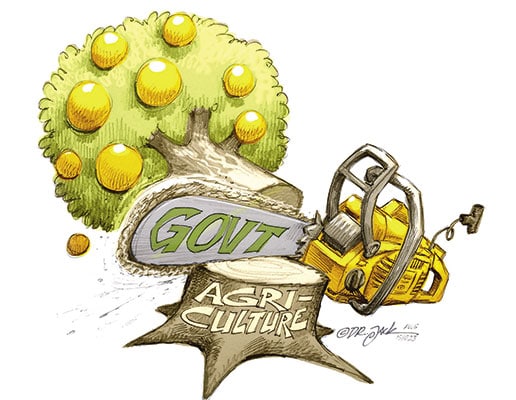 South Africa's 35 000 remaining commercial farm units (from 57 980 in 1993*) are vital to the food security of 54 million South Africans. They also contribute 3,9% of the country's gross domestic product (GDP) and employ more than 650 000 people, mostly unskilled. Commercial farmers underpin the rural economy and the prosperity of small rural towns
READ: Land reform management and building a better business
The failure of land reform efforts
Many farmers have long accepted the need for land reform to overcome the ongoing effects of past racial laws prohibiting the purchase of agricultural land by black people and the forced removal of more than 1,1 million blacks from 'white' rural areas in the 1960s and 1970s. Since 1994, some R69 billion in real terms has been spent by the state on buying seven million hectares of land for redistribution or restitution, against a target of some 26 million hectares.
The amount already spent is close to the net value of all agricultural land in the country (R71 billion), yet 19 million hectares remains to be transferred. In addition, between 70% and 90% of all land reform projects have failed, beneficiaries being unable to produce any marketable surplus. Yet land reform is also a sham in the following respects:
It exaggerates the extent of land hunger (only 8% of South Africans want land to farm);
It prevents black South Africans from gaining individual ownership of farming land (almost all transferred land goes to the state, chiefs or community trusts);
It ignores the most important land reform requirement – the need to give individual ownership to some 18 million people with insecure customary land-use rights in the former homelands.
Despite these many problems, land reform is now being stepped up through legislation. Much of the threat to commercial farming comes from a spate of new laws and policies.
Land Restitution Amendment Act of 2014 (effective July 2014)
The land claims process has been re-opened, with a new five-year window running from July 2014 to June 2019. About 379 000 new claims are expected to be lodged. These will be in addition to the 80 000 or so lodged in the first window period (to December 1998), of which 13 000 are yet to be resolved.
The new claims could cost R179 billion to settle, but the annual restitution budget is less than R3 billion a year. In addition, the Department of Rural Development and Land Reform and the Land Claims Commission lack the administrative capacity to handle new claims.
Property Valuation Act of 2014 (effective August 2015)
A state official, the valuer general, has been empowered to value all property (including land and any accompanying movables) that has been identified for land reform purposes. Where farms are under claim, this statute will help government expropriate them as working entities and for less than market value.
Regulation of Land Holdings Bill (mooted in the Green Paper on Land Reform in 2011, and still to be approved by the cabinet for tabling in parliament)
This bill will introduce ceilings on farm sizes, which are likely to be set (in the beginning, at least) at 1 000ha for a small farm, 2 500ha for a medium one and 5 000ha for a large farm. In exceptional circumstances, a maximum of 12 000ha may be allowed. Where a given farm exceeds the relevant ceiling, any excess land is likely to be expropriated.
50:50 proposal (under investigation through a few pilot studies)
The land department has proposed that 50% of all commercial farms be transferred to long-serving farm workers. Compensation for this 50% will not go to the farmer but be paid into a trust jointly owned by both the farmer and his new owner-workers.
Agri Land Bill of 2014 (public comment obtained, bill still to be approved by cabinet)
The Department of Agriculture, Forestry and Fisheries (DAFF) has put forward the Preservation and Development of Agricultural Land Framework Bill of 2014, under which all agricultural land will vest in DAFF as 'custodian' for the people of South Africa.
This bill will require all high-potential cropping land to be used solely for production for human consumption. All farmers will need the state approval for any rezoning or sub-division, under rules so broad that they could require state approval for a shift from one kind of agricultural use to another.
Under the 'right to farm', they will also be made subject to ministerial regulation, meaning that farmers could in time be required to obtain farming leases or licences from the state.
Expropriation Bill of 2015 (currently before parliament)
This bill will allow all national and provincial departments, municipalities and hundreds of other organs of state to expropriate land, movables and other assets 'for public purposes'. This means that the land department could expropriate a number of farms and lease them to black farmers under the State Land Lease and Disposal Policy (SLLDP).
The department must start by negotiating with the farm owners for the purchase of their land at, say, 70% of market value, as recommended by the valuer general. When this is completed, the land department may serve notices of expropriation on all the affected farm owners. Under such a notice, ownership will pass automatically to the department on the "date of expropriation" set out in the document, which could be the day after its service.
The department may again offer 70% of market value as compensation. If a farm owner does not sue for more within 60 days of being invited to do so, he will be deemed to have accepted this amount. If he does litigate and a court awards him the same amount or less, he must pay the land department's legal costs.
The bill is in conflict with Section 34 (the right of access to court), Section 25 (the property clause, with its requirements for valid expropriation), and Section 33 (that prohibits the land department from acting as 'judge and jury in its own cause').
The South African Instute of Race Relations has thus proposed an alternative expropriation bill, under which:
The state must prove the validity of a disputed expropriation before it proceeds with it;
Compensation must begin with market value, less the four discount factors listed in the Constitution;
Payment must be made in full before the state takes ownership, failing which the relevant notice of expropriation becomes invalid and falls away.
These changes would make it more difficult for any organ of state to abuse the power to expropriate.
Propaganda against farmers
Farmers face not only a growing threat to their property rights, but also adverse propaganda. This begins with repeated exaggerations of the ratio of white to black land ownership, which no longer stands at 87:13 but rather at around 65:35.
Also relevant are constant accusations that farmers abuse and assault their workers, pay even less than the statutory minimum wage and have illegally evicted more than a million farm residents since 1997. (By contrast, official figures put the total number of evictions, in the period from 1997 to 2009, at 826.) The purpose of this stigmatisation is to turn public opinion against farmers.
Why target farmers?
The ANC and its allies in the Congress of South African Trade Unions (Cosatu) and the South African Communist Party (SACP) actions are guided by ideology and commitment to a Soviet-inspired national democratic revolution (NDR).
Some 40% of President Jacob Zuma's cabinet ministers and their deputies are known present or former members of the SACP.
According to the SACP, the NDR offers the shortest and 'most direct' path to a socialist and then communist future for South Africa. The ANC has slowly but steadily been implementing the NDR ever since 1994.
The party believes it now has enough control over the police, army, public service, judiciary, media, business and opinion formers to push ahead with radical 'economic' transformation in this second phase of the NDR.
Cosatu finds it is vital to vest ownership of all land in the state in order to 'break the power of white capital'. Take out the word 'white' and the real meaning of this call becomes apparent.
What farmers can do
The first thing to do is to understand what is going on. Know what laws are being passed and the powers they give government. Organise against these laws.
Join farming unions and civil society groups that have your interests at heart. There is no need to forge a single representative group. On the contrary, several different groups working together will be more effective. The third step is for these groups to identify core issues of principle that are essential to the future of commercial farming. Most important here are your property rights.
Farmers must play a more decisive role in setting the terms of reference for the debate around land and agriculture. Use your structures to target political parties, individual political leaders, banks and large agricultural businesses.
Challenge them publicly to lend their weight against policies that threaten the future of commercial farming. If they refuse, you may have to boycott them to send a strong message. You need an effective policy and communications strategy. Do not allow a single bad law or policy to be drawn up without challenging it and proposing a better alternative. – Gerhard Uys
Email Frans Cronje at [email protected].
*This article was amended on 17 November 2020. The article originally stated that there were about 120 000 commercial farmers in South Africa in 1994, but an investigation by Africa Check concluded that, according to available data, this figure was not correct and that there were 57 980 commercial farm units in South Africa in 1993.