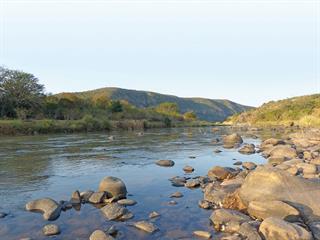 "A lot of people have asked how our family stuck it out,'' says John Jefferies of Rhodesdale farm near Kei Mouth in the Eastern Cape. John is referring to the family's fortitude to succeed in Africa despite, for example, the torching of three trading stations and a farm homestead by Xhosa warriors in the 6th, 7th, 8th and 9th Frontier Wars.
It is a history that fascinated John's cousin, Alan Jefferies, so much that in 2001 he published The Absolute Border, a book dealing partly with his family's generations of tenacity in the region.
"The Jefferies family traits, such as the mulishness and stubbornness, have come through from centuries ago,'' he says. "The ability to hit one's head against a brick wall and simply continue is a trait that permeates the family.''
John's great-grandfather, Edward Jeffries (without the 'e'), arrived as a 12-year-old 1820 settler in the care of his uncle, James Watts. Edward, his younger brother Gad, and Watts battled to cope on their agricultural plot near Salem and like many other settlers, moved to Grahamstown in the mid-1820s.
Trading and tenacity
Watts worked as a bricklayer and his two young nephews became apprentices in the building industry, but they soon became interested in trading with the Xhosa. In fact, by the 1830s, Edward was trading near Fort Cox in the shadow of the Amathole Mountains – stronghold of the Ngqika Xhosa – while Gad had headed to present-day Zimbabwe to trade.
Trading was a high-risk endeavour on the turbulent Eastern Frontier and Edward's trading station at Fort Cox was burnt to the ground by the Ngqika Xhosa during the 6th Frontier War of 1834-1835. However, Edward simply "dusted himself off'' and formed a trading partnership with brother-in-law, John Ford, and soon a new trading station was established not far from King William's Town.
Sadly, this too was burnt down during the 7th Frontier War of 1846-1847, and Edward was forced to take a job on the jolly boats landing British Army supplies at Waterloo Bay just north of the Fish River. Here, a plan was hatched to trade along the Umzimvubu River into Pondoland, and after treacherous trips along the Wild Coast, Edward and John established a trading station about 19km upstream.
Tragedy awaited the venture, however. In early 1847, the treacherous currents of the Umzimvubu in flood claimed the lives of John and his young son – also John. In an instant, Edward's third trading venture was shattered and he moved to King William's Town with his family to once again 'start over'.
It was not long, however, before the lure of Xhosaland saw Edward go into partnership with George Blaine to establish a trading station in Gcalekaland. But once again disaster struck: it was burnt down by the Xhosa during the 8th Frontier War of 1850-1853. With his health possibly compromised by the strain of these events, Edward died of pneumonia in 1855, leaving his wife Martha to care for six children, including the eldest, Edward.
As women could not own property at the time, the family waited until Edward turned 21 to be awarded a farm not far from the Great Kei River, where the British were determined to establish a buffer of settler families to protect the Cape Colony from Xhosa attacks.
"In 1864, Edward junior moved into this area and farmed on land named Orangevale (about 590ha),'' explains Alan.
"Together with his mother, sister and two younger brothers, they started a new life.''
Settler feuds and 9th Frontier War
In the early 1870s, Edward became involved in a serious dispute with his neighbour, John Filmer, over a portion of land. In a rage, Edward did the unthinkable and burnt down Filmer's sheep shed in January 1873. When he appeared in a King William's Town court he faced the death penalty for arson, but the judge ruled that he had acted in a moment of insanity and jailed him.
After almost two years behind bars, and an emotional plea by his mother, Martha, Edward was released, but banished from the East London and King William's Town districts. He promptly left for Britain, and his two younger brothers continued farming Merino sheep and cattle on Orangevale. In 1874, while their older brother was still locked up, they purchased the neighbouring 584ha farm Springfountain.
The 9th Frontier War was looming. The spark that ignited it came from clashes between Mfengu collaborator families – settled by the British in the heart of Gcalekaland in the 1860s – and Gcaleka people who had been resettled along the coastal areas after the cattle- killing episode of 1856-1857.
The British sided with their Mfengu allies (refugees from then-Natal that had been fighting on the side of the British since the mid-1830s) against the Gcaleka, along with some Nqgika tribe members, who attacked settler families to the west of the Great Kei River. Luckily for the Jeffries family, they knew in advance of the imminent invasion.
"One of the family's workers [called Lollotjie] warned them that there was an invasion coming from the Transkei,'' says Alan. "They collected everything they could – livestock and personal belongings, and loaded a wagon and fled to the nearest fort at Impetu ("The Place of the Maggots'' in isiXhosa).''
Here, the Jeffries family were besieged in the crude Fort Warwick by Xhosa bands from the rugged Tyityaba River Valley (a tributary of the Great Kei) before eventually being rescued and escorted to Komgha. In the overcrowded laager at Komgha, the family lost hundreds of sheep to disease and theft at the hands of white frontier ruffians exploiting the chaos brought about by war.
When the Gcaleka were eventually crushed in 1878, the Jeffries family returned to Orangevale to find "everything razed". In fact, the only significant surviving artefact was a chair buried before the family had fled to Impetu; it can be seen in John's home on Rhodesdale today.
According to Alan, everyone who felt the impact of the devastating 1877 invasion experienced deep resentment for the Gcaleka, including loyal Ngqika Xhosa and Mfengu.
"That bitterness wasn't only felt by the whites, the blacks felt exactly the same,'' says Alan. "When I was small, you spoke of a Gcaleka almost as a foreign person on this side of the Kei River.''
Interestingly, both settlers and Africans affected by the war were able to claim for losses incurred, and Martha Jeffries's claim, framed in John's home, details not only all the furniture lost, but livestock including 540 sheep (excluding the 350 lost in Komgha) and 27 cattle.
mysterious name change
Committed to the "Absolute Border'', the Jeffries brothers simply rebuilt sheep and cattle numbers and soon their dogged determination brought about financial stability.
It was at about this time that the family's surname mysteriously changed from 'Jeffries' to 'Jefferies' – an "invading e'', as Alan calls it. According to him, the reason for the change in spelling almost certainly had something to do with Edward surreptitiously returning to East London, where he traded until his death in 1916.
"Everybody changed their names and added the 'e','' says Alan, and explains that it was probably due to Edward wanting to hide from the authorities.
Into the 20th century
Alan's grandfather, Arthur, died in 1933, leaving individual portions of Springfountain to his sons Frederick (Arthur's father), Herbert John (John's father) and Birt (John's nephew). However, their uncle John, who was well-known for breeding and training spans of indigenous Nkone oxen, died as a bachelor in 1922 and controversially bequeathed a large proportion of his estate to the Baptist Church.
It was a decision that deeply offended Herbert John, who in the end, was the only one who managed to hang onto his portion of Springfountain, called Rhodesdale.
"For my father, it [the Church's involvement] was a state secret and he never mentioned it to me,'' says John. "But if a pastor came anywhere near our house he walked out the back door.''
By the 1950s, Herbert was farming successfully on Rhodesdale (220ha). The farming operation consisted mostly of beef cattle, pineapples and maize, and he also ran a successful dairy that produced cream for the legendary Komgha Butter Factory.
"Many farms survived by selling cream to the factory,'' he says.
In the early 1960s, after John had finished school and a nine-month stint in the army, his father was diagnosed with cancer. John, who had been determined to leave for Australia, then returned to Rhodesdale to support the family.
"I stuck around and stuck around, and have stuck around ever since,'' he says, laughing.
In 1970, he married a trader's daughter, Daphne Hawks, and built a trading store on Rhodesdale to provide an extra income stream. He also continued with the dairy – selling milk to Model Dairy – and mechanised the milking operation to help with labour problems.
"One Christmas, the labourers didn't show up for milking and I said to my wife, I'm getting a milking machine,'' he recalls. "A couple of older farmers came to me and said that I shouldn't over-capitalise, but I told them there was no option.''
By 1989, John started breeding Nguni beef cattle and was already busy with a major dam-building programme on Rhodesdale, spearheaded by the renowned farm worker, Inkokone Mbuto.
"He built those three dams for me with a little 135 tractor,'' says John. "Fuel was still cheap and after he had ploughed the lands he used to grab the dam scoop and off he went.''
A new Jefferies generation
After closing his dairy for good about a decade ago, John focused on his Nguni cattle as well as growing cabbages, while continuing with the trading store that still supplies local communities with basic groceries, livestock products and liquor.
Three years ago, his son Gareth returned to the farm (his eldest son Wayne is involved in a nursery in East London), and has been instrumental in expanding the beef operation on their other farm, Quku Streams (280 ha), and additional leased land. "I've been back for three years now,'' says Gareth.
Crossbreeding programme
Currently, John and Gareth calve 250 cows and are using Boran and Boran-type bulls. They are also keen to experiment with Tuli bulls in a crossbreeding programme aimed at improving weaner weights. According to Gareth, there is no doubt that the Nguni represent the very best dam line to farm, mainly because of its hardiness and resistance to tick-borne diseases.
"If you have to drive around with a little medical box, you aren't farming, you are just going around trying to keep animals alive.''
It is this legendary hardiness that ensures that their heifers remain extremely popular among former-Transkei farmers, Gareth says.
Phone Alan Jefferies on 043 841 1023 or John Jefferies on 082 4619 143.
Sources: Jefferies A, The Absolute Border; Holt B, Where Rainbirds Call; Burton AW, Sparks from the Border Anvil; Mostert N, Frontiers – The Epic of South Africa's Creation and the Tragedy of the Xhosa People.