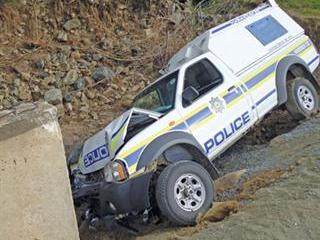 Since the floods of 2010/11, gravel roads across the Eastern Cape have deteriorated significantly, thanks to little or no state maintenance. And government explanations are failing to placate local business people. "You can accept that every now and then they'll miss your road when grading," says Cathcart farmer Andrew Bennet. "But to simply ignore it is unacceptable."
The problem goes much further than mere inconvenience. According to Bennet and many others, crumbling roads in the Henderson and Quanti areas of Cathcart and the nearby Bolo and Mgwali areas of Stutterheim are beginning to erode the socio-economic activity of these Eastern Cape districts. The situation has become so grave that farmers, shopkeepers and taxi drivers have begun to repair the roads themselves.
The Eastern Cape Department of Roads and Public Works (ECDRPW), meanwhile, confesses that its tardiness is due to a lack of funding. "I always appeal to people, please be patient, we will get there. It may take long, but eventually we'll get there. We'll deal with your problem when we get money," says Mbulelo Sonqishe, ECDRPW district engineer for the Amathole District. His comments are echoed by Randall Moore, ECDRPW district engineer for the Chris Hani District.
"We're trying our best to get additional funding, but overall it's a problem," he admits. According to Sonqishe, budgetary constraints make it impossible to attend to all roads maintenance issues in his district, particularly after the damage caused by the floods. "When you have huge damage like this, and only a tiny budget, you can't make miracles happen," he says. "When we're unable to deliver as expected then communities start jumping on top of us – it's really frustrating."
Moore confirms that substantial funding was needed to deal with the unexpected scale of the flood damage in January, March, July and December last year – and the money has not filtered down efficiently to district level in the Eastern Cape, especially the hard-hit Chris Hani and Amathole districts. "We're waiting for funds to carry out repairs, and we've applied for flood damage funding throughout much of the Eastern Cape, which is now just over R1 billion, I think," says Moore.
To date, they have received R19,8 million – a drop in the ocean. For the time being, Moore continues, all that can be done is to prioritise maintenance needs, and that involves repairing the busiest roads first – those used by 500 or more vehicles per day.
"Then we try to go to the next level, which is about 250," he explains. Roads used by 10 to 15 vehicles per day are "obviously going to experience problems".
Livelihoods in jeopardy
Such explanations are scant comfort to farmers such as Greg Miles from Bolo, who as a taxpayer, feels entitled to road maintenance services. He says that the current state of roads, and in particular the R352 linking Stutterheim with Mgwali and Bolo, makes simple tasks such as transporting produce and livestock either too difficult or impossible.
"This week I couldn't deliver my hay and I couldn't sell my calves at the sale," he explains, "It's like a supermarket having its doors locked, then told to continue doing business." Another Bolo farmer, Stuart Buchler, tells of his struggle to convince contractors to cart feed and equipment to his broiler enterprise, as well as the sudden increase in the upkeep of his own delivery vehicles.
"Vehicle steering components and shocks don't last at all on these roads," he points out. According to yet another Bolo farmer, Russell Bowman, it's the future of local livestock sales that worries him the most. He says that contractors are beginning to complain about transporting livestock on the decaying roads in the area and farmers might soon be forced to drive their livestock to tarred roads before they can be picked up.
In Mgwali, Stan Cawthorn, owner of Strauss Store and Off-Sales, explains that his business is utterly dependent on stock – including basic foodstuffs – arriving regularly for waiting customers. But, with their vehicles constantly getting bogged down, suppliers are understandably reluctant to come out to him. SA Breweries has refused to deliver on rainy days and Coca-Cola has stopped delivering "even on a sunny day", according to Cawthorn.
Angry taxi drivers
In Mgwali, a group of irate taxi drivers who provide transport to Stutterheim banks, hospitals and pension pay-out points tell of how travelling the R352 is becoming unviable due to increasing wear and tear on their vehicles. "We get a lot of breakdowns on this road – tyres, shocks, ball joints," explains driver Elmon Dyusha, adding that complaints to the mayor have been ignored. He also points out that the state of the roads has affected the ability of the police and ambulance services to react to emergencies.
One fuming taxi driver, Skotana Melekile, hints at the need for civil disobedience to force the state to take action. He says it's often pointless to talk of 'bad roads' as in some cases there are simply no roads left. "We repair our bakkies each and every day. We want to block this N2 – we can do that," he declares.
Doing their bit
In desperation, Andrew Bennett and other farmers from the Quanti area have begun 'maintaining' public roads themselves simply to keep them in a driveable condition. And in the more populated Bolo and Mgwali areas near Stutterheim, shopkeepers like Cawthorn and taxi drivers like Dyusha have hired a private contractor to fix parts of the provincial road, especially a 'problematic' hill that has caused delivery vehicles to get stuck.
But it's perhaps in Henderson, near Cathcart, where the most work is being done on public roads by taxpaying residents. Here, farmers clubbed together to repair the bridge across the Thomas River on the DR 2816 soon after it was washed away in June last year. The severed link saw farmers hurling food to one another across the river, and a police van crashing on the ruined road near the bridge.
After the collapse, local farmer Allan Potter phoned the ECDRPW. Representatives arrived, took photographs of the bridge and then disappeared. "If we didn't repair that bridge ourselves we would still be marooned here, as there's no other access route to Cathcart or Stutterheim," he explains.
Breaking the law
Potter also regularly repairs the few kilometres of road from the bridge to his home. "We aren't allowed to fix our roads, you know," he says. "We'll be responsible if anybody has an accident because we've changed the road. So I'm actually breaking the law." According to Moore, technically it is indeed illegal for farmers to maintain public roads, but such interventions are allowed under ECDRPW supervision, with the proviso that it supplies the road signs.
'Public roads', he explains, fall under the Provincial Roads Act, which stipulates that only provincial authorities can maintain them. But, at the end of the day, we do permit farmers to work on roads we can't get to." He provides a letter of indemnity for the person doing the work to protect against any litigation that may arise due to the repairs "provided there are certain things they comply with".
Budget Details
The roads maintenance grant for the Eastern Cape increased from R1,03 billion in the 2011/12 financial year to R1,37 billion for 2012/13, while the total budget for the Eastern Cape Department of Roads and Public Works for 2012/13 is R3,74 billion, a R235 million increase from the 2011/12 period. Of this, R814 million has been budgeted for salaries. According to ECDRPW MEC Thandiswa Marawu's 2012 policy and budget speech, the province's road infrastructure budget is seriously underfunded.
A story of neglect
The R352 from Stutterheim via Mgwali, Bolo and over the Kei River to Tsomo in the former Transkei should have been partly tarred by now, says Mbulelo Sonqishe, ECDRPW district engineer for the Amathole District. "But priorities change," he says. So today the R352 is a neglected dirt road despite the presence of a lone grader. And residents remain unimpressed by the painfully slow progress being made by it.
What has taken a month to do should have been accomplished in two days, argues farmer Russell Bowman of Bolo. Stuart Buchler, also of Bolo, adds that the road has deteriorated so badly that grading alone is a futile exercise. "They sent a grader out, but they basically just scraped back the mud into the road," he explains. He quips that the roads now need upgrading, not simply grading!
According to Sonqishe, maintenance of the road is managed by the Road Enterprise Development Programme in partnership with Coega Development Corporation (CDC), which appoints contractors and consultants to deal with selected roads in the Eastern Cape.
However, he continues, the sub-contractor appointed by managing contractor Erbacon Construction on behalf of the ECDRPW Amathole District did not comply with CDC requirements and the development corporation therefore withheld payment. Moses Chiropa of Erbacon Construction adds that the unpaid sub-contractor had not worked on the road since December 2011.
Contact Russell Bowman on 084 491 0236.