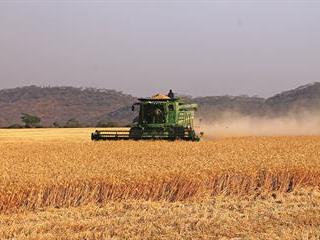 Sable Farms in Zambia's Chibombo District lies at the end of a long and dusty drive, but for the Farmer's Weekly tour group, a visit to this exceptional farm proved worth every bump. It began with a welcome by owners Dave and Marry Gordon and their son Douglas, who welcomed guests heartily, ushering them into the cool shade of a beautifully sited picnic spot.
Members of their extended family were there too, making sure that the tour group was well-fed and watered before they set out to take a look at this large and diversified farming operation.
Dave and Marry are old hands at hosting visitors to their business. The couple established Sable Farms in 1973 on 650ha. Subsequent purchases of neighbouring farms have increased the size of their holding to 7 000ha. It is clear that the family is proud of what it has achieved on the land over the course of more than four decades.
"Today we have about 1 100 beef breeding cows. The cows, mainly Simmentaler/Boran crosses, are divided into three breeding herds of about 350 animals each. Then we have 150 ranch bulls that are a fair spread of pure Simmentaler and pure Boran. To try and increase our conception rate we put 15 cows to a bull during the breeding season," says Dave.
About 5 000ha of veld is available for grazing for the beef animals. The veld is a mixture of mainly Hyparrhenia (thatch grass), Digitaria (finger grass) and Panicum maximum (Guinea grass). The Gordons plant Panicum repens (couch panicum) in areas prone to water logging in order to boost the grazing.
Additional forage is provided by 200ha of dryland Giant Rhodes grass (Chloris gayana Kunth) pasture. The first cut of the season is baled and stored for fodder. After this, the grass is grazed.
"During the wet season we also plant 100ha of white maize under irrigation, from which we get between 11t/ha and 12t/ ha to sell on the Zambian market. As well as the white maize, we grow 100ha of dryland yellow maize, which we mill on the farm for feed. Our yellow maize yields between 5t/ ha and 10t/ha depending on the rain. Cattle utilise the maize stover during the dry season."
In the wet season the Gordons grow 350ha irrigated soya beans and 200ha to 300ha dryland soya beans. The irrigated soya bean crop yields between 3,5t/ha and 5t/ ha while dryland soya beans average between 3,5t/ha and 4t/ ha, depending on rainfall. Soya bean crop residues are baled for additional stored fodder.
"In early January we plant 80ha of dryland sunn hemp [Crotalaria juncea] The seed is broadcast at 30kg/ha and allowed to grow to about 2,5m. The relatively high plant population results in a thin stem that's easy to bale at the end of the wet season. Good quality sunn hemp has between 10% and 20% crude protein, so we mill it all for stock feed," Dave explains.
During the dry season, Sable Farms grows 300ha irrigated winter wheat which provides an average yield of between 8t/ha and 10t/ha. The Gordons attribute this good yield, as well as the generally top grading results for their wheat grain, to good fertigation and irrigation practices. A 50ha area is planted to tobacco and a small irrigated ryegrass pasture provides dry season feed for sable antelope, part of an antelope breeding programme.
On-farm feedlot
The Gordons finish their weaners in an on-farm feedlot. Calves are weaned at about nine months from mid- to end-May and fattened to a minimum weight of 350kg before being sold to one of Zambia's largest and most-diversified agribusinesses, Zambeef, for slaughtering and processing.
The feedlot ration consists mainly of milled yellow maize and cob meal. Into every ton of this ration, the Gordons mix 40kg of a feedlot ration sourced from Novatek Animal Feeds in Zambia. The Novatek ration contains all the essential salts and minerals that cattle need. Weaners are fed for four to five months before being sold when they are about 12 months old.
"This is a system that many Argentinian beef farmers use. It saves them, and us now, a lot of on-farm grazing because we no longer finish beef on our grass. Finishing our weaners on grass took six to eight months longer than [the current system of] finishing them in the feedlot. We also had to pay for dips and supplementary feed during the dry months. Now we can get an income from our finished weaners off the feedlot a lot faster," explains Dave.
He points out that selling finished weaners before the summer grain planting season starts in November/December every year means that the business has cash in the bank to cover a significant proportion of planting costs, which helps to keep production loans as low as possible.
On average, Sable Farms selects and retains 350 heifers every year as breeding stock to replace cows culled from the herd. The calving rate can drop to 72% but when rain and fodder production is good, and pest and disease threats are low, this figure increases significantly. Because most of the feed is home-grown, any environmental or climatic difficulties can undermine the productivity of the herd and therefore its profitability.
A wide variety of game
Sable Farms breeds and markets plains game and there are currently 2 000 head of game on the farm. This population includes 17 species of antelope, including sable, and various other species such as warthog, bush pig, porcupine, caracal, serval, civet and genet.
Dave says that Sable Farms's game animals are doing "extremely well". Some of the antelope, such as the kudu bulls, sport horns of up to 60" (152,4 cm) and are sought-after by trophy hunters.
Excess breeding stock is sold at game auctions, while excess non-trophy animals are culled, slaughtered and processed on-farm into fresh whole carcasses. These are sold to butcheries and restaurants in central Zambia. Sable Farms's flagship antelope species is the sable. These come from north-western Zambia, as well as from the Kafue area. The antelope are kept in separate groups to keep the different lines intact. Dave is proud to point out that his sable bulls often have horns of over 50" (127cm).
"We feel that our game does so well here because the beef cattle pick up most of the ticks across the farm; these ticks are killed when the cattle are dipped once a week. We have a low tick load on Sable Farms because of this and have found very few ticks on game animals that have been shot and slaughtered. "We make sure, though, that we mix the dip to the correct concentration so that ticks don't build up resistance to the chemical."
Safety and security
Stock theft and poaching are rife across all of Zambia's rural areas. To protect their animals and their property, the Gordons employ a Lusaka-based security company. Company guards patrol the property around the clock, and for added security Sable Farms has a 65km-long game fence around most of the property.
Despite these security measures, the Gordons still experience stock theft and poaching, although to a much lesser degree than the other farmers in the area. Poachers in Zambia have been known to resort to violence when confronted by farm
owners and security guards. In some areas, poaching has become such a major problem that the Zambian government has sent in paramilitary police to control the situation.
Phone Sable Farms on +260 211 841010/1 or email [email protected].