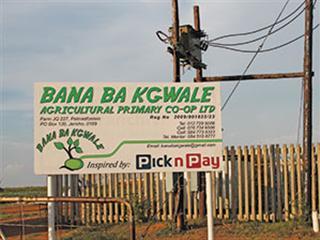 The village of Jericho, north of Brits in North West, was an important grain production centre under government-owned agri-business Agrico during the Bophuthatswana era until the early nineties. Grains such as maize, sunflower and sorghum were grown and hundreds of locals were employed. After the demise of the Bophuthatswana government with the advent of democracy, agricultural production declined from year to year, finally dwindling to nothing.
Various attempts were subsequently made over the years to get the land back into production, but none was successful, and thousands of hectares lay fallow while unemployment soared. One of the problems is that most of the arable land is rainfed, and dry spells and erratic rainfall made it extremely difficult for farmers to succeed. Recognising this problem, training company African Farming Franchise (AFF) recruited nine unemployed people from Jericho in 2007 to train in vegetable farming under irrigation.
At the same time, the company negotiated the lease of about 150ha of land from the local chief, Tshetlho Mamogale. AFF then secured funding from Pick n Pay for R2,1 million to use as working capital and to finance start-up infrastructure, equipment and farming implements. Just as importantly, the retail chain committed to an offtake agreement, securing a ready market for the group through two of its stores in the area.

Bana ba Kgwale comprises 11 members. They are, from left: Magdelene Mabiletsa, Sekgwana Mashala, Sylvia Mashego, Monica Rakgotho, Kate Kekana, Johanna Thage, Anna Bendlele, and Andrew Thamage. Missing is Jacob Maiketso.
The North West Department of Agriculture and Rural Development also came on board, contributing two tractors, a tiller, a two-shear plough, a pump and motor, irrigation equipment for 21,7ha and three mist blowers. "What was different with this project was the irrigation," explains Sekgwana. "Water had always been available because the Toloane River runs through the village, but there had been no decent investment in irrigation infrastructure.
Despite this support, it soon became obvious that much more was required to sustain the project. One of the main difficulties was that the nine AFF learners were expected to operate independently. "The agreement with AFF was that after the training, each of us would secure about 22ha from the Tribal Office to operate individually," Sekgwana explains. "But it was very hard to get funding, especially from government organisations, mainly because AFF was a white-owned company."
Going it alone
After much discussion, the group of nine decided to form a co-operative in order to obtain government funding more easily.
"We thought that the government would also be more willing to finance a collective rather than individuals," explains Sekgwana. So in 2009, after having trained for two years, the group registered as a primary agricultural co-operative under the name of Bana ba Kgwale.

Water for irrigation is drawn from the Toloane River that runs through Jericho.
The co-op then formed a partnership with AFF to secure an additional 400ha from Chief Mamogale. As the months went by, however, disagreements about profit-sharing arose between the two entities, and Bana ba Kgwale made the decision to buy AFF out of the partnership and go it alone.
The co-op produced a business plan and in March last year managed to obtain sponsorship from three sources: R1,2 million from the National Development Fund, R15 million from the Department of Rural Development and Land Reform, and R200 000 from the Department of Social Development. In addition, the Department of Agriculture, Forestry and Fisheries sponsored R2 million worth of irrigation pipes and a pump with sufficient capacity to supply 22ha. With these funds, Bana ba Kgwale also managed to buy AFF out of the partnership.
Growing crops – and jobs
The success of Bana ba Kgwale, both as a producer and employer, speaks for itself. Since its launch in 2009, the co-op has increased its production area from 22ha to 110ha and created employment for 179 people, of whom 69 are full-time.
Crops include cabbage, spinach, butternut, green pepper, tomatoes and baby marrows – all grown under drip irrigation.
The company supplies most of its produce through two agents to the Tshwane and Johannesburg Fresh Produce Markets, as well as two Pick n Pay family stores in Letlhabile near Jericho and Soshanguve north of Pretoria. Negotiations are under way to supply Pick n Pay's main distribution centre.
The co-op currently produces 10 000 bunches of spinach, 2 000 heads of cabbage and 1 800 x 10kg bags of butternut every week. These are grown to GlobalGAP standards – a requirement of Pick n Pay. "We don't use any harmful chemicals to grow the vegetables," explains Sekgwana. "And all our chemicals are sourced through an accredited supplier who advises us on how to use them. We also have a five-year contract with a mentor in Brits – vegetable farmer Jimmie Painter." GlobalGAP insists on the construction of suitable warehousing, and to fulfil this requirement the members are building a 2 500m² packhouse.

Land under production has increased from 22ha to 110ha, necessitating a new pump of much greater capacity.
Further developments
In addition to the packhouse, the members have erected four centre pivots each with a radius of 100m in the newly developed area. According to Sekgwana, these will save the expense of continually replacing damaged irrigation pipes.
"Because we don't have specialised equipment, we have to use the tractor when spraying and this sometimes damages the pipes," he explains.
"The pipes also get cut by accident when we weed the crops. We have to replace them regularly, which is expensive and time-consuming. Centre pivots make much more sense." The additional land made far greater demands on their pump and the members soon found that it was unable to cope. They replaced it with one of far greater capacity. Bana ba Kgwale is still operating with a temporary water licence, but Sekgwana says that they have applied for a permanent one.

Advantages of communal land
Unlike many small-scale farmers, the members of the co-op have experienced few difficulties in working on communal land. But Sekgwana admits that they were fortunate to receive financial support. "One of the negative aspects of working on communal land is access to finance," he says. "If you can get over that hurdle, then communal land farming can be the best set-up. "The main thing is that land is cheaper – there are no expensive repayments. All we pay is a small annual lease fee to the tribal office. And as long as we stay productive, we have access to the land."
Part of the group's plans is to increase local demand by creating micro retail outlets for their produce in and around Jericho. The co-op has its eyes on several empty buildings for this purpose. Also in the pipeline is diversification. "We're looking at broilers and egg production as well as earthworm production," explains Sekgwana. "We'd also like to train and empower young unemployed graduates and other youth from the community, and help to capacitate emerging farmers in the surrounding district."
Contact Sekgwana Mashala on 076 734 6506.