From the early campfire tales of WC Scully and Percy Fitzpatrick to the ironic masterpieces of Herman Charles Bosman and the more recent dystopian work of JM Coetzee, it's clear that the drama and contradictions of life in South Africa resonate loudest for a large segment of the reading population when staged in the sticks.
But in recent years this appreciation has, in the view of some, gone overboard. Today one can attend literary festivals in the Groot Marico, in the memory of Bosman, or in the Karoo, in the memory of Olive Schreiner, author of The Story of an African Farm.
Writers and artists have given the Karoo a particularly hard work out, and given there's really nothing much there, the major symbols (windmills, reservoirs, barbed wire fences and sheep skulls) have become somewhat hackneyed. If you don't believe me just drop into the Klein Karoo Nasionale Kunstefees in Outdshoorn one of these years, for a bellyful of desert iconography. (Although of course there's a lot of wonderfully original artwork too).
The point I want to make is this: as a fairly avid reader I've reached the point where the slightest suggestion that an author might lavish their gifts of description on a creaky windmill or a golden Karoo sunset is enough to make me to put down the book permanently. In fact I'd reached a point where I considered the use of the Karoo as a backdrop for any tale at all a bad idea. A few weeks ago I softened a little after watching the Hollywood blockbuster Safehouse, featuring Denzel Washington and Ryan Reynolds.
For one thing, the movie was shot in Cape Town and is quite hilarious if you happen to know Cape Town, because there's absolutely no spatial logic to the sequences. One minute Reynolds and Washington are in a car chase on Nelson Mandela Boulevard, heading out of town, the next thing you know they're back in town, screaming down Adderley Street.
Eventually the actors end up in the Karoo but it's never identified as the Karoo and there's no attempt to romanticise the landscape. It's simply a dry, broken down backdrop for what turns out to be a good old-fashioned Hollywood showdown, where everyone except the hero ends up (very) dead.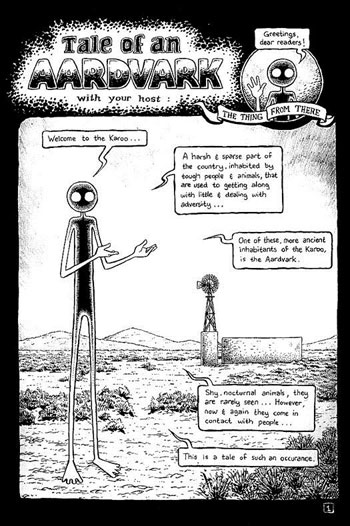 Then last week my theory about the Karoo being redundant as a literary backdrop was completely annihilated by artist and illustrator Daniël Hugo. I've been commissioned to write an article on the underground cartoon scene in SA and after a week or two of going through some fairly humdrum comic strips, I came across one which impressed me a great deal – a story by Hugo set in 1905 called Imaan September, about an alternate history Cape Town dominated by Ottoman Turks with elements of a previous Dutch heritage.
So I called Hugo up, went through some of his other work, and to my delight, among the sci-fi illustrations he's quite well known for, discovered some short autobiographical comic strips that are as powerful, in my view, as the stories of Herman Charles Bosman, or Pauline Smith.
One story in particular has stayed with me. It's called Tale of an Aardvark, and put me in mind of Bosman's animal stories like 'In the Withaak's Shade' and 'Brown Mamba'. Except, instead of good old Oom Schalk Lourens for a narrator, Hugo gives us 'The Thing From There', an alien narrator with a perfectly circular head and two perfectly circular eyes.
Here's the opening page of the tale, which goes on to describe the habits of the aardvark like an extra-terrestrial David Attenborough, but by page three the familiar scientific narrative starts to bend out of shape. A boy is visiting family in the Karoo. The children awake to a commotion – an aardvark has been caught. The creature is isolated in a kraal and is being teased by farm workers. It tries to dig its way out but is continually pulled away from the wall of the kraal by its tail. Eventually one of the farm workers holds it down and slits its throat.
"So far, so what?" you might think, as I did, because tales of animal cruelty on farms are to be found in the literature of dozens of countries. But it's at this point that The Thing reappears with its thumbs up and says: "What more can I say but… Humans rule!!!" It's a tremendously wry twist guaranteed to make you gasp.
You can view the comic by following this link: http://oneironaut.co.za/comix.html

You'll see a number of panels on the screen, the start of the comic is the second panel of the second row, the one depicting the alien's face.