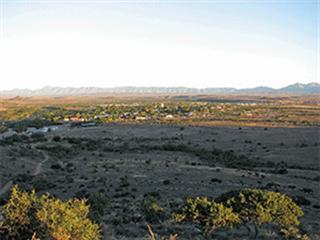 Sweeping vistas are playing an increasingly important role in the price of farm land in the Karoo as city dwellers flock to buy a stretch of peace away from the concrete jungle. Research done by the University of the Free State (UFS) shows an increase in the demand for farm land here for reasons that go beyond commercial farming.
Researcher Jannie Wessels, from the Department of Quantity Surveying and Construction Management at UFS, says farm valuators are switching from evaluating land solely based on its productive value to take into account the demand for land from an aesthetic point of view as well – especially where the scenery is 'unspoilt'. Although some people think that the Karoo is ugly and uninteresting, others believe it to be one of the most beautiful places in the world, says Jannie. "While untouched land becomes rarer by the day, the beautiful pieces will always be precious items."
The fact that the Karoo is almost without land claims also means a purchase there is deemed a 'safe investment'. The UFS study focused mainly on the Eastern Cape's Willowmore and Steytlerville areas. According to the study, the primary reasons for buying land here are investment (24%), personal enjoyment (23%) and commercial farming (19%). The other reasons are, in more or less equal measure, boutique farming, game and lodging and hospitality.
Linda Henderson, from Henderson Properties in the Steytlerville, Willowmore and Jansenville areas, says lifestyle farms were especially popular before the 2008 recession. "Before the property collapse in 2008, many people were buying farms as a nice-to-have asset and their purchasing decision had nothing to do with the quality of the farm for production purposes, but rather the aesthetic value," says Linda.
"After 2008, some of these farms came back onto the market as the owners needed the money to keep their core businesses afloat. "The farms didn't fare well on public auctions and some farms were sold below market value." Although the market has been quiet since then, Linda believes that, despite the reduction in available cash post-2008, people are still buying farms based on their aesthetic value. "This area is attractive," she says, because the crime is low, it's two hours from George and Port Elizabeth, and it carries "the nostalgia of yesteryear."
Here to stay
Jannie maintains that although land might be getting scarcer due to a higher demand, commercial farm land won't disappear because food is too important. The need some investors have for land for farm-style living – not lifestyle farming or boutique farming – is just "adding another dimension to land use and will add to the ever-increasing trend of higher farm land values," says Jannie.
Linda notes that the smaller farms once bought for lifestyle purposes are only now being sought for productive farms, because meat and fibre prices are high. "This kind of farming remains a good investment as your inputs are relatively low. You also don't need a massive farm to keep 500 sheep. "In an uncertain commodity investment market, some clients regard food production and landownership less risky than the stock exchange."
Financial viability
Jannie agrees that the financial viability of farming means commercial production on farm land will increase. "But farmers are under pressure with labour legislation and political and economic stress factors," he adds. The impact fracking has on demand and land prices hasn't been determined as the exploration for shale gas has yet to be given the go-ahead. But both Linda and Jannie say that, should fracking become a reality, land prices will rise as a result.
Jannie argues that the mining companies will pay far above the agricultural value of a farm should they be able to extract shale gas. "Very few people mention 'worthless' land. Damage of the current state of land doesn't mean less value in a monetary sense. Mining companies see more value and they are prepared to pay for it. "If it's true that the total potential of the fracking industry in South Africa is bigger than our gold mining value, then the changes will be profound and the land values will rocket over the next three decades."
While fracking will probably reduce the farming value of the land itself, it might increase its commercial or industrial value, says Jannie. The problem with fracking is water, he adds. "If the water gets polluted, the Karoo will become a stretch of wasteland. The problems we now face in a post-gold mining era were unknown 50 years ago, but will probably be with us for another 100 years. Fracking may or may not be worse."
On the flip side, Jannie says some landowners believe fracking will increase the price of land where the practice won't take place, because there will be less pristine land available in the Karoo. Linda agrees, saying she expects areas that won't be fracked will become more desirable.
Foreign demand
While laws are being put into place to curb foreign landownership, Linda says in her experience foreigners are selling their land because of the political climate. "All of my buyers have been local. The foreigners are very nervous to invest in South Africa at the moment due to the mixed messages about land reform from politicians. I've just had a Norwegian selling his farm for this reason," she says.
Jannie says that while there's a demand from foreigners for land, they aren't arriving in droves. "Some foreigners buy as an investment, some buy to move to South Africa during our summer and fly back to the northern hemisphere during their summer." However, Jannie notes that there seems to be an interest from Chinese investors in SA land, but for food production, not farm-style living.
"The price of farm land was always driven mainly by one land-use category: farming. Then came recreation, game farming, mining, urban encroachment, and farm-style living. The bottom line is that there is no more farm land to go around," says Jannie.
Contact Jannie Wessels at [email protected]