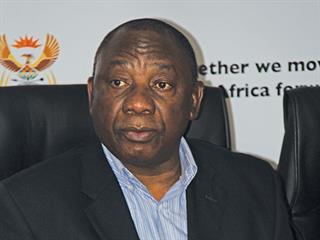 Agriculture and the rural economy are undergoing a radical transformation. South Africa's farmers are struggling to survive in their attempt to be competitive in a global economy dominated by big retailers and supermarkets. They have been shedding labour for some time and increasingly mechanising their operations.
This is according to documentation used by the Department of Rural Development and Land Reform (DRDLR) in its presentation during Deputy-president Cyril Ramaphosa's recent meeting with organised agriculture and labour leaders in Paarl, in the Western Cape.
The DRDLR claimed that the radical transformation taking place on farms and in the rural economy excluded farm workers and, indeed, was happening at their expense. The eviction of labourers from farmland was a manifestation of this transformation, it alleged.
According to the DRDLR, farm workers had been bypassed by socio-economic developments in rural areas and were now 'properly organised' to defend and advance their interests.
Ramaphosa pointed out that "a willingness and determination among all" was required to address these problems. He acknowledged that farmers experienced their own set of production and market challenges, and indicated that the agriculture sector needed to be 're-imagined'.
Unsubstantiated
Speaking on behalf of AgriSA and the Agri Sector Unity Forum (ASUF), Annelize Crosby said that many factors had contributed to evictions. These included a harsh economic climate, droughts and increases in minimum wages, amongst others. In addition, unsubstantiated allegations, anecdotes and perceived threats of evictions among farm workers often exacerbated the situation.
During the recent Western Cape Land Reform Summit, for example, Mcebisi Skwatsha, deputy-minister of the DRDLR, had made unsubstantiated allegations about evictions. As a result, minister of rural development and land reform Gugile Nkwinti arranged for a six-member fact-finding task team to investigate the prevalence of evictions in the Western Cape. The results were discussed at a workshop in Gauteng at the end of October.
According to the task team, no single stakeholder could claim to be the sole, authoritative and central source of data and information about evictions, and no credible trends involving evictions could be identified. It was also acknowledged that the number of evictions had in fact declined nationwide since 2009.
In that year, 450 evictions had been reported, according to the DRDLR's Land Reform Management Facility (LRMF). By contrast, 134 evictions had taken place between January and September 2014.
Figure 1 shows the total number of evictions per province from 2008 to 2014, while Figure 2 lists South Africa's Top 10 'eviction hotspots' by municipality.
Government's obligations
During the workshop discussion, it was revealed that, in 20 cases, the workers had returned to their homes. Normally, though, displaced workers swelled the numbers living in informal settlements. Section 4 of The Extension of Security of Tenure Act (ESTA) of 1997 provides for farm workers and dwellers to be supplied with on- or off-farm land, housing and essential amenities and services consistent with the Bill of Rights.
As a result, municipalities are under pressure from the courts that approved evictions to provide land, housing, water, electricity, health, education and other essential services for those evicted. According to Crosby, local authorities had never contributed fully in this regard, and this needed to change if Section 4 was to be implemented successfully.
Farming challenges
Meanwhile, ASUF has alerted government to certain challenges in the agriculture sector that require interventions in the short, medium and long term. These include the sector's declining competitiveness, as well as trade, labour, water and land reform issues, factors which Ramaphosa acknowledged during the Paarl meeting. The Transvaal Agricultural Union (TAU SA), an ASUF member, said that a year ago the sustainability of the agriculture sector had been a cause of concern due to its decreasing profitability and global competitiveness.
Substantiating this statement to some extent is the fact that at the end of June 2014, total farming debt was estimated at R115 117 million, a 23,2% year-on-year increase. This was according to Ellen Matsei, director: statistics and economic analysis of the department of agriculture.
Influx of people
Documents provided at the Paarl meeting also showed that South Africa's fruit industry had expressed its concern about an uncontrolled influx of people who did not work on the farms and were not involved in any economic activity whatsoever. This was confirmed by a Western Cape farmer interviewed by Farmer's Weekly, who wished to remain anonymous. Currently, he employs 40 permanent workers. Given an average of five people per family, there should be 200 people living on his farm.
However, there are approximately 400 people on the farm, which happens to be adjacent to the municipal area of a medium-sized town. Because of the number of people now living on the farm, the farmer has had to start a regular refuse removal service in order to keep his land tidy and pass audits.
He also had to introduce a service to remove sewerage on a daily basis, a service normally expected of a municipality. Some of his fruit trees and vines have also been damaged by people collecting firewood on his land.
The way forward
According to the DRDLR, the long-term downward trend of farm worker evictions should be maintained and KwaZulu-Natal, the Western Cape, Free State and Mpumalanga should be targeted to reduce evictions.The DRDLR also suggested the following:
Establish an ESTA Section 4-based programme to prioritise the improvement of the socio-economic conditions of farm workers and their integration into the areas governed by district municipalities;

Farmers could partition off some of their land to establish agri-villages;

Local authorities should contribute properly. Evictions should have a notice period of two months and the local authority should make land available for the evicted farm worker and his or her family;

Authorities should monitor and regularly evaluate the impact

and progress of activities to lift workers out of poverty and increase their incomes, capacities and opportunities.
ASUF added that current investigations by the International Labour Organisation and the Ministerial Task Team on evictions would continue to help bring to light the true facts surrounding this controversial matter and chart a way forward. According to ASUF, the local structures of stakeholders had played a positive role in the past in monitoring, mediating and intervening in threatened evictions.
These structures should be re-established within the framework of the National Development Plan and the ESTA Amendment Bill. (Chapter 6 of the NDP sets out a vision of an inclusive rural economy that enjoys general support in the agriculture sector.) ASUF added that mediation such as that provided by the Sustainability Initiative of South Africa (SIZA) forum in the fruit industry should be fully utilised, while the deputy president should facilitate social dialogue between all relevant parties.
In addition, the Section 77 Nedlac process – where transformation in agriculture is discussed – and the work of the Vulnerable Workers' Forum should be revived and synchronised. Government should also revisit suggestions for high-level interventions to ensure growth, competitiveness and sustainability of the sector to benefit all.
Forming a social pactIn her presentation at the meeting, Crosby said that ASUF had presented a proposal for a national social pact within the agriculture sector. Such a pact between stakeholders should be facilitated by government and would include the following:
Youth training schemes;

Improving the skills of farm workers;

Land reform projects involving farm workers;

An infrastructure programme;

Housing development support programmes;

Enterprise development;

Medical mobile units;

HIV/AIDS programmes.
Crosby emphasised that organised agriculture had limited resources. With this in mind, she said a climate conducive for investment and growth in the agriculture sector should be created.
"Transformation will be much easier if farmers are more profitable," said Crosby.
Nevertheless, ASUF and its member organisations were already involved in initiatives to alleviate the plight of vulnerable farm workers (see Table 3). These included the fruit industry's social compact, with the round-table fruit industry value chain as the implementer, and SIZA as the ethical and social platform. Apart from initiatives listed in Table 3, ASUF said there was a good deal more that government should do.
Care of rural populations
Carl Opperman, CEO of Agri Wes-Cape, said that after the meeting, government's plan to take matters forward had not emerged very clearly yet. However, he added that since 2012, there were signs of slightly more 'maturity'. "A very important factor which should be noted is that the economy of South Africa will suffer if an enabling environment is not created for agriculture," said Opperman.
"It should also be clear that agriculture cannot take care of the social needs of rural populations in their entirety. Government will have to create economic possibilities and activities for those who don't live on farms and cannot be employed there."
According to Crosby, there should be a holistic approach to improve living conditions of farm workers.
"As stakeholders we should not focus on only one or two aspects. What should the steps be to reach such a situation? The process should be inclusive and create mutual trust," she said.
For enquiries, phone Dawie Maree at ASUF on 012 643 3400.