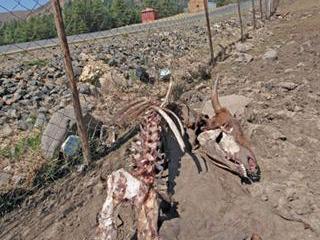 Commercial and communal livestock farmers in the KwaSani area of KwaZulu-Natal, which includes Underberg and Himeville, have long battled against stock thieves from neighbouring Lesotho in the west. But in recent years the threat has also come from the opposite direction: South African stock thieves striking from the east.
As a result, the families of many communal livestock owners have been left destitute, while commercial farmers are leaving the area. And those who remain feel that the government has left them to fend for themselves. John Pearce has lived in KwaSani for 45 years, 29 of which as a farmer. Since 1998 he has headed the non-profit Underberg Himeville Community Watch (UHCW), which provides safety and security support to the area's residents.
He says that in 2011, a total of 547 cattle, valued at R5,69 million, were reported stolen in KwaSani. In May alone, 175 cattle, 120 sheep and three horses were stolen, and of these, only 13 cattle and 118 sheep were recovered. The mountainous terrain makes it easy for thieves to cross the border, steal animals and return to Lesotho.
Yet, according to John, there are only six Stock Theft Unit police officers at Bushman's Nek and 12 border police officers, who spend most of their time at the Himeville airstrip because they are not trained in conducting patrols in the terrain. And all are under-equipped. "If it weren't for the local farmers who pursue stock thieves, our recovery rate would be negligible," he notes.
Domino effect
The problem has been exacerbated by the withdrawal of the military. From 1999 to 2001, the SANDF maintained a strong presence along the Lesotho/KZN border. When the soldiers were suddenly withdrawn, there was an immediate surge in cross-border stock theft. Then in 2004/5, the highly effective local Umkomaas Commando was disbanded by law.
In addition, the departure of commercial farmers creates pressure on those who remain. If a farmer close to the border decides to quit, his neighbours become the next targets for stock thieves. These farmers then consider moving, and the pattern continues.
The ripple effect on the local economy is enormous. As more and more of the original 100 farmers in KwaSani leave, employment opportunities for locals decrease, while businesses in the towns of Underberg and Himeville also suffer.
Working together
Nick Williamson, who has been farming in KwaSani since 1979, once ran 200 milking cows and 3 000 Dohne Merino sheep. But due to stock theft over the past 10 years, he has sold off most of his livestock and converted to timber production and growing seed potatoes.
Nick is active in helping KwaSani's commercial and communal livestock owners track stolen animals into the Drakensberg Mountains and even into Lesotho. "We've been shot at by Basotho stock thieves we've been tracking, and we're not allowed to take weapons into Lesotho," he says. "We have to rely on our police to provide us with armed cover if we go into Lesotho after our livestock, but the police aren't trained to fight in that type of difficult terrain.
"This is why livestock owners often bypass local police, and use their own means to track down stock theft. "Often, by the time the police arrive, the trail has gone cold and the animals are either lost or have to be traced in Lesotho through my informant network. "Even the Lesotho police are often afraid to go into the thieves' mountain strongholds."
Nick adds that about 80% of stolen and recovered livestock in KwaSani belong to communal farmers, and invariably it's the commercial farmers who are responsible for the recoveries. But the benefit of this is that the relationship between the two groups has strengthened. Today, communal farmers and their families often act as lookouts for commercial livestock that is being trekked across communal land by stock thieves, and notify the commercial farmers if they see any such activity.
Brazen thieves
Mahotoo Shoba and his nephew Lungisani are communal livestock owners in the community adjoining Nick's farm. They confirm that since 1999, stock theft from their area has increased significantly. Stock thieves are now stealing a single livestock owner's entire herd – which could be 18 or 20 cattle – in one raid, leaving the owner's family devoid of almost any form of income.
The thieves are also brazen enough to steal animals from a kraal while the owner is sleeping in a hut just metres away. Most of the thieves come from Lesotho, says Mahotoo, but insists, "There are also South African stock thieves who steal our animals to slaughter and then sell the meat in townships along the coast. Since the mines in Gauteng started closing, many men returned home and don't have jobs any more. So they began stealing our animals."
Some of the animals are traded with Basotho for dagga to sell in South Africa, he claims. When they report the theft, says Mahotoo, the police invariably tell them to lay a charge at the police station first. "But the thieves are getting away, so we call Nick, so that he and his team can help us to quickly begin the chase," he adds.
Lungisani has accompanied Nick on many livestock recovery operations into Lesotho, and has been part of a recovery team fired upon by stock thieves. "There are times when the police have caught stock thieves, but they're put in jail for only a short time before being released and then they go back to stealing," he says. "We suspect that some policemen are working with the thieves because they often don't want to help us when our animals are stolen."
Angry
Mahotoo and Lungisani say that livestock owners in the KwaShoba community are so fed up and angry that should they ever catch a stock thief, it's highly unlikely he would be handed over to the police. There have already been cases in other parts of KwaSani where communal livestock owners have caught thieves and dished out terrible retribution, cutting off their ears and hands, and even killing them.
John, Nick, Mahotoo and Lungisani all agree that government should step up its efforts to combat both cross-border and internal stock theft. They would especially like to see permanent army bases set up at strategic points along the KwaZulu-Natal-Lesotho border, with trained and equipped soldiers patrolling the area.
Contact John Pearce on 082 784 1818 or email [email protected].
Contact Nick Williamson on 082 371 4431 or email [email protected].
Contact Mahotoo Shoba on 082 632 3780 and Lungisani Shoba on 076 411 2989