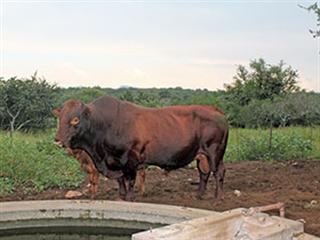 Traditions die hard in rural Limpopo. Here, for example, it has always been held that cattle farming is strictly a man's business. So when Dakalo Magwede launched her cattle farming career in 1999, she had to overcome gender discrimination as well as the difficulties faced by any novice farmer. Today, two Limpopo Female Farmer of the Year awards bear witness to her determination and success.
Dakalo attributes her achievements to an early exposure to farming; as a little girl she used to herd her father's cattle on communal land. While it was mainly the village boys' duty to herd cattle, Dakalo was an exception. Because she was the only child remaining at home, with all her brothers having gone to work in Johannesburg, she had no choice in the matter.
After high school, Dakalo became a teacher and taught at Solomon Maelula Secondary School in Louis Trichardt.
Never having lost her interest in cattle and farming, she bought 10 Brahman cows in 1999 while still teaching and kept them on communal land in Mangundi village in the Thulamela district municipality of Limpopo. Soon realising that it was uneconomical to pay someone to herd only 10 cows, she bought another 11 Brahmans, increasing her herd to 21. By now, overgrazing on the communal land had become a problem, and she was forced to relocate.
Dakalo Magwede
She found communal land near Chikundu village 110km away, and has farmed here ever since, growing her herd steadily to its total today of 70 Brahman cows. It was when moving to Chikundu that she made the far-reaching decision to give up teaching and begin farming full-time.
Bonsmaras
Dakalo's first love had always been Bonsmara, but the poor grazing conditions and uncontrolled breeding on communal land had discouraged her from switching breeds. However, during visits to various farms in the Louis Trichardt area, she saw that Bonsmaras were doing well in the area. "I had a few Bonsmara-type cattle that ran with the Brahmans in Chikundu," she explains. "But they never looked as good as those I saw in Louis Trichardt."
Dakalo became determined to find a means of running Bonsmara in Louis Trichardt. While attending an auction in the area in 2003, she met Gavin Bristow of Bristow Bonsmaras, who was doing a presentation on Bonsmaras. She took down his telephone number and called him for an appointment.
The Bristow Bonsmara herd is one of the original Bonsmara herds in South Africa and was established in the 1930s with assistance from the breed's originator, Professor Jan Bonsma. In 2004, Dakalo bought her first five Bonsmara cows from Gavin, who had agreed to become her mentor.
"Gavin also let me keep these Bonsmaras on his Palmietfontein farm near Louis Trichardt," she recalls. "Having him as my mentor developed my confidence and I started building a stud herd. Currently, I lease land on the farm and run about 50 registered breeding cows there. I hope to develop these into a top stud herd." The herd is registered as Vhembe Bonsmaras.
Two herds – two management systems
Dakalo uses a controlled Bonsmara breeding plan. "We don't run the cows with bulls year-long as we do with the Brahmans in Chikundu," she explains. "On Palmietfontein, things are done according to the Bristow way. Animals are selected strictly for fertility and performance on veld; those not calving every year are culled. We run a strict breeding programme with the Bonsmara, unlike with my Brahmans on the communal land. There are two breeding seasons – in winter and summer – and the bulls are used twice a year."
This method allows Dakalo to market two groups of weaners a year, which helps with cash flow. Having two breeding seasons also saves significantly on costs, especially during summer, when there is enough grazing to keep the cows in good condition without using supplements. But summer breeding has its disadvantages. "Parasites such as ticks cost money to control. This is not a problem when the weather is cold. So there's this balance: lower conception rates and fewer parasite problems in winter, and easier conception and higher weaning weights in summer," explains Dakalo.
The herd's average conception rate is 80%, while the calving and weaning rate is 80% to 90% of cows conceiving. The average calving weight is 33kg to 35kg. To ensure that the cattle have sufficient grazing at all times, Dakalo rotates the cattle between camps and runs no more than 50 breeding cows. In Chikundu, it is a different matter, she stresses. Controlling grazing and breeding is all but impossible on communal land. "With my Brahmans, the cows run with bulls and breeding takes place all year round. And I still have to pay a herder to look after the cattle full time," she explains.

The farm at Palmietfontein is divided into different camps, each of which has water points supplied from boreholes.
Land challenges in Limpopo
Despite considerable effort, Dakalo has been unable to find suitable land for leasing, whether privately or government owned. Ironically, the main reason for this situation is land claims, which affect a great many farms in the province. "Because it takes so long for government to resolve the claims, new farmers suffer," she says. "Owning a farm would change everything for me. I could manage the operation properly, farm profitably and expand. Instead, I'm forced to keep my herd small because my access to land is limited."
Culture is also a barrier to advancement. "In rural Limpopo, men are traditionally allocated land in the communal areas, and a woman wanting to lease land is at a disadvantage," Dakalo explains. "This point was raised at the Afasa (African Farmers' Association of South Africa) Women Conference in Pretoria not long ago."
The need for arable land
Because of land constraints, it can be difficult to survive drought, a common occurence in Limpopo. Lack of arable land means that farmers are unable to grow their own feed, and have to give their animals supplementary feed. "This is often unaffordable for small-scale farmers," says Dakalo. "When it's dry, the price of lucerne climbs to over R100 for a bale that costs about R30 in Gauteng.
"Farmers have to take out loans to survive, and are sometimes unable to repay them because their cattle are in such poor condition that they cannot make a profit. That is, if the cattle are even alive at this stage. "Even when cattle are in good condition, most buyers know a farmer is selling because of the drought, so they keep the price low." Last year, thousands of cattle died on communal land in the province as a result of the drought between October and December. Fortunately Dakalo did not lose any. "I managed my cattle correctly, which is always critical when there's drought," she stresses.

Stock theft and veld fires
While stock theft is not a problem at Palmietfontein, the same cannot be said about Chikundu. And Dakalo believes that her own situation is even worse because she's a woman and therefore a soft target. "I've woken up in the middle of the night to find cattle hacked and killed," she recalls. "Only the head, skin and hooves are left. And reporting it to the police does little to help. In the past, I opened several dockets at the police station and some of the thieves were arrested, but they were then released due to lack of evidence. How do I prove that the meat belongs to my cattle?"
Another problem on communal land is veld fires, most of which are started deliberately to destroy grazing. "Some people are jealous," explains Dakalo. "They don't like to see others make a success of themselves, and it's worse when the successful person is a woman. But I stay strong and continue with what I love."
Contact Dakalo Magwede on 082 213 0319.