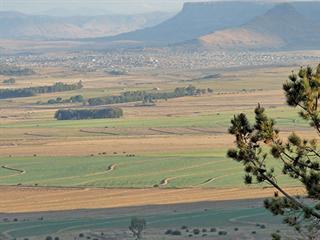 "The actual bitterness disappeared, but the talking never stopped," says Dr Johan Loock, researcher and acclaimed Bloemfontein geologist, about the resentment between bittereinders (those who chose to fight the British to the bitter end) and Basutoland refugees after the Anglo-Boer War (1889-1902).  Loock first heard about the Basutoland refugees 41 years ago after settling in Bloemfontein.
"I'd always heard about the people who came back (from Basutoland) rich," he recalls. "When they got back, they had livestock and their farms weren't burnt down. They started buying farms, many from burgers who had been ruined because of the war."
But it was when he heard about the existence of official refugee lists that he became deeply intrigued, especially as getting these lists from the National Archives in Pretoria proved to be a challenge. Nevertheless, he eventually managed to obtain copies of a document entitled: 'Blanke vlugtelinge uit die OVS na Basoetoland gedurende die 2de Anglo-Boereoorlog'.
The refugee lists and their secrets
The refugee lists had been unearthed and donated to the National Archives by CC Eloff, who touched on the refugee issue in his 'Oranje-Vrystaat en Basoetoland, 1884-1902, 'n Verhoudingstudie', published in the mid-1980s. Since then, however, the lists have been largely ignored by researchers and descendants of refugees who were either unwilling to openly discuss the controversial refugee adventures during the Anglo-Boer War or were simply unaware of them.
Dr Johan Loock                                                                           Stephanus Fouché
"Some were ashamed and some didn't know – it was never spoken about," says Loock. The refugee lists include the names of husbands and fathers, the number of males and females in each family, farm names, exact livestock numbers, and other details – all done with the meticulous attention to detail that British administrators were known for. Interestingly, the lists covered only the crossings into the southern Basutoland districts of Leribe, Berea, Maseru, Mafeteng and Mohaleshoek. The lists detailing the crossings in the northern parts of the Free State up to Harrismith are missing to this day.
Loock was unable to find any lists in Bloemfontein and eventually discovered why: they were apparently destroyed about 50 years ago. This was evidently done at the insistence of a certain Afrikaans history professor who had been deeply shocked by able-bodied Boer men turning their backs on the Boer republics during the war. (Loock claims to be almost certain of his identity but cannot disclose it as he is not absolutely sure.)
According to Loock, the lists tell a complicated and often tragic story of refugees who decided to move to Basutoland for very different reasons. In addition to families who fled to save their wealth from war, refugees included English-speaking Free State citizens and recent Afrikaner arrivals from the Cape Colony who had no intention of fighting in a war they believed did not concern them.
Other refugees, such as widows with children, and elderly men and women desperate to escape the notorious concentration camps, were simply vulnerable. It is also estimated that more than 5 000 black people living in the Free State fled to the mountains of Basutoland, although these figures are not reflected in the lists.
Considerable refugee wealth
Although Basutoland, a crown colony administered by Britain, was formally neutral, it was not lost on British administrators that accepting as many Boer refugees as possible could contribute significantly to the British war effort. "It is satisfactory to think that the protection afforded (refugees) has been the means of keeping a large number of able-bodied men and horses from the enemy's commandos," wrote the district officer of the Leribe district in Basutoland at the time.
In fact, the Basutoland administration went to extraordinary lengths to make the refugees feel at home, even giving them rations of meat and groceries. They were also allowed to bring along huge numbers of livestock. In fact, by July 1901, the 2 043 refugees (including 483 adult men, a number that increased to 535 by the end of the war), had amassed 138 127 head of livestock in Basutoland (20 286 cattle, 110 691 sheep, 4 726 goats, 2 096 horses and 328 donkeys or mules).
Read: Exploring the Eastern Cape's bridging legacy
Such vast numbers of livestock indicates how wealthy some of these farmers were. A certain Willem Hendrik de Klerk, for example, brought 6 477 sheep to Basutoland. Other wealthy refugee families of interest to Loock include the Fouché family of Rouxville, who produced Jim Fouché, South Africa's state president in the late 1960s. Jim Fouché's father, Jacobus Johannes, entered Basutoland with his wife and one son (who, according to Loock, was certainly Jim Fouché), as well as 600 sheep and 22 cattle.
Another Rouxville Fouché, Stephanus Philippus Fouché of the farm Constantia, moved to Basutoland with significant numbers of livestock, including 1 069 sheep and 77 cattle, while a Jan Christian Fouché of Klipplaatsdrift, also in Rouxville, followed with 1 400 sheep and 700 cattle. For wealthy families such as the Fouchés, getting back on their feet after the war was easy: they simply moved back to their farms with their stock. Refugees' farms were also often exempted from the scorched earth policy of the British forces.

British soldiers camping in the veld during the war. Imperial troops participated in the highly controversial scorched earth policy, which aimed to deprive Boer commandos of rural support and supplies. Photo supplied by: Molteno Museum
In fact, the Fouché family of Rouxville went from strength to strength, shearing thousands of sheep in the post-war years and developing a renowned Afrikaner cattle stud by the 1930s, along with an impressive Saddle Horse stud by the middle of the century. But according to Loock, the Fouchés' wealth was resented by many, who interpreted it as having been built on their non-participation in the war.
So when the family eventually lost the last of its ancestral land in Rouxville about a decade ago, tongues began wagging in the district about the sins of the fathers. According to one farmer in the Rouxville district – who will not be named to preserve platteland relations – everybody had always known that the Fouchés had fled to Basutoland and that divine justice would eventually be meted out.
Bitterness
War can cause both tragedy and complications for families. This was certainly the case with the Barry family of Ficksburg, whose war experiences are described in the diary of Anna Barry, one of three daughters. Her father, Thomas Barry, of Irish origin, married a local girl, Johanna de Villiers, and farmed on the farm Abrikooskop. When war broke out, Anna first watched her father go to war and then her teenage brother, Japie.
In time, her father was wounded and captured. He signed the oath of neutrality and moved to Basutoland for fear of retribution at the hands of Boer commandos. Not long after this crushing news, the family learnt that Japie had surrendered and had been sent to Ceylon, where he died of disease in 1900. Alone on the farm, the Barry womenfolk were soon the object of hostility from other Boers.
Read: Cross-border problems can't be ignored
Although the family had selflessly supported Boer commandos whenever they could, their father's decision to flee to Basutoland had ensured open animosity towards them from some bittereinders, who called them hensoppers (those who surrendered). Their misery was compounded by fear that they too would become victims of the British scorched earth policy and end up in a concentration camp. Sure enough, on 13 September 1901, their turn came.
Imperial troops arrived at the farm, allowed them to load up a few possessions, and took them away. They left Abrikooskop as the farm sheds were going up in flames. However, they were amongst the lucky ones; instead of heading to the concentration camps, they were allowed to join their father in Thlotse, Basutoland, where they spent the next eight months in relative comfort.
Life in Basutoland was in sharp contrast with the scenes of destruction the family saw in the Ficksburg district on their return. In her diary, Anna records the need to revive the material wealth of the region and the task of restoring the social fabric of the Ficksburg community, which had been tarnished by open resentment between families either seen as bittereinders, hensoppers or joiners (Boers who joined and assisted the British).
"It's a pity, because we actually all need to work to rebuild our country and we cannot do this if we are divided," she wrote in 1902. "Oh, the curse the war has left us."
Other sources: Oranje-Vrystaat en Basoetoland 1884-1902: 'n Verhoudingstudie, CC Eloff; Vrystaatse Vlugtelinge in Basoetoland tydens die Anglo-Boereoorlog, CC Eloff; 'Hensoppers' en 'Joiners': Die Rasionaal en Verskynsel van Verraad, AM Grundlingh; ONS JAPIE, Dagboek van Anna Barry 1899-1902; Rebelle van die Stormberge – Tweede Vryheidsoorlog 1899- 1902, AV Oosthuizen; New History of South Africa, Hermann Giliomee and Bernard Mbenga, and  www.familysearch.org.