Derek Broom, a dairy consultant based in the KwaZulu-Natal Midlands, reckons that if only dairy farmers could co-operate with milk as well as they do with mountain bikes, they'd be laughing all the way to the bank ('Breaking the price-taker chains', Vol 19 of The Dairy Mail). He points to the recent Sani2c mountain bike ride from Underberg to Scottburgh, which has 4 500 cyclists riding past cows, pastures and milking parlours, forests and cane lands, through conservancies and nature reserves.
Scoring
The riders deserve our admiration, but the real congratulations should go to the managers, organisers and communities who work together to make this event possible – and many of them are dairy farmers. It's a mind-boggling feat of co-operation, says Broom – if only the farmers could do the same with their farming.
Do you remember the Porter five forces model? (See diagram 1.) It highlights the five main factors which determine how successful any business will be. Let's look at them as a milk producer: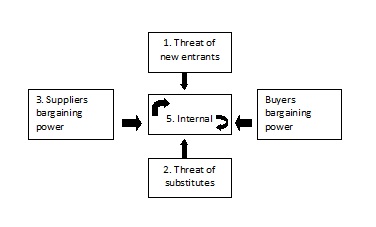 Diagram 1. Porter's five forces which determine the destiny of a business
Force 1: Ease of entry.
How easy is it for anyone to get into your business? Lots of capital and infrastructure are needed to become a commercial dairy farmer – a pretty strong protective mechanism. Score: 7/10.
Force 2: Substitutes.
How easy is it to find substitutes? Milk isn't like wool, which can be replaced by cotton. Score: 8 or 9/10.

Force 3: Bargaining power with suppliers.
With thousands of dairy farmers and few suppliers, unless you're an extremely large producer, you're in a very weak position. Suppliers want volume and small buyers can't give it to them. Score: 2/10.
Force 4: Bargaining power with buyers.
This is what Broom means when speaking of co-operation. This is probably the SA dairy farmer's weakest link. Being one of thousands of producers supplying a commodity which is of interest to a few large buyers is not a good place to be. Score: 1/10.
Force 5: Internal rivalry.
Every producer is competing with their neighbour with a commodity product which can't be differentiated in any meaningful way by packaging or advertising. But the unique brotherhood in farming, which sees farmers sharing knowledge and ideas with an openness not seen in other industries, counters this rivalry. Score: 5/10.
Another way
According to the Porter model, SA milk producers score about 25/50 – with major weaknesses in bargaining power at both ends, with suppliers and with buyers. In New Zealand, by contrast, milk producers have pushed their Porter score up close to 50/50 by forming Fonterra, which is co-operatively owned by 11 000 New Zealand farmers. Problem solved.
I know comparisons are odious, but I'll risk it. Let's have a look at what happens in the avocado business. There's never been regulation in subtropical fruit. Farmers have always been on their own and everything they've done has been done voluntarily.
An avocado is a highly perishable product, which has to be moved from farm to export market in a meticulously managed cold chain. With growing export volumes – 500 000 cartons was reached in the mid-1970s – the SA Avocado Producers Association (SAAGA) was formed, and producers and exporters started sharing information about their planned weekly shipments.
Volumes
Today volumes have risen to the 10 million carton mark, and not only do SA farmers still share shipping information with SAAGA, all avocado exporters in the world share this information! That is, some 10 countries are gathering actual and forecast details of weekly avocado shipments to the EU for the full calendar year.
This data is collected and collated in SAAGA's offices in Tzaneen, and returned to each of the participants on a weekly basis. It's a feat that makes organising the Sani2c look like child's play. Now, if our avocado producers can achieve global co-operation on this scale, why can't our dairy farmers form their own local Fonterra?

Contact Peter Hughes at [email protected]. Please state 'Managing for profit' in the subject line of your email.