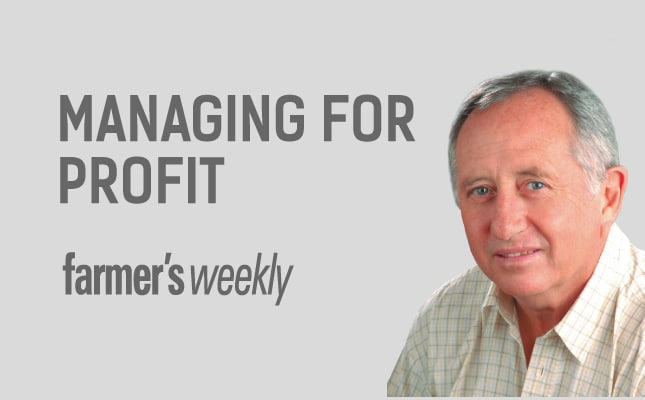 Recently, I attended a gathering of farmers in Limpopo. Following the shock increase in minimum wage rates, I was expecting to hear a lot of whinging, but I couldn't have been more wrong. When I heard one of the speakers say, "There's no way we're able to pay these wages!" my first thought was: "Oh no, here we go again". Then he said: "But we can enable our people to earn these rates" – and proceeded to identify some of the changes planned to assist employees to lift output and reach the new minimum wage levels.
READ:Five 'qualities of greatness'
It's been a tough season for many in the province. There has been violent criminal activity, storm and hail damage, huge cost increases in fuel and electricity and now Whack! – the 52% minimum wage increase. Yes, there were some doomsayers, but discussion was mostly focused on how to handle the wage issue by increasing productivity. There was also a genuine concern for those who may lose their jobs.
Positive thinking
What these Limpopo farmers demonstrated to me first-hand is that what's needed now is the power of positive thinking, creativity and collaboration between management, staff and neighbours. A negative, self-pitying attitude kills all of these elements – if you're feeling sorry for yourself, snap out of it if you want to stay in business. In seeking inspiration as to how to deal with the challenges we all face, I contacted a local farmer reputed to have one of the most productive labour forces in the business, and asked him how he did it.
Here are some lessons culled from his experiences:
Without trust it's an uphill battle to build productivity. Hold routine workshops with representatives from all levels of staff, and keep them informed as to how the business is doing. 

"We've worked hard 

at demonstrating the ebbs and flows of cash through the business, and developing an understanding that it's best to grow the pot of cash than fight over it," says the farmer.

The workshops also give management fresh insights into the priorities in the lives of their workers, leading to improved relationships all round. 

Ownership of 

one's job is sacrosanct. An irrigator, for example, is allocated a land, and is responsible for the irrigation of that land. A tractor driver is allocated a tractor. It's theirs. 

Team leaders oversee groups and undertake a clearly specified job. They 'own' that job, and aren't pushed hither and thither from place to place and job to job. "This cuts across the principle of multi-tasking and sometimes leads to duplication of effort, but the pros far outweigh the cons," says the farmer. 

Incentives are vital. "What has been crucial to our success is that every single employee is the recipient of a cash incentive," he adds. 

On this particular farm 'tons of cane per hectare' has been identified as the single most important determinant of business success. Every employee from weeder to managing director, whose job impacts in some way on 'tons of cane per hectare', is given an incentive to drive this figure up. 

Targets are set, regular and quick feedback is provided, and when targets are reached, payment is made quickly. 

All supporting jobs, such as workshop staff, not directly responsible for production, also derive a large element of their incentive from 'tons of cane per hectare'. In their case, though, they'll have one or two additional elements added to their incentive package. 

Managers of course control costs, and their incentive packages include this element. 
No worries
Can you apply these lessons to your own operation? Can you bring a positive and optimistic attitude to the job? Inform and educate your staff and build sound relationships and trust? Give your employees 'ownership' of their jobs and incentives around the single critical element to the business?
If you're able to do this, you've got no worries.
Contact Peter Hughes at [email protected]. Please state 'Managing for profit' in the subject line of your email.
This article was originally published in the 30 January 2015 issue of Farmer's Weekly.