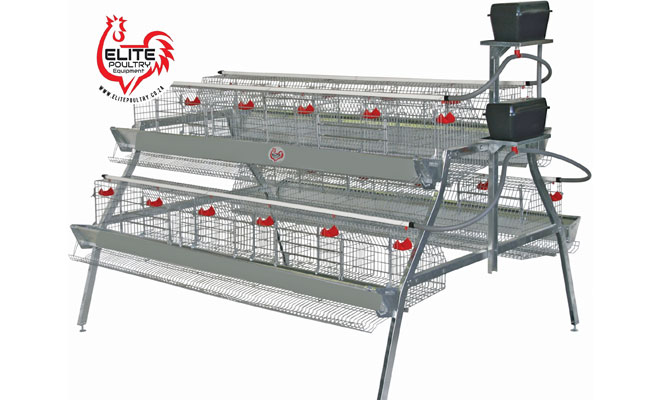 Start your own chicken business
Selling chickens and eggs can make big money and be done by almost anyone. Elite supplies all the equipment that the entrepreneur needs to run a successful chicken business.
Everyone needs to eat, and chicken and eggs are bought in huge numbers. Elite Poultry Equipment sells poultry equipment to all farmers and business people looking to produce chickens and eggs.
Virtually anyone can become a chicken farmer and make a good income selling chickens and eggs in a few simple steps.
STEP 1: Poultry equipment
Elite Poultry Equipment supplies all the equipment needed to grow chickens and produce eggs successfully. Elite laying cages for egg production are durable and affordable, ensuring years of use. Of equally high quality are Elite's range of drinkers, feeders and heating equipment. Chicken production can take place as a free-range operation or indoors, depending on the breed.
STEP 2: Layers and day-old chicks
After buying the equipment, the next step is to obtain layer hens. Elite has a network of suppliers countrywide who can supply these. The first step to selling chickens is to buy chicks to grow. These can be bought at hatcheries or produced using an Elite Surehatch incubator. A good supply of fresh water and feed is essential for producing chickens and eggs.
STEP 3: Selling chickens and eggs
Eggs can be sold daily by simply collecting them from the Elite layer cage. Chicks take 35 days to grow into mature birds, after which they can be sold to customers.
STEP 4: Making money
Elite poultry equipment makes it far easier to become a chicken business owner. The company offers advice and training to anyone wanting to start.
Contact Elite's team today and start making your own money! Elite Poultry Equipment provides expert advice and technical support.
Contact Elite Poultry Equipment on Whatsapp, phone 066 221 2663, 071 326 6495 or 064 734 4141, or email [email protected]. Visit elitepoultry.co.za. Like Elite's Facebook page (Elite Poultry Equipment). Follow the company on Instagram (Elite_Poultry_Equipment) and Twitter (@ ElitePoultrySA). Visit Elite at Unit 1, Crystal Rock, Quartz Drive, Kya Sands Business Park, Kya Sands, Gauteng.
Online Competition Terms & Conditions
The competition runs from 21 June to 31 July 2020.
The first correctly completed entry to be drawn will win the prize.
The judges' decision is final and no correspondence will be entered into.
The prize is not transferable and cannot be converted to cash.
Employees of all companies involved, their advertising agencies and immediate families may not enter the competition.
Offer valid for SA residents only.
The winner will be notified telephonically and/or via email.