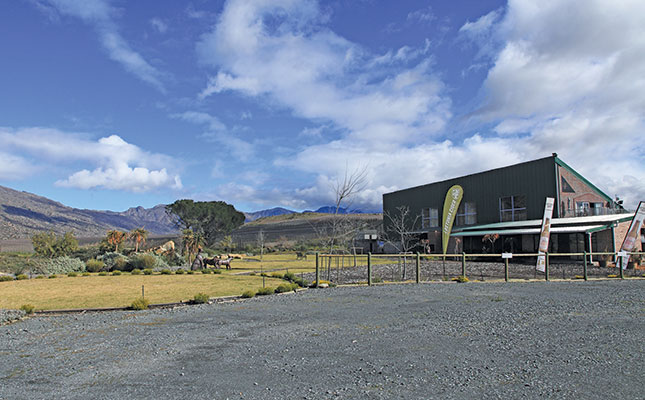 In 1990, Larry Whitfield bought Loxtonia, a prune farm on the outskirts of Ceres in the Western Cape, and set about redeveloping it into an export apple, pear and plum farm.
"The name Loxtonia comes from a previous owner who married a woman from Loxton in the Karoo. The name was an effort to lessen her homesickness, and the manor house is a traditional Karoo-style stone house," he says.
Loxtonia is planted to 40ha of apples, 20ha of pears and 30ha of plums, all geared for the export market. In terms of apples, Loxtonia grows Royal Gala, Pink Lady, Granny Smith, Golden Delicious and Cripps Red cultivars.
"We currently export 75% of our fruit, with the balance going to various local markets and into our cider production."
Whitfield started experimenting with cider in 2013 as an alternative way to use small and blemished apples.
"Our international travels and conversations with overseas growers made us aware of the vibrant market for cider. My interest was seriously aroused when I heard of wineries in Australia being converted into cideries. When asking about this trend, I was told that cider could be very profitable. We started experimenting with different apple cultivars and yeasts for the next five years, and Loxtonia Cider was officially launched in 2018."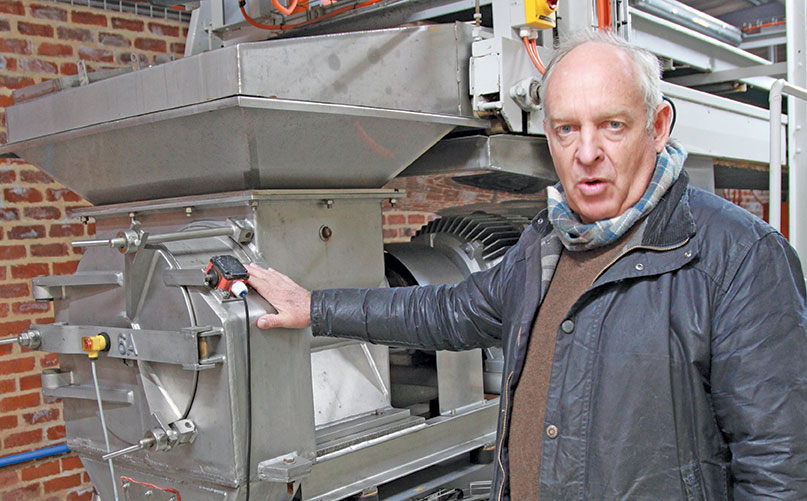 Loxtonia Cider was recently crowned the overall champion at the 11th International Cider Challenge (ICC). Alexandra Blush Méthode Traditionelle, Loxtonia's first bottle-fermented cider, was named Supreme Champion for 2021 and won the Rosé Trophy as the best cider made in the rosé style at the London-based competition.
"This recognition is confirmation for us that our investment in the best technology, together with quality fruit, delivers a top product," says Whitfield.
Cider from freshly milled apples
Initially, Whitfield experimented with different cultivars and yeast combinations during the apple season, for about three months of the year.
"We made a decision right from the start that in order to be successful we'd need to differentiate ourselves from other ciders available on the market. So we came up with the concept of 'from orchard to bottle', as nobody else was doing it. Most of our competitors buy from the concentrate market, whereas we make cider from freshly milled apples. This concept has led us to become fanatical about the quality and traceability of all the ingredients that go into our ciders."
Loxtonia makes cider with apples that would have been destined for the local fresh apple market.
Whitfield says that making quality cider has proved to be more profitable than selling apples on the local market, and has enabled him to add value to the business.
"We're also different in that we make a South African-style cider instead of the regular English-style one. For example, our African Sundowner Cider has a unique baobab flavour. We aim for something crispy, bubbly and refreshing. We also make a beer-stout-styled cider to attract traditional beer drinkers."
The cidery
The Loxtonia cidery, which was built in 2016, was designed with renewable energy sources, such as solar power, in mind right from the start. This influenced the shape of the building and its orientation to provide maximum sun exposure throughout the year.
"We're very happy with our 100kW/h system. It was projected to pay for itself over 20 years when we installed it, but this will now be fewer than 10 years due to regular tariff increases from Eskom. We've since added another 60kW/h capacity on our other buildings, and 27% of the power for our cold rooms is self-generated," says Whitfield.
The cidery runs seamlessly alongside the apple packhouse. Apples are selected for export, local premium retail, or cider.
Apples that are too big or too small are also used for cider. In practice, between 2% and 5% of the apples go to cider production, 75% are exported and the remainders are split between local retail and concentrate markets.
The apples destined for cider are pressed after harvesting or cold-stored alongside the retail market apples for later processing.
This enables Whitfield to make cider with cultivar-specific apples, as the cider apples are graded and sorted in the same manner as the fresh ones. This means complete traceability – from the picker and date to the orchard – of every apple, whether it is destined to be eaten fresh or pulped for cider.
The production process
Quality cider begins with good-quality fruit, but the processing is of equal importance, says Whitfield. To this end, he invested R15 million in a state-of-the-art apple mill and press to extract the juice.
The mill is calibrated to break the apples into a cube-like pulp, rather than a fine mush, as this increases the intensity of natural flavours that can be preserved during pressing.
The pulp is then pumped into holding tanks and from there passed into a rotating hydraulic press, which uses pressure and a network of serrated rubber hoses, within sieved sleeves, to separate the juice from the pulp.
The pulp is returned to the orchard as compost, while the juice flows into the stainless steel tanks in the cidery for fermentation and blending. The cidery has capacity for one million litres.
"We process apples according to cultivar and keep the juice separate throughout the fermentation process, which takes around 21 days. We manage fermentation with different types of yeast as well as temperature. Our tanks are jacketed to allow for temperature control. We aim for a constant temperature of between 20°C and 25°C for optimal fermentation," says Whitfield.
Once fermentation is completed, the cider, now called hard cider due to the alcohol content, is ready to be blended according to the specific product to be bottled. Whitfield does a flash pasteurisation before making use of a third-party bottling service.
"We also produce a non-alcoholic cider, which involves the removal of alcohol through a reverse osmosis process by a specialist company. Although expensive, this makes it possible to produce a non-alcoholic alternative with a very similar taste profile to alcoholic cider," he says.
Loxtonia has eight ciders in its range. "It's necessary to give the market what it wants and stay at the forefront of trends, so we continually do new product development. We frequently host tastings to develop new flavours."
Whitfield adds that they can also make perry (pear 'cider'), but the market is not ready for this yet, so they are holding back on this for now.
Loxtonia's main market segment is people between 18 and 35.
"This group is particular about health, the environment and ethical production. They want the story that goes with the product, and to be able to associate with the underlying values. Our 'from orchard to bottle' philosophy seems to resonate very well with this crowd."
He says a business plan is the first step for any aspiring cider maker; finance and production come after that. "We worked on our business plan for five years, and when we eventually launched we knew where we wanted to position ourselves in the market and were ready to deliver."
Only two months after releasing its first cider in 2018, Loxtonia won Best Cider at the Cape Town Festival of Beer. In January 2019, it won the ICC World Cider Label Award in London for Best Label Design.
"And now with the ICC 2021 Supreme Champion [award] for our rosé blush cider, we're recognised for our unique products and the quality they represent,'' says Whitfield.
Challenges and expansion
"The COVID-19 lockdowns have hit us hard. Just as demand picked up, there was another alcohol ban, so it has been challenging," he adds.
Despite this, he sees the main challenge for Loxtonoia's product as distribution, as the processor has to take full responsibility for how the product is delivered and make sure that sales are made.
"We're expanding our sales force in Gauteng as there's a lot of interest. Looking at the future, I'm confident we'll sell fewer apples on the local market and produce more cider."
Email Larry Whitfield at [email protected].