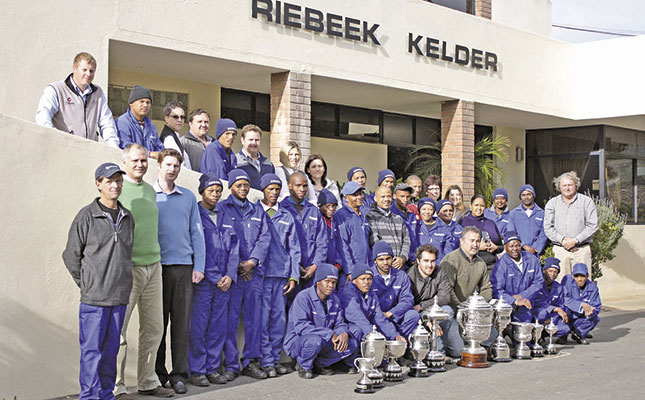 The town of Riebeek- Kasteel rests in the fertile Riebeek Valley just beyond the Bothmanskloof Pass. It is here that you will find Riebeek Cellars, a wholly producer-owned cellar with 30 shareholders. This medium-size winery sources its grapes from the valley as well as the Swartland region, where the climate is very similar to the Mediterranean.
READ:Steep increase in sin tax will challenge wine industry
"When the cellar was first opened in 1941 it had a capacity of 3 000t. These days, we process about 17 500t of grapes every year and produce roughly 10 million litres of wine," says cellar master and CEO Zakkie Bester. About 20% of the wine produced by Riebeek Cellars is sold in bottles both locally and abroad under the Riebeek Cellars label. The remainder is sold in bulk, with 60% of this being exported.
According to Zakkie, the Swartland has become a renowned wine-producing area in recent years, yielding some of South Africa's most acclaimed wines. This has created an ideal opportunity for Riebeek Cellars to launch a rebranding exercise focused on increasing sales of bottled wine. This involved redesigning the label to create an eye-catching, modern look that still embraced the history and heritage of the Riebeek Valley.
"But it's not just about what's on the bottle. What's in the bottle is equally important to us," says Zakkie. "Our winemakers are producing wines in a style unique to Riebeek Cellars." An important consideration in the rebranding exercise was the fact that, thanks to the growing popularity of wines from the region, many private cellars in the Swartland are able to demand top prices.
Yet, as Zakkie says: "Consumers remain reluctant to pay big money for wine from producer cellars. In fact, they expect wine from producer cellars to sell at bargain prices!" This, he stresses, is why Riebeek Cellars will continue to focus on offering value-for-money while making wines that are distinctive and of good quality. "It's a challenge to consistently produce good-value wines without ever compromising on the quality that we want people to associate with our brand.
"To achieve this, input costs have to be carefully managed in order to ensure that the farmer will still earn a fair price for their grapes as well." Input costs can only be managed up to a point, though. After this, the only option to increase profit is to increase income. "We can earn 30% more for bottled wine than for wine sold in bulk," says Zakkie. "Where our focus in the past has always been on bulk wine, we realised we had to add value for our shareholders and ensure financial sustainability by putting more wine into bottles."
Doing it differently
But Riebeek Cellars' decision to focus on increasing bottled wine sales goes against the current trend in SA wine exports, which are largely driven by bulk wine sales. According to South African Wine Industry Information and Services (Sawis), bulk wine exports from South Africa for November 2012 to October 2013 increased by 59% from 224,5 million litres to 357,4 million litres year-on-year.
Total wine exports increased by 39% from 386,5 million litres to 539 million litres. Over this period, exports of bottled wines increased by only 6% from 162 million litres to 173 million litres. According to Rico Basson, executive director of Vinpro, this unprecedented growth in bulk wine exports was mainly due to a record SA crop in 2013 crop and adverse weather conditions in Europe's traditional wine-producing countries, such as France, Spain and Italy, which created a shortfall in wine supply in these countries, as well as those to which they export, such as Russia.
"South Africa did particularly well in increasing bulk exports to Europe because of the shortfall and also because of the weakening of the rand against major currencies."

Boosting local sales
Bulk wine exports from South Africa will most likely be lower next year, but Rico believes that bulk wine will always play an important part within the country's wine export basket. Riebeek Cellars' drive to increase the sales of bottled wine does not only apply to the export market, but also to local sales.
"The SA market is tricky because we haven't seen much growth in local wine consumption these past years," says Zakkie. "But it's important for us to be recognised as a trusted and popular label locally, because this will help increase the appeal of our bottled and branded wines when we market them overseas."
According to Rico, the local wine market has stagnated due to a number of reasons, including oversupply and legislation that discourages alcohol consumption. "The local market is very competitive and it's being ruled by a few big players who are able to offer good value for money," he explains. "Having said that, I still think that something can be done to develop local consumption, especially if you compare South African per capita wine consumption – 6l per person per year – with that of France (50l) or even New Zealand (20l)."
According to Rico, producers will have to do some clever marketing as well as offer value for money in order to stand out in the local market. Riebeek Cellars is investing in doing exactly this, combining a rebranding exercise with a renewed effort to offer good quality wines at reasonable prices.
Phone Riebeek Cellars at 022 448 1213, or email [email protected] Visit www.riebeekcellars.com.
This article was originally published in the 29 November 2013 issue of Farmer's Weekly.