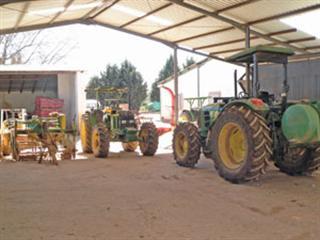 The background drone of tractors, implements, and other agricultural equipment comes standard on any successful large-scale commercial farm. These machines have an essential role to play if farmers and workers are to perform critical tasks quickly and efficiently, and make sure the business generates profit.
To prevent costly downtime, equipment must be strictly monitored, serviced and repaired, or replaced, when necessary. Noel Lello, maintenance manager for John Armstrong Farming (JAF), a large farming business in KZN's Kamberg Valley, has a variety of systems in place to help him optimise the use and functioning of the fleet of machinery in his care. The long-established John Armstrong Farming operates seed and commercial potato, dairy and beef enterprises on roughly 2 500ha of land.
Such a large operation needs an equally large machinery fleet. Since 2006, Noel has been responsible for maintaining this fleet and for ensuring that every other piece of equipment on the farm − including irrigation pumps, the 50-point rotary dairy parlour, and farm buildings − is always in optimal condition. "To maintain a fleet this large is a major challenge, because I have to be very versatile and pro-active in my management," he explains.
"To maximise maintenance efficiencies I keep detailed records of all equipment's operating hours, planned services, breakdown responses and historical data." This allows Noel to keep tabs on parts warranties and on each particular machine's performance history. This is especially helpful with any implement that gives regular problems, putting him on a strong footing when he negotiates problem-solving responsibility with equipment dealers.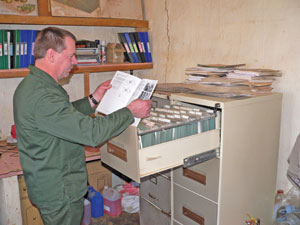 Noel Lello keeps an extensive library of maintenance manuals in hard copy and on computer.
Service with a smile
Every Monday morning throughout the year Noel and his maintenance assistant, Skhumbuso Mncube, record the running hours or kilometres of every single machine. This lets them determine which machines are within 10 hours of their next 500-hour service. The bakkies are serviced every 10 000km while the trucks are serviced every 15 000km to 25 000km, depending on the make.
They service only those machines that are out of warranty. "If they're still under warranty I use my Monday recording figures to pre-plan with the servicing agent about when he'll come out to the farm," says Noel. "It's significantly cheaper for an agent do the service on-farm than to take the machine on a flat-bed truck to to the nearest dealership in Pietermaritzburg, about 89km away. But we drive or transport the trucks, bakkies and bikes to the dealership."
Out-of-warranty machines due for a service are immediately pulled from their work schedule so that Noel and Skhumbuso can work on them. At any one time they'll have five or six such jobs on the go. A minor service takes one to one-and-a-half hours, and a major service about five. Noel can work quickly because he has a comprehensive on-farm maintenance stock of all necessary service parts, as well as parts for the more common breakdowns.
He keeps his tools on the back of his bakkie so that he can attend to an emergency at a moment's notice, without having to travel what could be a long distance back to the workshop. In fact, Noel estimates that he has to fetch something from the workshop for only one in every 20 breakdowns. This dramatically improves maintenance efficiency and reduces downtime.
Self-sufficiency
"I can make many of my own parts if they're needed urgently," says Noel. "I improvise using the materials and equipment I have. For example, I have a Millermatic MIG welding unit that can weld a diverse range of metals, a 10t steel press and a bandsaw to cut steel accurately. These are my basic essentials.
"I even have a hydraulic hose crimper, which saves hugely on downtime and costs. We use hydraulic pipes extensively on our machines and they often need repairing, but we're in a remote location and having to wait for a replacement hose to be delivered is not an option."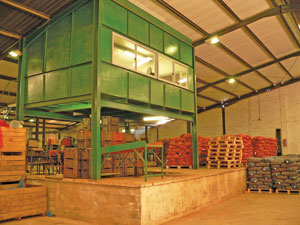 Noel erected a sturdy elevated office in JAF's potato sorting and packing facility.
Noel prides himself on an in-depth technical knowledge of the machines he maintains, invaluable when problems have to be solved quickly. In many cases drivers with simple problems can describe them over the phone, Noel can devise a solution, and the drivers can fix it.
"I was trained as a diesel mechanic and auto electrician, but this only gave me the basics," Noel points out. "I value my hands-
on experience far more. As more modern machinery and implements are brought onto the farm I have to keep up-to-date on how to maintain them. In this job, one needs a natural logical ability to quickly identify and solve problems through a process of elimination."
Outside info
Noel has an extensive range of maintenance manuals, in printed or software format, for every implement on the farm. If he can't source a manual for new equipment from the dealership, he searches the internet for the right one. For computerised machinery, Noel uses his manuals to decipher on-screen fault codes and make the necessary repairs.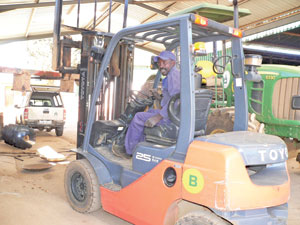 Skhumbuso plays a vital role in keeping JAF's machinery and implement fleet performing optimally. He is also very handy with a forklift.
John Armstrong Farming only buys maintenance plans for its heavy transport vehicles, which haul milk tanks to Johannesburg, fetch gypsum and lime from Pretoria, and collect fertiliser from Durban harbour. Noel explains that it would be too expensive and time-consuming for him to drive all the way to one of these cities and back to do repairs himself. Maintenance plans cover the cost of having the agent nearest to the breakdown do the job.
On the shelf
Many of the implements are used for only a brief period every year. They spend the rest of the time in storage with the associated threats of deterioration, such as rust, perishing rubber and plastic parts and seizing of moving parts. Implement parts such as coulters, blades and shears that are abraded during use are particularly likely to rust in storage. Noel prevents this by painting them with old engine oil.
"It's essential to store these implements under cover to prevent rain from washing off the engine oil, and the sun from perishing the rubber and plastic," he warns. "Most of our implements have a specific job at a specific time of year so there's a constant rotation through the storage facility."
Noel recommends thoroughly washing any implement that houses fertiliser to prevent major corrosion by flooding the fertiliser-handling parts with fresh water, air-drying and then oiling them. Implements are checked for repairs from about a month before they're scheduled to come out of storage, so that there is time to order and fit any necessary parts. He'll also check and replace oil in gearboxes, tension chains and belts, give them a full lubrication service, and change worn parts if necessary.
"At the same time, JAF's owner, John Armstrong, will give me the application rates for the particular implement and I adjust and calibrate it accordingly. If an implement needs precision calibration between being used on different lands, it will be brought to the workshop for calibration in a controlled environment. I re-configure the other implements in-field."
Thinking long term
Noel explains the importance of having a good working relationship with John. And since John can trust Noel's judgement and values his input, he doesn't question Noel's purchasing requests and decisions. If Noel recommends a more expensive, but more effective, piece of equipment over a cheaper and potentially less reliable one, John approves the purchase. "This lets me to do my job properly in the quickest time," says Noel. "My philosophy is that a person should only have to buy a piece of equipment once."
The John Armstrong Farming agricultural machinery fleet
27 John Deere tractors ranging from the smallest, the 32kW 3720, to the largest, the 120kW 6930.
One John Deere 9560 STS combine harvester.
Two tractor-loader-backhoes (TLBs): one New Holland, one Bell.
Three forklifts: two Toyotas and one TCM.
Five heavy delivery vehicles (HDVs): two delivery trucks, one staff bus, and two 30 000l milk tankers.
Six light delivery vehicles/bakkies: four Fords and two Toyotas.
Six motorbikes: five Yamahas and one Honda.
Two Yamaha quad-bikes.
One John Deere Gator six-wheel utility vehicle.
Numerous tractor-drawn implements and trailers.
Replacing machinery & implements
JAF's owner, John Armstrong, annually assesses how the farming business's operational needs have changed. From there, he decides whether to sell, buy or upgrade equipment and tractors. Noel says JAF replaces as many implements as it sells, typically about three tractors a year. Implements are used until they no longer have a practical purpose in the business, but sometimes Noel will be able to modify old implements to accommodate new operational requirements, saving on money and downtime. They sell implements that aren't suitable for modification.
Why it's all John Deere at JAF
John and Noel have chosen to standardise their tractor fleet to a single brand, which means Noel doesn't have to keep heaps of different spare parts for different brands. For several reasons, they've selected John Deere. For a start, they value John Deere South Africa's good back-up service and parts supply. Sometimes a part from overseas takes only three to five days to reach the farm from the time the order is placed. But, Noel says, often John Deere SA has the necessary parts in its local dealership network.
Noel and John have also found many similarities across the different John Deere series of tractors, making maintenance far easier and more efficient. "Having a large fleet of a single brand has allowed us to establish good working relationships with John Deere SA and its agency, Mascor," says Noel. "And because we have a large fleet of John Deere tractors we get priority whenever a problem arises."
Contact Noel Lello on 082 525 2627 or email [email protected]