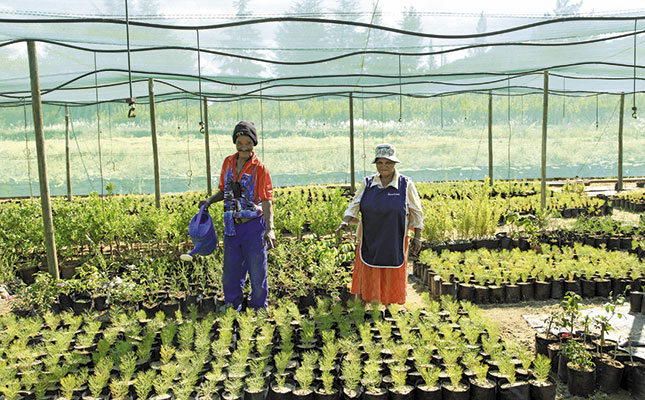 Flowershed produces high-quality, indigenous flowers, and the business has grown from a small, tentative sideline to the largest producer of blushing brides in South Africa, and a major producer and exporter of many other indigenous flower species. Here's how Flowershed conquered the indigenous flower market.
SEE ALSO:  Learn about SA's indigenous trees
Joretha Grib's idea of farming indigenous flowers arose from her desire to improve the erratic cash flow of her and her husband George's farming operation. At that time, in the early 1980s, the primary income of their farm – Jansekraal, near Citrusdal in the Western Cape – was generated by rooibos and citrus, both of which are seasonal crops. Joretha's decision to go with flowers was hardly surprising.
"My mother, Bessie van der Merwe, had the most amazing flower garden and we always had flowers in the house," she recalls. "My mother-in-law, Jacy Grib, used to be a South African flower judge, and had an excellent eye for detail. Their passion for flowers rubbed off on me, and gave me a good foundation." Deciding to start small, Joretha first tested her production capabilities, then the market.
"We didn't know anything about indigenous flower production, so we experimented with 70 blushing bride plants that we bought from a nursery in Franschhoek in 1983. These flowers were thought to be extinct at some point, so nobody really knew anything about their commercial production. We supplied the flowers to a road shop on the Piekenierskloof Pass," she says.
Improving quality
Over time, Joretha became increasingly aware of the poor quality of indigenous flowers on the local market. Believing that consumers were unaware that "there was something better out there," she started making plans to supply the market with a high-quality product. When she told a business consultant of her idea, however, he warned her that the flowers would be too expensive for the business to succeed.
Realising that she needed to target outlets specialising in high-quality produce, Joretha approached Woolworths. The retailer supported the proposal, and Joretha and her team began supplying the company with indigenous flower bouquets consisting primarily of blushing brides, of which they were the only commercial producer at the time.
"The flowers did so well that Woolworths asked us to double production the following year, and triple it the year thereafter," Joretha recalls. Since then, production has expanded to over 15ha of indigenous flowers and fillers.
Getting down to business
Joretha ascribes her success to a sound business strategy. "If you want to make it in the market – for almost any product these days – you first need to do something you like; something for which you have passion. Secondly, you need a unique product that differentiates you from your competitors, especially if the market is saturated. Thirdly, your product must be affordable, which means that you have to be as cost-effective as possible."
She cautions that it is prudent to supply only one retailer when providing a niche product, thus avoiding competition that could lower prices. Supplying a large, commercial retailer, moreover, allows one's client base to expand as the retailer does.
Her advice to new entrants is to be market-aware, and avoid supplying a saturated market with more of the same. The products themselves should also be re-evaluated regularly.
"We were thinking of getting rid of our yellow pincushions at one stage, as it seemed consumers preferred the red ones. However, on closer evaluation, we found that the profit with the yellow pincushions was greater than with the red ones. It really pays to keep account of the production costs and sales of each of your products," she says.
Growing indigenous varieties
Producing a variety of indigenous flowers is tricky, as species and varieties have diverse nutritional, pruning and management requirements. "There's a misconception that proteas don't need much care or nutrition. The reality is that the quality of your product is just so much better if you feed and take care of them properly," Joretha stresses.
The flowers must be replaced regularly with new plantings to ensure a continuous supply of good quality flowers. Blushing brides, pincushions, and Protea cyneroides have an approximate lifespan of 10 years, after which they should be replaced. For at least three years before replanting, crops must be rotated. This can be done with oats or rye, which is ploughed back into the soil before it ripens.
Joretha recommends buying only good-quality planting material, as this has an impact on the volume and quality of flowers produced.
Export
Apart from producing high-quality indigenous flowers for the local market, Joretha exports her produce to Europe. She even had the honour of supplying 500 blushing brides for the wedding of Prince Albert of Monaco and his South African bride Charlene Wittstock. "Earnings are very good for export flowers at the moment, especially with the rand being so weak," she says.
To reduce market risks, proteas, pincushions and leucodendron varieties and species are exported with the help of an agent to Aalsmeer Flower Market in Holland. From here, they are distributed to other European cities and regions. On one occasion, Joretha exported pincushions to the US, and has since received more requests.
However, she regards this country's market as too risky for a small operation like hers as phytosanitary regulations are very strict: flowers must be fumigated before they are exported and if even a single fly, dead or alive, is discovered in a consignment, the entire consignment is rejected.
Despite her success in exporting to European markets, Joretha says the value of the local market should never be underestimated in its stabilising effect on earnings.
Cost-efficiency
It is crucial to the survival of the business to supply the market with an affordable product, Joretha stresses. Production costs must therefore be minimised. To reduce power costs, she is in the process of switching to solar energy in the packhouse. Growing the majority of the flowers on the farm, meanwhile, keeps transport and production costs down.
"Most other suppliers outsource up to 70% of the flowers they use in their bouquets. We try to produce everything on the farm, or source it locally to save costs. Watsonia leaves, for example, are picked from the veld to use as fillers in some of the bouquets," she says.
There are, nonetheless, exceptions. Flowers with breeder rights are expensive, and, if a bouquet specifically requires it, these flowers are purchased.
To improve labour efficiency, much time and effort is put into workers' training. At the start of Joretha's flower operation, the marketing season was only three months long. The season has since expanded to six months. During this time, workers pick flowers, assemble bouquets, and pack single-line flowers. Once the marketing season is over, workers have to prune the plants, which, according to Joretha, requires great skill.
Staying on top of her game
Joretha maintains her competitive edge by continually expanding her product range. This includes supplying the market with endangered species, something in which Joretha takes great delight. She adds that the farm contains an experimental plot, where various proteacea species for commercial production are tested. She stresses that to stay competitive in the industry, one has to stay on top of new trends. In an effort to keep up-to-date on general flower production and her product range, Joretha visits international flower production areas and packhouses, and attends numerous workshops. She also reads many books on indigenous flower production, and employs well- known consultant  Dr Gerrit Malan to advise her.
Joretha's high-quality, indigenous flower business has grown from a small, tentative sideline to the largest producer of blushing brides in South Africa, and a major producer and exporter of many other indigenous flower species. She is more than satisfied with the way in which her flower business has turned out, but inevitably wishes that she had done one or two things differently. "I would have started earlier in my life with flower farming if I knew what I know now, and I would have started bigger," she says.
For more information email Joretha Grib at [email protected]
This article was originally published in the 15 April 2016 issue of Farmer's Weekly.