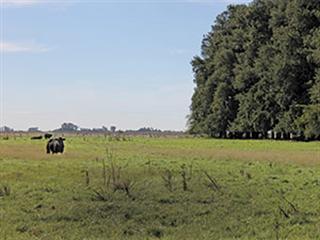 Argentinian farmers seem to have everything going for them. An average annual rainfall of more than 1 000mm a year on highly fertile soils. Virtually disease-free ranching areas with year-round natural grazing. Access to top agricultural researchers who are continually engaged in area-specific research. All in all, it sounds like a farmers' paradise, but Argentinian producers are quick to point out that things have been tough during the past few years.
In May 2010 the exchange rate was 3,1 pesos/US$1. At the time of Farmer's Weekly's visit, the official exchange rate was 5,25pesos/ US$1. But Argentinians are prepared to pay up to 10 pesos for a dollar, creating a parallel dollar market. As high inflation eats into the value of the peso, the dollar, which largely keeps its value, becomes more popular.
The official annual inflation rate is currently just over 10%, but many Argentinians believe that it is closer to 25%. At these rates, commodity prices fail to keep up. "In 2007 one farm worker would cost a farmer the equivalent of 12 weaners. Today it is 36," says Francisco Morchio, president of the Gualeguay farmers' union. Farmers blame Argentina's president, Cristina Fernández de Kirchner, for this situation. According to Francisco, government intervention and high taxes have become major problems in Argentinian agriculture during her term.
There are hefty export tariffs in place for primary agricultural products. Export taxes of 35% on unprocessed soya beans, 20% on sunflower and 24% on yellow maize were fixed in November 2007 by the previous president Nestor Kirchner, late husband of the current president. With municipal, provincial and national tax and other administrative costs, between 60% and 80% of the farmer's income goes to the government. Soya bean farmers in one of the most fertile parts of the country, Venado Tuerto, earn a return on investment of about 16% in US dollars,
according to AgroDap agronomist Luciano Martín, who based his calculations on an average soya bean yield of 4,7t/ha.
Making a profit on yellow maize has become more and more difficult. According to Luciano, the average yield for yellow maize in the area is about 11t/ha. With the price at about US$170/t (R1 160/t) at the time of Farmer's Weekly's visit (compared with US$500/t (R4 881/t) for soya beans), and increasing fertiliser and seed costs, maize is becoming an unprofitable crop. However, it remains an important part of crop rotation in a no-till system, as it provides the necessary crop residue.
Farmers vs government
According to Hendrik Jordaan, agri business consultant in Argentina, current tension between Argentinian farmers and the government revolves around three basic issues:
Export taxes on grain go to central government, rather than to the provinces from where they have been collected, and spending lacks transparency.
There is a lack of a clear policy on farming, agro-industrial development and tax, with many laws and changes being enacted day to day.
Farmers (and Argentinians in general) lack the opportunity to acquire US dollars with their harvest income to protect themselves against inflation and the devaluing peso. Inputs such as fertilisers are quoted in dollars.
Asked why he still farms, Francisco says it is "a way of life", adding: "We believe things will change for the better or we wouldn't still be farming. The problem lies with the president. If she doesn't go, things won't change."
Liniers market auctions 10 000 cattle per day
At the Liniers Market in Buenos Aires 10 000 cattle are sold every day. The market has been operating since 1901 and has been privately owned since 1902. On the day the Farmer's Weekly group visited the market, a total of 10 237 cattle were sold. Cattle are delivered at night and weighed on arrival. Auctioning starts at 8am and all animals are generally sold within an hour and a half. The market is then cleaned and prepared for the next day's auction.
The auctioneer and buyers walk from lot to lot on skyways from which they can view the stock. Animals are auctioned on the spot. Once sold, the lot is reweighed and this weight determines the final price. Cattle sold at the Liniers Market are normally taken from there to the abattoir, where they are slaughtered. The meat is usually sold for local consumption.
Farm ownership systems
According to Luciano Martín, agronomist at input supplier AgroDAP, there are five types of farm ownership in Argentina:
Family-run and -owned farms, where the farmer may rent extra land. Larger family operations where the family does not live on the farm and contractors are called in to do the work. Investment groups that run a farming business using contractors. Investors usually do not get to see the farm.
Corporate farms, where land is owned and farming is conducted on a large scale. Landowners who rent out their land or make use of contractors and agronomists to farm. A considerable percentage of Argentina's crop production takes place on such farms.
The numbers
This year, Argentina expects a soya bean harvest of 54 million tons and a maize harvest of  25 million tons. About 50% of Argentina's grain is kept in silo bags on farms, giving farmers more control over the timing of sales. Grain can be kept in these bags, which are an Argentinian invention, for up to two harvests. Since the no-till revolution and the increasing profitability of soya beans, cattle farming has been pushed out of the more fertile areas, where land prices can reach US$15 000/ ha to US$20 000/ ha (about R150 000 to R200 000).
Argentinian farmers regard land as both a means of production and as an investment. The average farm is between 500ha and 1 000ha. Rented land in Argentina accounts for 60% of agricultural produce. Rental is usually set at 2t soya beans/ ha in the fertile Pampa Húmeda. Rents decrease with fertility and rainfall to about 0,8t/ha.
No-till since the 1970s
Argentinian farmers began experimenting with no-till in the late 1970s. Today, no-till is used on over 80% of crop land in the country, according to Juliana Albertengo, agronomist at no-till research institute Aapresid, based in Rosario.* After a slow start, no-till took off in 1995 when Round-up-Ready soya beans came onto the market, says agronomist Luciano Martin of AgroDap.
Aapresid's research has found that no-till leads to a 96% reduction in soil erosion. "You produce more per drop of water that hits the soil. Every time you till, you lose 25mm of rain," explains Juliana. Farmers who want to switch to no-till need patience as they usually experience a lower yield for the first few seasons. "Soil has a certain equilibrium and when ploughing stops, it must find a new equilibrium, which could take between five and 10 years," says Juliana.
Juan Manual Viniegra and his father Daniel Viniegra in Venado Tuerto have been practising no-till for 15 years. Juan maintains that long-term, no-till leads to higher, more stable yields because of the improved soil profile. The Instituto Nacional de Tecnologia Agropecuaria (Inta) also conducts extensive no-till research. Inta's research station in Marcos Juárez focuses on wheat and soya bean production in the Cordoba district. Inta is currently running trials in South Africa in co-operation with Grain SA.
Rosario – grain export capital of Argentina
About 80% of Argentina's grain is exported from the city of Rosario on the Paraná River. A total of 3 million tons of grain was exported last year from the port terminal (below), owned by Enapro Servicios Portuarios. This private company, leased the facilities for 25 years in 1994 from the Argentinian government. The terminal's 300m pier can accommodate ships up to 250m long depending on the river depth. The guaranteed year-round depth is 12m.
Ships can be loaded with up to 55 000t, a process that takes about three days. The terminal, one of 20 in the harbour, is operational around the clock and loads about 100 ships a year. During harvest, the terminal receives approximately 600 truckloads a day. There are also facilities to unload grain from train trucks.Total silo capacity at the terminal is 90 000t. Each silo can hold 1 200t.
Pioneering no-till machinery
José Pierobon, owner of no-till planter manufacturer Pierobon, is a pioneer in the development of no-till planters. José (now 75), has been building planters for 60 years. Below is one of the oldest planters built at the Pierobon factory in the small town of Cruz Alta.
The Multimix DC-DC 16/32 (immediately below) is an example of one of the factory's latest no-till planters. It can be configured to plant coarse or fine grain in 32 rows at a 21cm planting space and in 16 rows at 42cm. Pierobon, in co-operation with Inta, is one of the Argentinian companies currently engaged in no-till trials in South Africa. The company distributes planters through Valtrac in Parys, Free State.
Farmer unions fight as one
Francisco Morchio's farmers' union in Gualeguay belongs to the national union Confederaciones Rurales Argentinas (CRA), one of four national unions in Argentina. CRA has the greatest independence from the government, because its farmers generally do not produce grain directly for the export market. This means they are not dependant on government for export permits.
Prior to government intervention, the farmer unions were not united. Since 2008, however, they have co-operated in their fight to stop government intervention, says Fransisco. "Government still tries to talk to the unions separately, hoping we'll fight among each other," he explains. "But the unions negotiate with government as a united force."
San Pedro's citrus farms
The San Pedro area, known for its nurseries and intensive fruit and vegetable production, has about 30 000ha under agricultural production. Nurseries in the area produce fruit plants, shrubbery and ornamental plants. When citrus production was at its height, about 8 000ha was under citrus. As soya bean production became more profitable this has decreased to 2 000ha.  Grapefruit, naartjies, oranges and lemons are produced here. Argentina is the world's biggest exporter of lemons, with 50% of the crop used in juice-making, and the rest sold as fruit.
In the case of oranges and naartjies, juice-making takes up 30% of production and 70% is sold as fruit. The area also produces white and yellow peaches, mainly for consumption as fruit. The production season runs from mid-October to March. Temperatures in this area can fall to -4°C in winter. Farmer Guillermo Cappadoro uses precision farming to produce citrus. The health of individual plants is measured and the system provides automatic updates on plant treatment. Guillermo farms 30ha, on which he has 13 000 plants.
He has an underground irrigation system as back-up. Water comes from from the Paraná River which is 5km from his farm. In winter, to prevent frost, a sprinkler system is set to start operating just before the temperature falls to 0°C. The system switches itself off when the temperature rises above freezing point. Guillermo says that he and his team can spray up to 40 000l/hour, and each tree receives the equivalent of 26mm of rain every 10hrs.
He gets US$55 (R536) for a 25kg box of lemons. Labour costs easily account for US$30 (R297,17) of this. Argentinian farmers say they struggle to compete with South African citrus farmers because of the difference in labour wages.
View photos from the Argentinian trip
Click on the link to register for 2014's Argentine trip