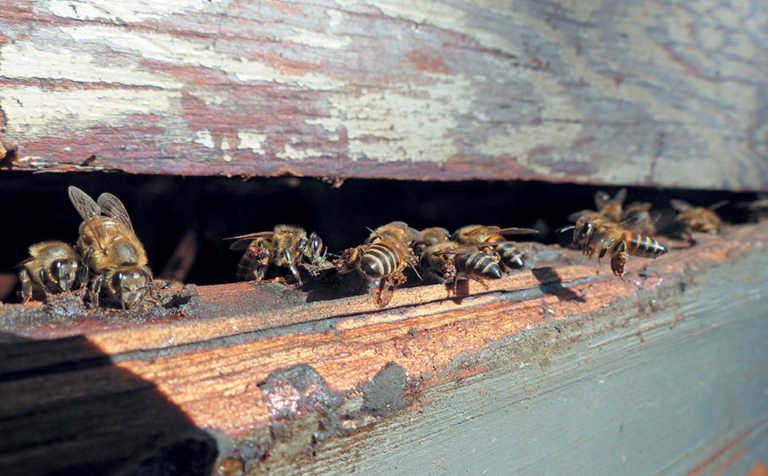 Jacobus 'Kola' le Roux (65) is stung regularly, but insists on handling bees without protective gloves.
"It keeps the immunity going and it's apparently good for arthritis,'' he says.
Kola started his beekeeping career with one hive in the garden of his East London home back in 1985.
More than 30 years later, his hives produce up to 60t of honey a year, and he sells honey across the Eastern Cape and as far afield as Cape Town.
"We never pushed the marketing side; we supplied as we grew,'' he says. "The problem isn't the selling, it's production.''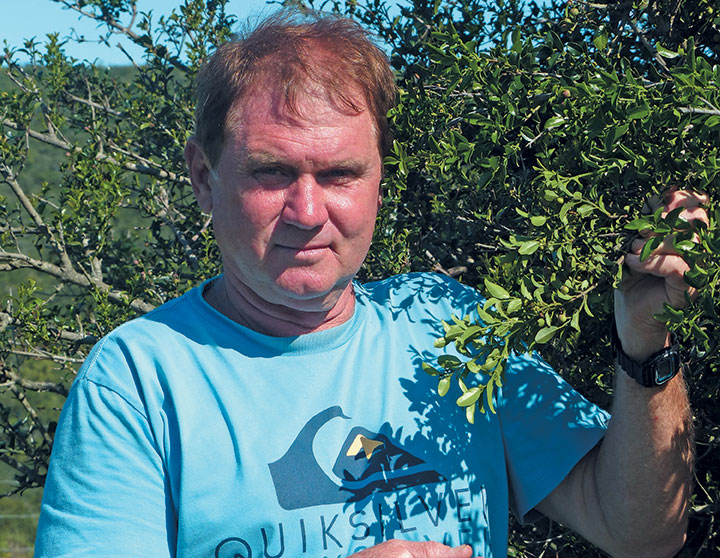 Transforming a passion into a full-time job can be life-changing. Kola managed it twice.
His early work career was conventional enough. Born in Zimbabwe, he went on to complete a BSc degree in chemistry at the University of the Free State before finding a job as a quality controller on a pineapple farm near East London in 1975.
While at the coast, he discovered waveskiing, and the sport soon dominated his life. Kola went on to become South African waveski champion five times and world champion twice.
For 10 years until 1992, he ran the Kolaski factory.
This specialised in producing waveskis, which were distributed countrywide.
His wife, Trudi, still sells watersport equipment from the Kolaski shop in East London.
Then there are the bees. His father, Japie, had some hives in Zimbabwe, and his grandfather, Jacob, kept bees in stands of eucalyptus trees on his farm in Fouriesburg in the Free State.
Kola recalls being mesmerised by the insects as a small boy. "I watched them flying in and out of their hives for hours,'' he recalls. "It fascinated me.''
In the 1980s, his childhood passion resurfaced when Kola started removing swarms of bees from homes in and around East London. He transferred these to his suburban home, first in Beacon Bay, then in Nahoon, and it wasn't long before almost 40 active hives dotted his garden.
One day in the early 1990s, Kola's gardener disturbed the bees and was severely stung.
The infuriated insects then threatened to invade the neighbourhood, and it was only through the frenzied use of a smoker that Kola brought the situation under control. He knew then that the bees would have to go.
"They went beserk," he recalls. "The next day I moved them.''
Kola transferred all the hives to nearby farms where he had already been given permission
to place hives. One was the 320ha Elangeni farm near Macleantown, where he had earlier removed one swarm.
The hives here have always produced outstanding honey from the natural bush, and when the farm came up for sale in 2003, Kola lost no time in buying it.
The famous drogie
"The drogie shrub [Scutia myrtina] is the main plant in this area," he explains. "If it doesn't flower properly, you don't get a good honey flow. It was the drogie that brought me to Elangeni."
Anybody growing up in the rural areas near East London will be familiar with the plant's purple-black berries, which leave one's throat feeling rather parched, and the name is a corruption of 'droog-my-keel' (dry-my-throat).
Known in isiXhosa as isiphingo, the plant flowers profusely after good summer rain, when it is overrun by wasps, ants and bees in search of nectar in its tiny bell-shaped flowers.
Today, drogie nectar on Elangeni is industriously transformed into honey inside Kola's hives on farms in the Macleantown, Komga and East London areas.
"My drogie honey is raw, unheated, unfiltered and organic because the drogie is never subjected to any form of insecticide and pesticide," says Kola.
Kola's drogie honey is also rare, as the plant does not flower significantly in dry years.
"The best drogie years are when the spring rain arrives late in November and December followed by hot humid months in January and February,'' he explains.
"We get an outstanding season once every 10 years or so, as we did in 1995, 2005, 2013.''
Although some drogie honey is sold separately, a large quantity is blended with honey from Kola's other hives across the Eastern Cape. In fact, producing significant volumes of blended honey is critical for the commercial success of the business.
Boosting volumes
The first step, then, was to increase the number of hives he had. "Although I couldn't wait to be a full-time beekeeper, I needed enough bees to sustain myself,'' he recalls. "I only truly started commercial bee farming in about 2006 when I had 1 000 hives."
Today, Kola manages more than 2 000 hives and his bees produce honey in the citrus orchards of Fort Beaufort, irrigated lucerne lands near Cradock and Somerset East, and 350km eastwards on the fringes of the vast Merensky eucalyptus plantations near Mthatha in the former Transkei.
This wide distribution of hives is not only aimed at increasing the honey volume; it's an important tool for managing seasonality (eucalyptus trees, for example, flower in winter) and mitigating the impact of increasingly erratic weather patterns.
"It's all about rain," says Kola. "No rain means no flowers and no honey. So if you can't get honey in one place you'll probably be able to get it elsewhere.''
Kola has also boosted honey production on Elangeni by planting 12ha of nectar- and pollen-rich sunflower every summer.
Selling the harvested sunflower seed covers his production costs, while his 100 cattle benefit from the crop residues. Extra honey is thus produced from Elangeni's sunflowers at no extra cost.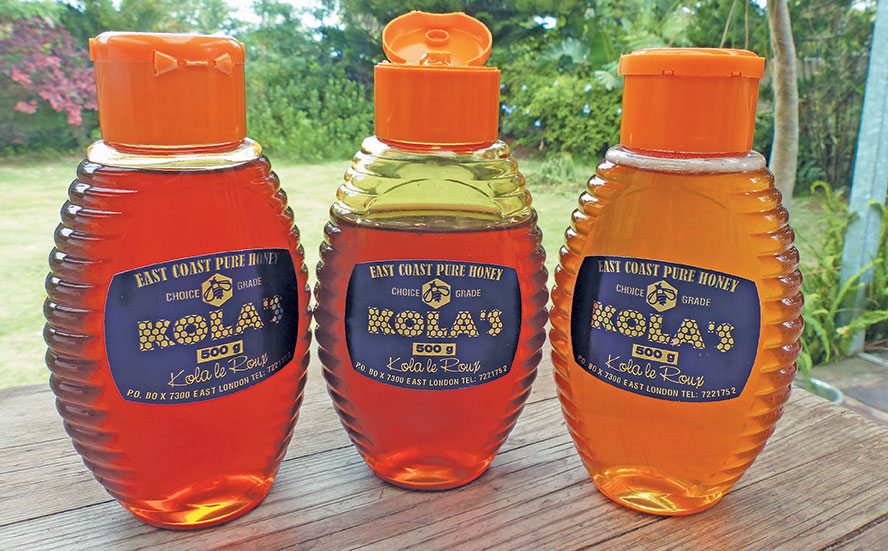 Difficult Logistics
Having hives more than 350km apart poses a logistical challenge. Besides having to travel long distances to harvest honey and maintain his hives, Kola has to ensure that the hives are protected from fire, baboons and ants.
There is also the need to guard against more serious threats, such as the wax moth, the Varroa mite, and American foulbrood (AFB), which could spread from the Western Cape to the Eastern Cape.
Kola says that effective management ensures healthy hives that can usually resist pests and diseases, but admits that AFB is a "scary" prospect.
Over the years, however, it is human thieves who have proved to be the most destructive to Kola's hives. "People are far worse than any disease,'' he says.
Theft of honey in the Eastern Cape is often motivated by the production of iqhilika, a traditional, honey-based alcoholic beverage, he adds.
The scale of the destruction is especially galling. Kola tells how more than 30 hives were once destroyed not far from his home.
"That's R50 000 in damage, not to mention the honey the hives would have produced," he says.
Although he places razor wire around some hives and straps others out of reach onto tree trunks, the only effective solution is to enlist locals to guard the hives for a small fee.
He has, for example, placed his hives surrounding the Merensky plantation near villages instead of in isolated sites where thieves can steal and destroy at their leisure.
Despite these difficulties, Kola says that he has never been happier. "It's challenging, but when you get a good harvest of honey, that's really satisfying.''
Phone Kola le Roux on 083 407 8709, or email him at [email protected].