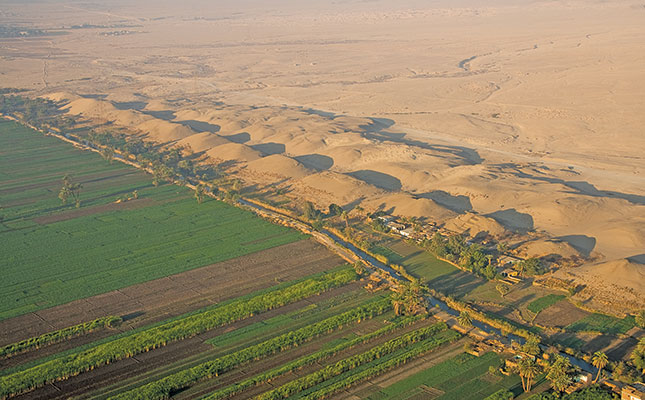 While many may associate Egypt with pyramids and pharaohs, the country is fast on track to become an agricultural powerhouse in Africa. According to the United States Agency for International Development (USAID), agriculture contributes 11,3% to Egypt's GDP and accounts for 28% of all employment. While the sector is still largely dominated by smaller farms that use conventional agricultural practices, this is quickly changing as the Egyptian government steps up its investment in the sector.
In 2021, Egypt exported 5,6 million tons of agricultural goods, compared with 5,1 million tons in 2020. According to the country's Ministry of Agriculture and Land Reclamation, the export of citrus fruit was most significant, with 1,8 million tons exported in 2021.
This was followed by fodder beets (650 340t), potatoes (614 424t), onions (276 141t) and grapes (143 450t). Other important export crops include strawberries, pomegranates, beans, guavas, peppers, mangoes, garlic and watermelons.
In this article, we specifically look at Egypt's production of oranges, and the challenges and opportunities in the country in this regard.
Oranges
Egypt is currently the world's biggest exporter of oranges, which accounts for around 80% of its total citrus production.
According to the US Department of Agriculture (USDA), Egypt is expected to retain this ranking, despite an almost 200 000t drop in exports to 1,45 million tons due to unfavourable weather conditions and their impact on production. Egypt's orange exports in 2021 were estimated to be worth around US$843 million (about R13,2 billion).
However, with Russia and Ukraine being amongst the country's biggest importers of
oranges, Egypt may have to find additional markets for its produce, as the Russia-Ukraine war looks set to continue. In terms of expenditure share, Russia imports approximately 20% of its oranges from Egypt.
According to the USDA, Russia imported about 250 000t of oranges from Egypt in the 2020/21 marketing year, with Ukraine importing around 50 000t. Russia and Ukraine thus account for around 20% of Egypt's total orange exports.
The USDA expects orange production to drop 16% (570 000t) to three million tons over the next season. This is due to unfavourable weather conditions, including fluctuating temperatures during flowering, which has reduced fruit set.
Competitors
South Africa remains Egypt's biggest competitor as a global exporter of oranges.
Russia: In terms of exports to Russia, South Africa lags far behind, with only 36 929t of oranges exported to Russia from January to September 2021. Another competitor for this market is Turkey, which exported 34 822t to Russia during this period. During the same period in 2020, Egypt exported 211 113t, South Africa 77 045t and Turkey 112 353t.
Saudi Arabia: Egypt's main competitors on this market include South Africa, Spain
and Lebanon. However, at 245 569t in 2021, Egypt exported significantly more to this market than South Africa (61 740t), Spain (10 788t) and Lebanon (8 380t). In 2020, Egypt exported 254 486t, South Africa 89 373t, Lebanon 24 358t and Spain 15 348t.
EU: South Africa and Morocco are Egypt's main competitors on the European market. In 2021, Egypt's orange exports to the EU increased 22% year-on-year to reach 308 384t, while South Africa exported 158 932t (a drop from the 453 745t exported in 2020), and Morocco exported 45 454t (2020: 74 864t).
India: South Africa is Egypt's main competitor on this market. However, Egypt exceeds South Africa's exports by a wide margin. In 2021, Egypt exported 126 271t (2020: 26 665t) to India, while South Africa exported 12 197t (2020: 11 000t).
Bangladesh: South Africa and India are Egypt's biggest competitors on this market. In 2021, Egypt exported 107 000t (2020: 66 000t), India exported 62 531t (2020: 127 914t), and South Africa exported 40 127t (2020: 66 000t).
China: South Africa is Egypt's main competitor on this market. In 2021, Egypt exported 86 130t (2020: 112 373t) to China, while South Africa exported 66 861t (2020: 105 000t).
UAE: Again, South Africa is Egypt's biggest competitor on this market. In 2021, South Africa exported 76 420t (2020: 89 527t) to the UAE, while Egypt exported 49 432t (2020: 138 611t).
UK: Egypt's competitors on the UK market are mainly Spain and South Africa. In 2021, Egypt's exports of fresh oranges to the UK amounted to 64 000t (2020: 55 217t), while Spain exported 66 000t (2020: 93 500t), and South African exported 45 386t (2020: 67 800t).
Challenges for the upcoming season
Egyptian orange producers are struggling with many of the same problems that currently affect farmers across the world. These include high fertiliser costs, logistics problems and unfavourable weather conditions. However, the country also has a number of unique challenges.
For the upcoming season, for example, there is a lack of demand for larger oranges, which excludes a large portion of Egypt's crop over the past season, according to Abdullah Tharwat, business development manager at Pyramids Agriculture.
"The Egyptian orange season started in December with the Navel and Baladi varieties. There was a high demand for small sizes of Navel, but only 30% of the harvest can be considered small. This leaves 70% of the production larger-sized, and, as stated, there has simply been little demand for these sizes.
"For the Baladi variety, the demand was low compared with the previous season. Some markets still have oranges from the South African season stored in their cold stores."
Russia also recently set new rules on pesticide use, which means that farmers in Egypt will have to adjust their production practices, as Russia remains one of its biggest importers.
Despite these challenges, says the USDA, Egyptian farmers, growers' associations and the government are working on replacing old orchards, improving on-farm irrigation techniques, and reducing post-harvest losses.