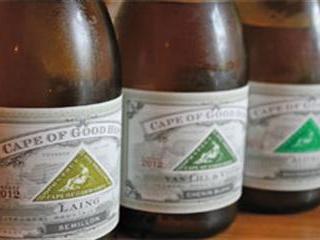 There are few vineyards in South Africa older than 20 years. After this length of time the yield can drop dramatically to under 2,5t/ha. So for most farmers it doesn't make economic sense to keep these vines. This is where we come in." So says Gary Baumgarten, managing director of Anthonij Rupert Wyne. Gary is closely involved in his company's Old Vines Initiative, which is seeking not merely to conserve but fully utilise South Africa's oldest vines.
The project was launched in 2006 by Johann Rupert, who took over the family business following the death of his winemaker brother, Anthonij. The company is well-known for its L'Ormarins and Anthonij Rupert labels. "Johann started searching for all the vineyards in South Africa older than 40 years. From the outset, the objective of the project was to encourage farmers to keep these old vineyards by offering them a premium for their fruit," explains Gary.
The focus on old vines is not just a matter of preservation or sentimentality. It's well-known by wine producers that old, low-yielding vines generally produce the finest, most complex wines. "When the yield per hectare drops, the flavour and colour of the fruit intensifies and becomes more concentrated. So the wines have more complexity and structure," explains Gary.

Unearthing wine history
Most of the old vines were tracked down by viticulturist Rosa Kruger, who was working at L'Ormarins when the Old Vines Initiative was launched. She found the vineyards in the VinPro and South African Wine Information and Statistics archives. Chris Loubser and Johan Nel, farm managers at L'Ormarins and Riebeeksrivier respectively (both owned by Anthonij Rupert Wines), also managed to locate some of the vineyards.

Anthonij Rupert Wyne managing director, Gary Baumgarten. Photos courtesy of Anthonij Rupert Wyne
In all, more than 100 vineyards, ranging in age from just over 40 years to over 110 years, were tracked down. Most of the old vines were found in the Swartland and Clanwilliam areas, but some were even discovered in the Klein Karoo. The oldest of these dates back to 1882, and it is fascinating to reflect that these elderly vines have been quietly producing grapes while great changes to South Africa's wine industry were taking place.
In 1886, for example, a phylloxera scourge nearly wiped out the entire wine industry. KWV was founded in 1918, Pinotage was developed in the late 1920s and the Wine of Origin legislation came into being in the 1970s.
New wines from old vineyards
Some of the vineyard blocks found are now being used to make single vineyard, terroir-driven, old vine wines "After identifying the vineyards, we entered into agreements with the farmers to buy their grapes at a premium price," says Gary. "But in exchange, Anthonij Rupert Wyne had to be granted full authority over how these vineyards were farmed.
This includes how and when the vines are pruned and suckered, and when the grapes are picked. Everything has to be done according to our specifications, because we want to ensure that we only harvest quality grapes from these vineyards." The winemaker and viticulturist decide when to harvest, and the grapes are handpicked in the early morning. Refrigerated trucks transport the grapes from the sites to Anthonij Rupert Wyne's cellars at L'Ormarins in Franschhoek, where the wine is made and bottled.
"In the past, grapes from surviving old vines were simply added to wine blends without distinction," Gary explains. "The wine that we're now making strives to vinify these old blocks separately and attempts to express the terroir of the vineyard through the wine."
Cape of Good Hope wine range
The wines born out of the Old Vines Initiative have been named the Cape of Good Hope range. They comprise terroir-specific wines created in recognition of South Africa's 350-year-old wine heritage, according to Gary. The first vintage (2009 and 2010) was launched in 2011 and the range includes a Sauvignon Blanc, a Chenin Blanc and a Semillion, as well as a Merlot and a Pinotage. There are plans to introduce a red blend at some stage too.
Three wines in this range have been made from vineyards that average 57 years old. They are a bushvine Semillon planted in the Citrusdal mountain in 1950 on the farm now owned by Henk Laing, a bushvine Pinotage planted on top of the Paardeberg Mountain in 1956 on the farm now owned by Stefan Basson, and a bushvine Chenin Blanc planted on the Citrusdal mountain in 1964 on farms now owned by Bassie van Lill of Arbeidsend and Jozua Visser of Oudam.
The grapes for the Sauvignon Blanc come from old vines on the farm Altima, owned by Anthonij Rupert Wyne, near Villiersdorp. The Merlot has an even closer link to the Rupert family: the grapes comes from a small, old vineyard in Johann Rupert's backyard at the family home in Parel Vallei, Somerset West.
According to Gary, the Cape of Good Hope range has been well received in South Africa, where they are available from the cellar door at Anthonij Rupert Wyne in Franschhoek, as well as in specialist wine shops. They are also popular in export markets such as the US and China. The Cape of Good Hope Chenin Blanc is served as 'wine-by-the-glass' at the Park Hyatt hotel in Beijing, China. In South Africa, the wines sell for between R125 to R240 from the cellar door.

Learning from the past
"With this initiative, we provide farmers with the incentive to preserve their old vineyards," explains Gary. "We have to learn from older vines how we should care for new vines and it's also important to understand how vines perform as they grow older. "We want to maximise the quality of the wines we're producing from these old vineyards. Part of our motivation is to inspire the farmers to keep their old vines in the ground."
Contact Gary Baumgarten on [email protected].