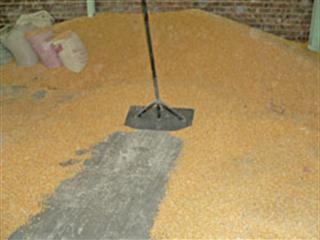 v"Emerging and small-scale farmers are being marginalised by big commercial feed companies," say Seeland Peba and Kenny Adam of Super Grand Animal Feeds. After seven years of working in the production sector of Meadow Feeds, they decided to take advantage of the market gap and started their own feed company.
"Emerging farmers can't save on middleman costs because they don't have direct access to feed processors," explains Seeland. He says that small farmers are generally forced to buy through agents and middlemen who add their own costs to the price of the feed. "That is why we started this business."
Seeland and Kenny quit their jobs at Meadow in 2007 and began to look at sourcing feed and setting up a co-operative. Their co-op was originally called Super Grand Agric Feed Co-operative. Later it became Super Grand Animal Feed, an animal feed processing company based in Ekandustria near Bronkhorstpruit. Super Grand makes poultry and pig feed. "We sell direct to farmers, whether they need one bag or 20," says Seeland.
Despite high input costs, Seeland considers Super Grand feed affordable. "Even though our prices are lower, we do not compromise on quality. "Most of our clients are emerging farmers, but we have commercial farmer clients as well," says Seeland. Super Grand's buyers come from the Pretoria area, Bronkhorstspruit, Hammanskraal and Winterveld.
"We also supply about 64t of broiler feed to a client in Zimbabwe every week."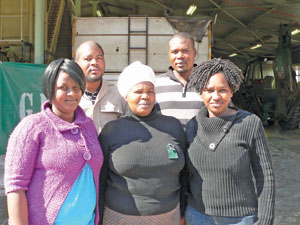 The Super Grand Animal Feeds team: Back from left, Kenny Adam and Seeland Peba; front from left, Lindie Zondi, Joga Peba and Millicent Machika. Absent is Willem Mahlangu.
Humble beginnings
The co-operative was set up in 2009. It received a R1,8 million grant from the National Development Agency (NDA) in November 2010. Machines were installed between March and April 2011. "Production started in June the same year, after we received a R450 000 cash injection from the Gauteng Department of Agriculture and Rural Development," recalls Seeland. Initially, they produced 35t of poultry feed a month.
A few months later the plant was producing pig feed at 1% of total production. Currently the company is producing 500t a month of which 50t is pig feed. "We don't want to overreach ourselves, we want to grow and sustain the poultry feed section before we grow
the pig feed section," says Seeland. "There is a good market for pig feed, but we don't want to bite off more than we can chew right now. When the time is right, we will also produce cattle feed."
Capacity
The factory is limited in that it lacks the machinery for a major expansion at this stage. The Super Grand plant has a production capacity of about 800t a month. To fill existing orders, it is currently processing 500t, at a capacity of 23t daily with a 2,5t per hour processing machine. To increase production levels, the plant needs a 12t per hour processor.
For now, the factory floor is used as storage for raw material and batching is done manually instead of automatically.  Seeland explains that lack of storage space is a problem. "We are unable to buy in volumes of feed when prices are lower." Automatic batching would be a cost and time saver as it takes more than 15 minutes to make one batch. This process could be cut to less than five minutes with automation.
Raw materials
Super Grand's animal feed is made up of 60% maize, 30% bran and soya beans, and 10% concentrate. The company sources its maize from local farmers within a 10km radius. "We have no selection preferences as to whether our suppliers are commercial or emerging farmers but we look for quality. We make sure that the quality is right before we buy," he says.
Maize samples are tested at Spesfeed's laboratory in Pretoria for moisture and protein content.
Other material such as processed soya beans, bran and concentrates are sourced separately from different suppliers. "We buy Nutech medication products from MS Trading," says Seeland. Ironically, Super Grand faces the same challenge it aims to address for small-scale farmers – to buy directly. With the exception of maize, its raw material is obtained from suppliers and not from manufacturers.
"We pay more because we are are not big enough to do business with manufacturers. For example, we buy processed soya beans from Protein Feeds, instead of from Atlas Oil, the manufacturer." Once they have expanded to 800t per month this situation will ease up. "We are already buying maize direct from the farmers instead of going through the agri-businesses."
Batching is currently done manually which slows the production process.
From the ground up
Seeland says emerging farmers' lack of access to major feed suppliers is a market opportunity for Super Grand and allows it to contribute to small-scale farmer development. He feels that everyone has a responsibility towards this. "Instead of complaining people can come up with positive contributions. We need to focus on the gaps in the value chain with economic potential."
Up until now, attention has been on primary production. "Government has helped people acquire farms, many of which fail for various reasons," he adds. "For livestock farmers, high input costs for feed may be a cause of business failure."  Seeland visited a number of farms before starting up his business and observed that, for many farmers, prohibitively high feed prices were the proverbial last straw.
Seeland and Kenny are working on diversifying their operation. "This is good for business and can play a huge role in helping developing farmers. "We want to include developmental services, such as offering micro finance to farmers and securing markets for them."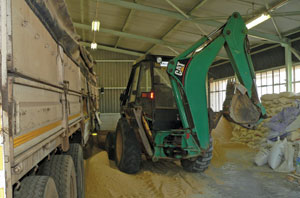 Rented equipment such as this TLB helps off load trucks bringing in maize and soya beans
Day-old chicks
Super Grand supplies day-old chicks to clients to help developing farmers and grow the market for the feed supplier. "In this way we secure our own market as well," he says. Although it does not have chick-rearing facilities, Super Grand can supply them to buyers. "We source them from a hatchery and supply them, at no additional cost, to our clients," says Seeland. Super Grand supplies between 5 000 and 20 000 chicks to its clients every month.
Seeland explains that they started the chick supply venture after they almost lost a client due to an unethical competitor. "The client had stopped buying feed from this company, and was only buying day-old chicks from it. "Realising their client was buying feed from us, they tried to sabotage us," he recalls. According to Seeland, the client was sold reject day-old chicks which would not thrive.
"The company blamed chick mortality on the inferior quality of our feed. Fortunately, the client came to us and we offered to supply him the day-old chicks. He agreed, and is still our client today." Though unplanned, this incident gave the business an opportunity to diversify in a new direction which contributed towards the growth of the business. The co-op is currently in the process of employing a technical advisor who will provide an extension service to its clients and add further value to the operation.
Contact Seeland Peba on 078 602 3313.