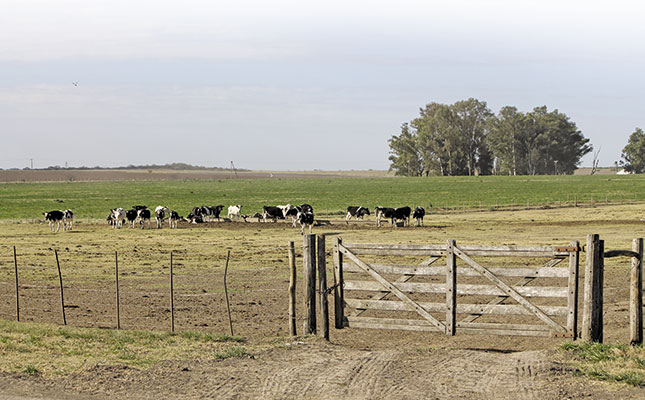 True entrepreneurial innovation has the ability to transcend language and culture. Los Lazos, an Argentinian family farming business, has experienced continual growth for more than a century. It is now one of the most successful agribusinesses, not only in Latin America, but in the world, with an annual turnover of around US$600 million (R6 billion).
READ:Milk prices to increase by May due to drought
Federico Boglione, president of the Los Lazos group, has travelled the world (he visited South Africa when he was 12 to play rugby) and has a useful grasp of English. But when he takes you on a tour of the company's largest dairy processing factory, few words are needed. It is clear that, through constant innovation, the Boglione family has built a business that can serve as a global benchmark in the production of dehydrated dairy products.
Humble beginnings
There are a number of businesses in the group, but primary and secondary agricultural activities are the platform for most of its economic activities. The group's dairy interests are managed by a company called La Sibila and the Los Lazos group's farming activities are run by Los Lazos Agropecuaria, which consists of four separate units. Federico says that the business grew from humble beginnings. His great-grandfather, an Italian immigrant to Argentina, opened a small supermarket in Buenos Aires in the early 1900s.
What has not changed is the family's business sense and the ability of its members to seize opportunity. "During the Second World War, Argentina could not import vegetable oil. My great-grandfather saw this as an opportunity and planted sunflower to produce sunflower oil," says Federico.
Through expansion, Los Lazos became Argentina's second-largest edible oil producer. In 1989, however, Federico's father decided to sell the Santa Clara oil factory, and invested the money from the sale of the plant in farming. This was the start of transformation for the family business.

Federico Boglione
Managing risk
The Bogliones' farming enterprise grew to include four farming units in different areas of the country. "To minimise risk, we decided to spread the farming business over different areas. If there is a drought or a flood or some other natural disaster in one area, we are still assured of production from farms in other areas," explains Federico. La Merced, a unit made up of nine dairy farms, is near Totoras in Santa Fé province. The El Embrujo unit, which has seven dairy farms, is near El Fortín in Córdoba province. The farms are also used for extensive pasture and crop production.
The El Volcán and Santa Dominga units are located in different parts of Buenos Aires province. Both these sites run crop farming and beef cattle production. At Santa Dominga, the focus is on breeding stud Red and Black Angus cattle. Apart from having separate locations and diversifying farming activities, Federico has managed risk by integrating down the value chain.
Adding value
In early 2002, the group decided to add value to the primary production of milk. "This was a strategic decision because buyers had become more cautious of us as we produced more milk," he explains. "The factories would rather deal with a greater number of smaller producers. Their risk exposure is greater if their supply base consists of a few, big producers. If one farmer, for some reason, suddenly couldn't supply them, it would leave them in a difficult position."
When Los Lazos started having difficulty marketing milk at a fair price, the group decided to create its own demand by integrating further down the value chain. A powdered milk plant owned by Nestlé in Nogoyá city in the province of Entré Rios closed down in 1998 as a result of policies (primarily labour-based) regulated by the government. In November 2002, La Sibila bought this factory which, at the time, had a processing capacity of 500 000l a day in two drying lines.
The company expanded and modernised the plant and two years later the processing capacity had grown to 1,2 million litres a day. In 2009, Los Lazos bought a second factory from Nestlé in Villa Nueva in Córdoba province, with a processing capacity of 250 000l a day. This brought La Sibila's total daily processing capacity of milk up to 1,45 million litres a day in four production lines (three in Nogoyá and one in Villa Nueva).
In Nogoyá, one of the lines is dedicated to the production of 90% demineralised serum. This is an input used in formula for babies up to the age of six months. The other lines are used for manufacturing milk powders, infant formulas, bases for infant formulas and formulas for adults. Apart from the dairy business, Los Lazos is also the biggest producer of cattle feed in Argentina.
"Because of all the livestock we keep, we started producing our own feed to combat the impact that rising feed costs were having on the economic sustainability of our business," says Federico. "This component soon started growing as we supplied more farmers with the quality feed we produce from cereals partly grown on our own farms."
La Sibila
With a processing capacity of about 1,5 million litres a day (18% of which come from Los Lazos farms) La Sibila is among the three largest exporters of dehydrated dairy products in Argentina, and boasts the most modern manufacturing plant of dehydrated dairy products in Latin America. According to Federico, products produced by La Sibila are exported to more than 85 countries worldwide.
"At our plant in Nogoyá, we can pasteurise about 75 000l of milk an hour. After this, the milk is concentrated through an evaporation process. The concentrated product goes through a spring dryer that produces the powdered product." It takes 8 500l of milk to produce a ton of whole milk powder and 11 000l of milk to make one ton of skim milk powder. The raw material produced for infant formula – for babies from birth to six months – requires 3 000l of milk to produce one ton of product.
La Sibila produces 3 500t of dehydrated dairy product per month including 600t of raw material for infant formula and 2 900t of milk powder. Of the 3 500t of milk powder products, about half are exported, mainly to China and Algeria.
Lessons learned
According to Federico, he might never have known the value of the knowledge his father was able to pass on to him if a crisis had not struck their family. "When we found out in 1990 that my father had cancer, I thought I had very little time to learn as much as possible from my father about running a successful business," he says. As it happened, his father lived for another 17 years, which gave Federico time to strengthen the relationship between him and his father and build the business under his guidance.
"If my father hadn't fallen ill, I may not have come to appreciate him as much as I learned to and I may not have taken his teachings to heart. This could have meant that we, as a family, would never have built such a successful business."  Federico is proud not only of his family, but his country – with one or two reservations. "I feel that our current government, in their blind pursuit of staying in power, are dividing society along economic lines. I'm not sure that any good will come of this."
But, he says, farmers should not rely on government alone. "You can blame your government for not supporting farmers and you can call them stupid, but this will not help your business. "It is much wiser to learn how to adapt your business as fast as possible to political changes in your country."
Visit the Los Lazos and La Sibila websites at www.loslazos.com.ar and www.lasibila.com.ar.
This article was originally published in the 25 October 2013 issue of Farmer's Weekly.