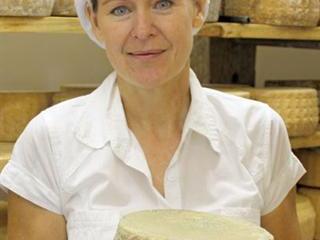 The first sign that you are well and truly in the Great Karoo comes halfway between Fraserburg and Williston on the R353 when you hit a gravel road. And if you need any more proof of the fact that you have left behind the modern trappings of the overly rushed, shopping mall mentality world, check your cellphone for reception – ten to one, you'll have none.
If you have never been to this part of the world, the hospitality of the locals can be almost unsettling at first as you try to figure out what it is that they want from you. However, it shouldn't take too long to figure out that most of these people care more about giving than taking. They have not forgotten how to share and above all else they are always ready to share their stories.
Artists and husband and wife proprietors of Die Ark guesthouse in Williston, Peter and Elmarie Naudé, serve a warm, hearty, Karoo dinner to weary travelers and they need only the slightest of prods to get them talking about their friends and neighbours who live and work (which more often than not means that they farm with Dorpers) in and around this quintessential Karoo town.
"Everybody in town thought those two were crazy when they heard the Schoemans were planning to bring Jerseys here to start a dairy and make cheese in the middle of the Karoo, but I thought it was a brilliant plan," says Elmarie.
Learning about cheese making
But the roots of this story reaches back more than a decade ago to when Francy Schoeman fell in love with cheese making while she was living on a dairy farm in Greyton – also the town where she met her husband Peter. Francy recalls how she started experimenting with fresh unpasteurised Jersey milk after attending a Gouda making course at Elsenberg and with a little extra advice, she began making cheese for the Greyton Market.
"I had to throw away a lot of cheese while I was still learning, but this did not discourage me. There was just something about the cheese making process that made it impossible for me to give up," she says. Award-winning cheese maker from England, Eddy Bestbier came to live in Greyton and with his help Francy expanded her knowledge and gained valuable experience.
"It is not always easy to gain knowledge about cheese making and I was very lucky to have met Eddy and even more lucky that he was willing to share his knowledge with me," says Francy. "Making cheese is a lot like baking a cake. It requires skill, patience and practise. Just because you have a recipe that you can follow doesn't mean that you will be able to bake a great cake, or in this case make a good cheese."
Since she started making cheese, her idea has been to do everything in as natural and traditional a way as possible. This idea came to fruition about two years ago when Francy and Peter decided to follow their hearts and move to Peter's family farm in the Williston area. The main farming activity on the 5 000ha farm is the 500 ewe Dorper flock, but the cheese and other dairy products form an important sideline.
Peter worked on a large dairy farm while in Greyton and is well qualified for looking after the well-being of the sheep and making sure that the cows produce the highest quality milk. Francy says, "the better the milk, the better the cheese." But the dairy on Langbaken is run differently than any large commercial dairy. The cows are named after the women in the family, and are also fed nutritious organic lucerne.
"Because they are so isolated the cows have never been sick once and none of them have ever had mastitis," says Peter.
At the moment they have 11 Jerseys that are milked twice a day and when they are in full production the cows give a total of 250l of milk/day.
"Once a year all the cows are artificially inseminated at the same time around November and then we dry them off in July. This gives us a chance to go on holiday and escape the harsh Karoo winter," Francy says. They also keep a few free-range pigs that are fed on the whey from the cheesery. These pigs grow up lean and their meat is very popular in town especially now that lamb has become so expensive, explains Peter.
Good milk, great cheese
All the cheeses are produced from unpasteurised milk, because Francy believes this method produces more flavoursome cheese. "Commercial cheese factories tend to use pasteurised milk to standardise the end product and have more control over the bacteria in the cheese. But because we have such a small operation it is easier to control hygiene," she says.
In order to produce cheese from unpasteurised milk, hygiene is of the utmost importance. This starts in the dairy, which has to be kept squeaky clean at all times. They also go to extra lengths to clean the cows' udders properly before milking, cleaning each teat individually by washing, sanitising and drying them to ensure no harmful bacteria in the milk.
Francy insists that the quality of raw milk is crucial to guarantee a good end result. "We chose Jerseys because their milk is creamier and higher in butterfat than milk from other breeds. Because I use unpasteurised milk no two batches of cheese ever taste exactly the same."
This is one of the small but important details that distinguish Langbaken handcrafted cheese from commercially produced products. The cheese also has a natural rind, which means that no artificial coating or wax is used. The natural mould that grows on the rind imparts a unique earthy, musty flavour.
Cheese making
"I follow a traditional method of cheese making, doing almost everything by hand," Francy says while using a hand cutter to cut the curds for her newest batch of Camembert. "But I do have my own unusual techniques for making Camembert. For example, I salt the individual cheeses by hand after they come out of the moulds. My Camembert is actually something of a miracle," she laughs.
Starting up a cheese factory, even a small one like Francy's, can be very expensive, but she managed to keep her spending on infrastructure to a minimum by using existing buildings for the factory and the cheese room and she was lucky enough to buy a second-hand, artisan cheese making vat from an acquaintance who no longer needed it.
They also had to set up a small dairy, but thanks to Peter's knowledge of the industry they were able to make do with only the most needed equipment installed in an existing out-building. In her small cheese factory, Francy makes two batches of cheese every week, a 500l vat on Mondays and a smaller amount on Wednesdays.
"On Thursday and Friday we sell the fresh milk in town and every second week I make full cream, preservative free yoghurt using about 200l of milk. This we sell to the locals at R18/l," she says. At full production, Francy makes 100kg of cheese per week and the range of cheeses produced include plain- and ash Camembert, the Karoo Crumble – a mature Cheddar style cheese, Karoobossie – a hard cheese, feta, cream cheese and blue cheese.
"My main focus is the hard cheeses and the Camembert, but the variety keeps things interesting." She says that her Camembert in particular is very popular and this is just as well because this allows her to earn a larger return since roughly 1l of milk will produce one 250g Camembert while it takes about 10l of milk to produce one kilogram of hard cheese.
Francy is all enthusiasm as she explains the steps of making cheese. "The three main factors that influence the cheese making process are the temperature of the milk, the culture you use and the cutting and stirring technique." "To make Camembert, the curds are cut into bigger pieces and it is stirred for only a short time because you want to retain more moisture in the cheese. "For harder cheeses, the milk gets stirred longer (up to 45 minutes) and the curds are cut into very small pieces."
Marketing and the road ahead
"As with any new product you have to get your brand out there if you want to make it. It was tough in the beginning. We worked through people who know the business, but now Langbaken Karoo Cheese has a steady clientele and I have also grown more confident in the product," says Francy. But despite many good reviews and a growing interest in her handcrafted cheeses, she is not keen to grow the business.
"I want to be able to do everything myself, I don't want to bring in help. At the moment I am producing as much cheese as I can on my own since the cheese making and maturing process is incredibly time consuming. "I am also a mother and a farmer's wife, so I can't and I don't want to spend all my time making cheese. I like spending time with my family and enjoying the Karoo lifestyle."
She adds that if the demand for her cheese starts to outstrip the supply she will consider increasing the price. But for the moment she seems perfectly content with the way things are. "We are so happy here, we live such pristine lives. There is a magic here," she says, her gaze wandering over the vast Karoo landscape outside. It is impossible not to agree with Francy and a piece of this Karoo magic has most definitely found its way into her cheese vat.
Contact Peter and Francy Schoeman on 087 150 5673 or email [email protected].