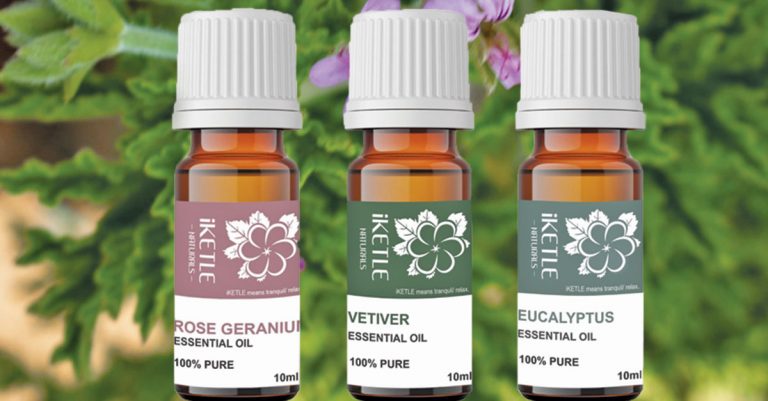 Mother-and-daughter team Oniccah and Naledi Nkoe, who are based on a 21ha property on the outskirts of Bronkhorstspruit, east of Pretoria in Gauteng, started farming in 2006.
Their first enterprise was a piggery, but when the market for pork slumped they switched to broilers and vegetables. This combination offered the quick turnover and cash flow they needed to grow their business.
In 2018, at a farmers' day workshop in Bronkhorstspruit, they were introduced to essential oils, and specifically the production of rose geranium. Shortly after attending the workshop, they took part in the South African Essential Oils Business Incubator (SEOBI), where they gained extensive knowledge about the production of rose geranium and other essential oil plants.
SEOBI transfers appropriate technologies and training to emerging farmers to help them start or increase commercially viable essential oil production on their farms. The SEOBI essential oil masterclasses enabled Oniccah and Naledi to venture into the production of essential oils, focusing on rose geranium, marjoram and vetiver grass.
"We produce about 1ha of rose geranium and 50m2 and 100m2 of marjoram and vetiver respectively. We still use the remaining part of the land for broiler and vegetable production," says Oniccah.
Adding value
Oniccah and Naledi have grown in their production and knowledge of essential oils and have also added value by establishing the iKetle skincare product lines. According to Onnicah, iKetle means to be relaxed or tranquil, and is a reference to the aromas and benefits of the plants that she and Naledi want their clients to experience when using their products.
iKetle products currently on offer include rose geranium essential oil, eucalyptus essential oil, rose geranium and Himalayan bath salts, eucalyptus and citrus bath salts, vetiver bath salts, rose geranium body butter, rose geranium shower oil, rose geranium-scented sachets, rose geranium hydrosol, and eucalyptus hydrosol.
The Nkoes bought their initial seedlings from SEOBI and the Plantforum nursery in Roodeplaat.
"We harvest the plant material to extract the essential oil every third month. Although the essential oil can be gathered several times annually, production in 2020 was slower than in previous years due to frost," says Oniccah.
Rainy weather also brings a difficulty: an infestation of fast-growing weeds, which necessitates more labour as the weeding is done by hand. The business employs two full-time workers, and makes use of seasonal labourers during the harvest.
Far from being discouraged by these challenges, the Nkoes are continually expanding their production.
They also give great attention to the quality of the plant material they produce.
"Every activity must be done with precision and passion. It's important for us to produce healthy plants that can give us a good yield," says Oniccah.
Distillation
A day or two after harvesting, the plant material is transported to Pretoria to be distilled via steam distillation by SEOBI. This comes at no cost to growers. Once this is completed, the essential oil is tested for quality, and a chemical composition analysis and transcript is released. The farmers then submit this transcript to a pharmaceutical company that formulates the skincare products.
The products do not contain preservatives, synthetic fragrances or artificial dyes, and are packed in materials that are environmentally friendly, reusable and recyclable.
Essential oils have various uses and benefits, such as in therapeutic treatments, and as ingredients in cosmetics, perfumes, beverages and food.
According to several studies, essential oils have anti-inflammatory, immunomodulatory, bronchodilatory and antiviral properties, and are crucial to aromatherapy.
"Our business prospects are good, as aromatherapy is becoming more popular. The technique in aromatherapy is to use the essential oils' medicinal properties to enhance both physical and emotional health," says Oniccah.
The Nkoes recently added eucalyptus oil to their product line by sourcing the plant material from neighbours.
iKetle was able to continue trading even during the highest levels of the COVID-19 lockdown, as it trades entirely via its website and WhatsApp.
The company also pushes boundaries in its branding and packaging by paying attention to the design and material used, and by using a local business to sew the carrier bags. The Nkoes are pleased with their progress.
"It's just a matter of time before more people become familiar with our products and experience the benefits. We've already had repeat business, with people saying they love the results our products bring about, and that's important to us.
"We see ourselves as labourers facilitating the essential oil production and helping people feel comfortable in their own skins," says Oniccah.
They are keen to expand production of the essential oil plants to 8ha, and would ultimately like to invest in their own distillation unit.
The farm lacks several key pieces of equipment, and this limits the number of products that iKetle can introduce onto the skincare and cosmetics market.
"iKetle doesn't receive any financial assistance. Our products are made through self-funding, hence the slow growth. But we're not discouraged; we hope to increase our production over time and employ more people."
Independence
The Nkoes are keen to participate at all levels of the value chain, from primary production to processing and packaging of the final product.
They are aware of the responsibility involved in this, but feel confident that they can maintain the high standards expected.
A business such as theirs can run into trouble if it becomes over-reliant on outside services for the processing of raw material, or on other growers to produce its branded products, says Oniccah.
"Many local cosmetics companies don't grow their own raw material. Most key ingredients are sourced elsewhere, which could potentially hamper growth should the raw material become unavailable."
Phone iKetle on 063 121 5941, or visit iketlenaturals.com. Farmers seeking advice on the production of essential oils can phone the Agricultural Research Council's Institute for Vegetable and Ornamental Plants on 012 808 8000, or visit arc.agric.za