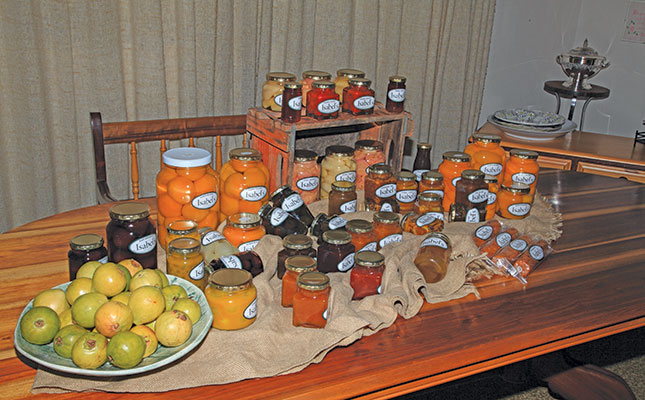 Isa Basson and her husband, Sonnie, went through a rough time after losing their farm Rietvlei near Laingsburg, in the Western Cape, in 2003. With hardly any money left, Sonnie and his eldest son, Louis, went to do seasonal work for six months on a farm in the US.
Basson stayed on at the farmhouse, which they now had to rent, to look after their daughter, Ezéth, and son, Johan, who were both still in school at the time. To make ends meet, she put her hand to any work she could find, including selling crop insurance and raising ostrich chicks.
"Times were tough, but I learnt to live in the moment and trust that when one door closes, another opens," Basson recalls.
Upon his return, Sonnie applied for many jobs, but nobody was interested in employing a 45-year-old who had never worked for an employer. Then, in 2004, three days before he was due to return to the US for another stint of seasonal labour, he had a lucky break: Sakata Seed offered him a job as a sales agent, a position he still occupies today.
New beginnings
Money, nevertheless, remained tight for the Bassons, so when their neighbour asked them in 2010 whether they could take over a contract to supply a farm stall in Stellenbosch with preserved peaches, they grabbed the opportunity with both hands.
"We took the weekend to think it over and on the Monday went out to buy sugar and glass jars. It was a huge commitment, as we had to pay for everything in cash, except for the peaches, which we could pay for a few months later. I also didn't want to disappoint my friend who had entrusted us with the contract," recalls Basson.
Orders kept coming in, and after a while, requests began arriving for other fruit products and from other stalls. Basson realised that she needed to establish her own brand if she wanted to grow, so in 2012 she started labelling her produce under the brand name Isabel's, derived from her birth name, Isabella.
"One day, we accidentally delivered labelled fruit to a client who wanted to use his own label on the produce. He was annoyed at first, but a few days later granted us permission to sell our produce under our own label in future, as it was selling so well!" she says.
In 2014, Louis suggested that she leave her crop insurance job to give her full attention to the processing business. Her initial reaction was negative, as she thought it was too much of a gamble. But Louis countered that she did not have enough faith.
"In hindsight, giving the business my full attention was one of the best moves I could have made, as we'd never otherwise have been able to grow this much," says Basson.
Building a brand
Basson ascribes the brand's success to the way in which people, over time, started associating it with good quality and value for money. The label itself is simple, with only minimal information: product content, brand name and contact information.
The label is also small, giving buyers a good glimpse of the attractive contents in the jar. In addition, the name is appealing, conjuring up hearty images of a farmer's wife preserving fruit in the same way that many people's grandmothers used to do.
The business has grown exponentially since then, with Isabel's these days supplying the market with 35t to 40t per year of canned fruit, jams, preserves, chutneys and fruit rolls.
Basson and Sonnie initially did most of the work themselves, with the help of Regina
Beukes, who has been working for them for more than 35 years. As their output grew, they employed a core team of four permanent workers, but even this was not enough.
"We reached a point where the workers would sit and peel peaches the whole day, and when they left, Sonnie and I would work past midnight to can the fruit. We realised we needed to employ more workers if we wanted the business to remain sustainable," she says.
Today, Isabel's employs up to 18 seasonal workers in its peak season (January, February and March).
"We've invested quite a lot to create attractive working conditions, which has seemed to pay off, as we tend to have the same people working for us every year. It also saves time, as we don't have to train workers from scratch," says Basson.
Motivating workers and countering the impact of rising input costs remain major challenges.
"All our costs are set, so the only way to increase profitability is to improve efficiency. A 2,5kg bag of sugar, for example, sold for about R28 a year and a half ago, but now we're lucky to pick it up for R38 on a special. We use up to 100 2,5kg-bags of sugar a day," she explains.
She has tried various approaches to inspire workers to become more efficient. One year, she offered a bonus if they managed to reach the target of bottling 600ℓ of fruit a day.
"Soon, we were bottling between 600ℓ and 630ℓ a day!"
The following year, Basson promised a bonus without specifying a target. Workers that year bottled an average of 830ℓ a day and on a few days hit 1 000ℓ.
Recipe for success
Basson experimented with family recipes, Vroue Landbouvereniging (VLV) recipes and some she found in recipe books. She then refined these until she obtained the desired products. The VLV also helped prepare her for her new business role and served as a platform where she could find inspiration and bounce ideas off others.
Much of the fruit is hand-peeled before processing, but the green figs are cooked without any pre-treatment.
"We cook the figs in sugar, ginger and lemon juice, without removing the skin or the small leaves at the top of the fruit."
They use more than 20 gas burners to process the fruit, but an electric oven to sterilise the bottles.
In general, the recipes are traditional and free from preservatives and colourants.
"There's a demand for new products, like jams with chillies, ginger or exotic spices, but the majority of people are looking for a conventional product that resembles the quality, flavour and taste of food they grew up with," says Basson.
She adds that it usually takes about three years for a new product to become established.
"If a product is not selling by the third year, you know it's not going to make it."
Basson has received numerous requests for products containing no or less sugar.
"Diabetic-friendly sugar replacements are extremely expensive, so I make these only when I receive a large enough order. The ideal would be to sell the sugar-free produce via health shops, but then I'd need to know the demand was high enough."
Basson would love to expand her footprint countrywide, but this is difficult if not done in high volumes. Currently, most of her produce is sold via farm stalls and agricultural businesses such as SSK. Produce is also couriered to Johannesburg and sold via their website. When asked what kept her going through the difficult years, Basson says that there was simply no time for self-pity.
"I just worked hard, focused on what I was doing at the moment, put my trust in God, and believed that things would work out in the end."
Email Isa Basson at [email protected], or visit isabels.co.za.