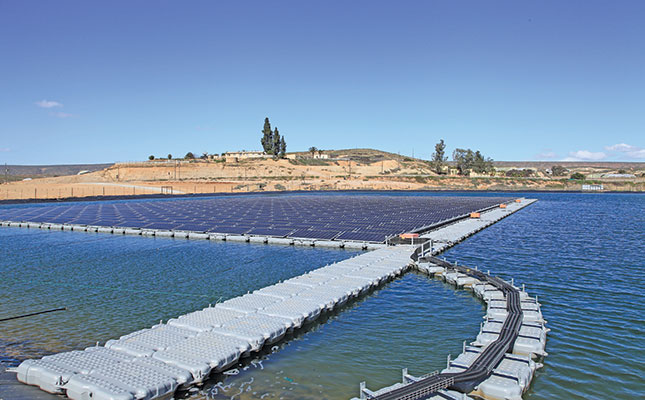 Energy is an integral part of modern-day intensive farming. Almost every stage of the food value chain requires energy as an input, from the preparation of land right up to the point of consumption.
On the farm, energy is consumed directly as fuel and/or electricity (for field machinery, irrigation, heating and cooling systems, and transportation, for example), and indirectly as fertilisers, chemicals, and animal feed are produced off the farm.
In intensive livestock production in particular, electricity is used for automated milking, milk storage, heating and pumping of water, lighting, ventilation, space heating, and electrical fencing.
In South Africa, the two main sources of on-farm energy are electricity and diesel, both of which are obtained primarily from fossil fuels.
Overreliance on these two energy sources presents numerous risks to South African farmers. The country's electricity supply, for example, is unreliable at present, as Eskom is battling to 'keep the lights on' because of its ageing power plants, which require frequent maintenance. In addition, demand for electricity is fast exceeding the utility's capacity to supply it.
By mid-July, South Africans had already experienced 46 cumulative days of load shedding in 2022, according to the EskomSePush load-shedding app (see Graph 1).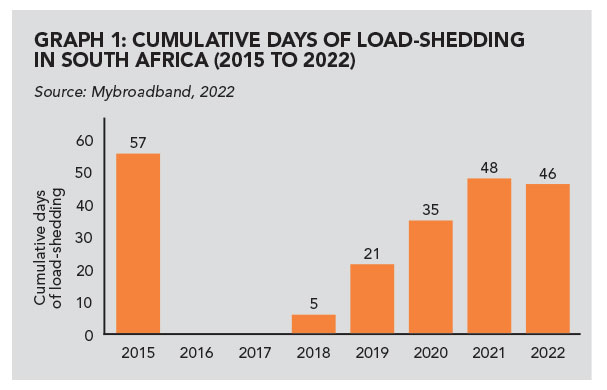 Graph 1: cumulative days of load-sheddingThe effect on agriculture
South Africa's agriculture sector has been severely affected by the frequent power cuts and fluctuating fuel prices experienced in recent years. On top of rolling blackouts, electricity tariffs are increasing rapidly, and in the agriculture sector alone, the electricity tariff increased by more than 200% from 2011 to 2021 (see Graph 2).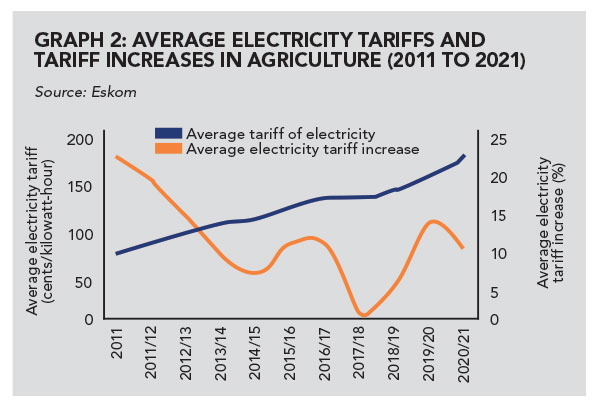 In contrast to electricity tariffs, fluctuations in the price of diesel are driven by geopolitical events and volatile exchange rates (see Graph 3).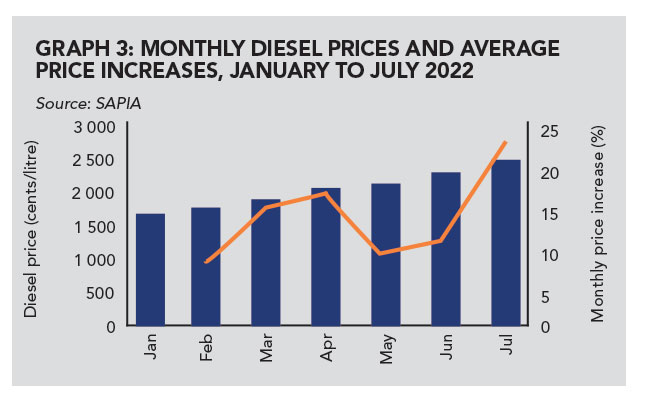 A recent article published on the website Engineering News highlighted some of the challenges that farmers face due to load-shedding. These include increased production and labour costs, damage to machinery and irrigation equipment, and disruptions to planting and irrigation schedules.
In addition, interruptions to the cold chain are detrimental to perishable produce, as this results in loss of quality, which in turn lowers the selling price or, in extreme cases, rejection of the produce by retailers.
Poultry farmers are also affected by rolling blackouts, with many reporting slow growth or a loss of birds due to a lack of heating and lighting.
Energy management
So, what can farmers do to mitigate the effects of energy insecurity and rising energy bills on their operations?
The Agricultural Research Council recommends adopting an energy management programme (see example on the next page) in combination with renewable energy technologies, and emphasises the importance of implementing the former prior to installing alternative energy sources. Ideally, renewable energy technologies should form part of an overall energy management plan.
Energy management is the practice of tracking and optimising the energy performance of a site or building on a regular, scheduled basis. The objective is to manage consumption, identify energy-saving opportunities, and reduce the energy bill.
This involves carrying out farm energy audits to determine energy consumption patterns, identify the big energy users and critical loads (equipment that is crucial to the running of farm operations), and establish the energy supply matrix.
In some cases, incorrect tariffs have led to unnecessarily high energy costs. Thus, a tariff audit analysis, which is a free service offered by Eskom, is also an important energy management tool, as it can help a farmer choose the most suitable and cost-effective tariff for his or her electricity usage profile.
Cutting usage
Minimising energy consumption can be achieved in many ways, such as installing efficient technology, implementing simple maintenance routines, and making changes to the sequencing or scheduling of operational activities to ensure that equipment and systems are using energy efficiently and effectively.
Another option is 'fuel switching', which refers to replacing inefficient energy sources with those that are economical, such as swapping electric geysers for solar water heaters.
Once the energy demand is reduced and critical loads identified, additional or backup energy sources can be designed and installed.
Fortunately, most farmers can deploy a wide range of renewable energy technologies due to the remote locations of their farms and the space they have available to them. They can also use waste-to-energy technologies such as biogas digesters, pyrolysis and gasification to generate renewable energy from organic waste produced on their farms.
Furthermore, these technologies can also be used in hybrid systems (such as a combination of a solar photovoltaic system, solar thermal energy and biogas), which can supply a farm with numerous forms of energy to meet its various energy demands, for example, lighting and heating.
Sources: Arnoldi, M, 'Farmers, consumers buckling under load-shedding-induced costs', 6 July 2022, Engineering News; Businesstech, 'Load shedding is killing the "cold chain" in South Africa – and it's pushing up food prices', 7 July 2022; Department of Minerals and Energy, Industrial Energy Management Training Course, Module 9: 7 Steps for Energy Management (Pretoria, n.d.); Efficient Power Tech, The Energy Management Process (n.d);
Eskom Distribution, Tariff history (Eskom, n.d.);
Labuschagne, H, 'Load-shedding in 2021 – according to EskomSePush', 17 January 2022, Mybroadband; South African Petroleum Industry Association, 'Petroleum products prices in cents per litre, 2012 to 2021', (n.d.).
Email Dr Idan Chiyanzu at [email protected].