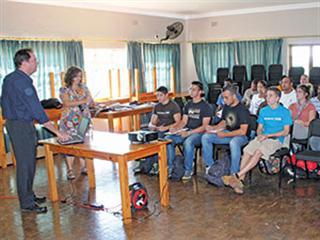 It might be considered ironic by some people that the South African sugar industry has chosen to enter a technical and cultural exchange programme with the Indian Ocean island of Réunion. After all, the SA industry covers nearly 400 000ha, has 14 mills and produces nearly two million tons of sugar in a single season. Réunion's, by contrast, has about 26 500ha under sugarcane, two mills and produces about 200 000t of sugar per season.
However, others believe that even though these two sectors may be vastly different in scale, they each have valid farming methods that could improve production in the partner industry. It was for this reason that, in 2009, the world-renowned South African Sugarcane Research Institute (Sasri) signed a five-year memorandum of understanding (MoU)with the Legta Saint-Paul Agricultural College on Réunion Island. This enabled interaction between staff and students of the two institutions, with Sasri hosting some of Legta Saint-Paul's final-year students for a period of two months. During this time, the learners contributed to specified Sasri research projects.
New relations

View Larger Map
Last year, the South African Canegrowers' Association (SA Canegrowers), which represents the interests of the country's 26 500 private sugarcane farmers, also entered into a five-year MoU with Legta Saint-Paul. Among its aims, the MoU committed SA Canegrowers to hosting selected Legta Saint-Paul students in its agronomic services for at least six weeks at a time, as well as to hosting groups of students and lecturers for multi-disciplinary studies on agricultural areas within the scope of SA Canegrowers' areas of operation.
In turn, Legta Saint-Paul committed itself to hosting SA Canegrowers' staff on Réunion for vocational stays and meetings with the island's farming sector. Asked how the MoU would work from Legta Saint-Paul's side, SA Canegrowers communications manager Jayne Ferguson explained that this was a technical and cultural exchange project funded by the European Union (EU).
"It enables second-year agricultural students from Réunion to be exposed to another culture while learning about the technical side of agriculture of that country. Legta Saint-Paul works closely with the SA department of agriculture to cover other aspects of agriculture, while SA Canegrowers focuses on sugarcane growing."
Of particular interest to the Legta Saint-Paul/SA Canegrowers MoU are developments in each industry's small-scale sugarcane growing sector. With Réunion Island having a total area of only 2 512km2 and a population of 850 000 people, land available for agriculture production is limited and in high demand. According to a paper* by Caroline Lejars and Bertrand Siegmund, the island's sugar industry comprises about 27% of the island's total agricultural production and accounts for 54% of its agricultural land, but has approximately 5 000 small-scale farmers whose farms average 5ha.
Facing increasing input costs, environmental pressures and decreasing availability of agricultural land, these farmers have had to start considering options that would allow their enterprises to remain profitable and sustainable. "Although the industry is highly subsidised [by the French government to the tune of 75% for machinery and equipment purchases plus grant funding for land preparation], permanent expansion and efforts have been made to maintain it.
Technical, organisational and economic solutions have been developed in terms of mechanisation, transport costs, [sugarcane] varieties adapted to various climatic conditions, irrigation and regional planning," the paper reported.
Benefits
Ferguson points out that these adaptations could benefit South Africa's 25 193 small-scale sugarcane growers who collectively farm a total of nearly 50 000ha on freehold and communal land. In recent years, these farmers have struggled to stay afloat and might learn from the experiences of the island's farming sector.

Legta Saint-Paul agricultural students who came to South Africa earlier this year as guests of the SA sugar industry. More students will be visiting over the next five years.
"During the visit of our staff members to Réunion, Legta Saint-Paul exposes them to the small-scale grower sector and sets up meetings with Réunion-based CIRAD researchers and sugarcane growers," says Ferguson. CIRAD is a French research centre working with developing countries to tackle international agricultural and development issues.
While most of the costs for Legta Saint-Paul visits to South Africa are funded by the EU, visits by SA Canegrowers' staff to Réunion require the organisation to pay for the flights and a stipend to cover each member's daily requirements. Legta Saint-Paul contributes by paying for the accommodation and local travel of members visiting the island.
Dr Kathy Hurly, SA Canegrowers' director of regional services, says that funding selected members to visit Réunion is a way of increasing the association's skills and knowledge for the benefit of South Africa's small-scale sugarcane farming sector, as well as recognising top performers. Two SA Canegrowers staff who recently returned from Réunion were Vincent Qwabe and Emmanuel Mashego, both grower support officers in Mpumalanga. On their overall experience of the trip, Qwabe and Mashego say:
"We left with the impression of a well-run sugar industry with a lot of government support for small-scale growers whose farming activities are taken seriously." They added that the majority were young and well-educated. "Most of the small-scale growers have their own tractors and necessary equipment for their operations," they explain. "Stakeholder involvement in research, extension, implementation, monitoring and evaluation are key factors in Réunion sugarcane farming."
Asked how Legta Saint-Paul visitors benefit from the exchange, Hurly explains that they are exposed to the sharing of ideas on extension and to learning about different farming methods that they might be able to replicate at home or share with South African growers. They are also exposed to traditional rural culture and the South African way of life. "SA Canegrowers benefits directly too," Hurly points out. "The students assist in gathering and analysing information on economic projects for us."
Looking forward
Undergraduate student Cadet Sebastien (21) paid his second visit to South Africa earlier this year. He has thoroughly enjoyed both the technical and cultural aspects of the trip. "These experiences will help if I work in rural development in a foreign country one day," he explains. "On my first visit, I was in Empangeni and learned how to train small-scale sugarcane growers."
Sebastien's sentiments on improving his personal skills are echoed by classmates Franck Germain, 23, and Gael Dennemont, 26. Dennemont, originally from Madagascar and also on a second visit to South Africa, adds: "On my first visit we were involved in a vegetable garden project with the department of agriculture, where we trained volunteers from poor South African communities to grow vegetables and feed children at local orphanages. I enjoyed helping, especially the volunteers who wanted to learn more about agriculture."
Volunteers also benefited directly from the project. "They were able to take seed gift packs home and use the skills we taught them to grow their own gardens at home," Dennemont explains. According to Hurly, the industries in both countries have gained from the exchange and the benefits will increase as each industry understands more of the other and learns of further opportunities for interaction.
* Overview of Reunion Sugar Industry by C Lejars and B Siegmund of the Centre de Co-opération Internationale en Recherche Agronomique pour le Développement (CIRAD), Programme Canne à Sucre, La Réunion.
Contact SA Canegrowers on 031 508 7200, email [email protected] or visit www.sacanegrowers.co.za.
Email Legta Saint-Paul at [email protected] or [email protected]. fr or visit www.reunion.educagri.fr